Iran Fully Withdraws From Nuclear Deal and Criticizes European Response to Soleimani's Killing
Iran has announced that it will fully withdraw from the Joint Comprehensive Plan of Action (JCPOA), commonly known as the Iran nuclear deal, following the U.S. targeted strike that killed the country's Quds Force Commander Qassem Soleimani in Iraq early Friday.
"From now on Iran will no longer commit to any limits on the level of uranium enrichment, stockpile of nuclear fuel and also nuclear research and development," Iran's local English daily The Tehran Times reported Sunday, citing a government announcement.
Iran's Foreign Minister Javad Zarif later tweeted about his country's decision to end its commitments under the deal, arguing that other signatories were to blame.
"As 5th & final REMEDIAL step under paragraph 36 of JCPOA, there will no longer be any restriction on number of centrifuges," Zarif wrote. "This step is within JCPOA & all 5 steps are reversible upon EFFECTIVE implementation of reciprocal obligations," he added.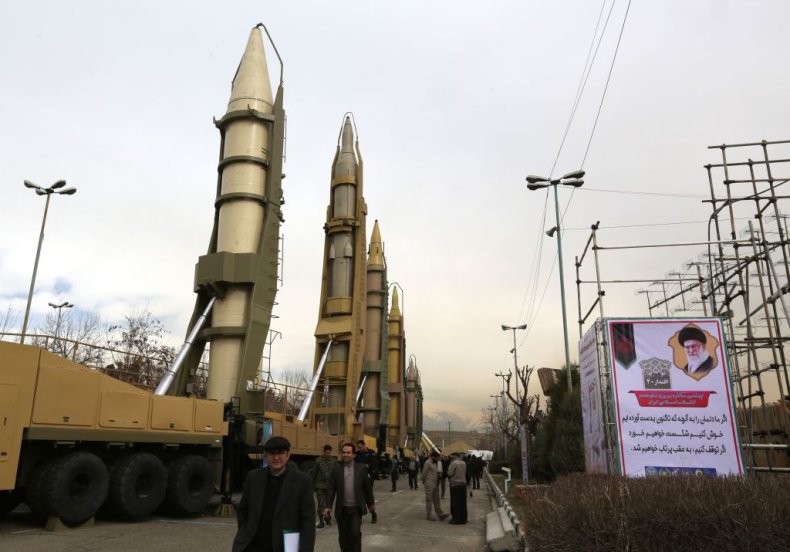 Although President Donald Trump walked away from the landmark nuclear treaty in May 2018, the European Union, Germany, France, the United Kingdom, Russia and China attempted to keep the international agreement alive. The deal offered Iran sanctions relief and investment in exchange for curbing its nuclear program.
Consistent reports from the United Nations' nuclear watchdog had found that Tehran remained in compliance with the JCPOA's terms, but Trump had long been critical of the agreement, arguing that it emboldened Iran to act against American interests throughout the region. Iran remained committed to the pact until May 2019, despite the reimplementation of American sanctions, as it negotiated with international leaders to preserve the agreement. However, it began taking steps to disregard some of the deal's terms last year, one year after the U.S. withdrawal.
In the wake of the killing of Soleimani, Iran decided to fully withdraw from the pact. The country's leaders had long criticized the international community, particular European nations, for failing to adequately pressure the U.S. to return to the deal.
"In the world of politics, all things affect each other," Iran's foreign ministry spokesperson Abbas Mousavi said ahead of the formal decision, Iran's Islamic Republic News Agency (IRNA) reported. He also criticized the European response to the killing of Soleimani.
"The Europeans' stances have not been and are not in line with Iran, but they have stances relatively similar to those of the U.S. Their recent stances have been rude to some extent and have not been constructive and acceptable," he said.
Beatrice Fihn, the executive director of the International Campaign to Abolish Nuclear Weapons, told Newsweek that Iran and the U.S. should return to the treaty to avoid a potentially devastating clash.
"Iran's significant walk back of its commitments under the Iran deal, triggered by increasingly reckless U.S. behavior, demonstrates the danger in entrusting countries with world-ending weapons of mass destruction. This escalation spiral could have catastrophic humanitarian consequences," Fihn said.
"It's past time to pump the breaks," she added, "both states must return [to] the full implementation of the Iran deal."
Iran does not currently have nuclear weapons and analysts believe that it would take country at least a year to develop one. Leaders in Tehran have repeatedly said that they do not seek to create such a weapon, and want to use nuclear technology for peaceful purposes. However, the U.S. has consistently accused Iran of developing its nuclear program for military capabilities.
General Hossein Dehghan, a top military adviser to Iran's Supreme Leader Ayatollah Ayatollah Khamenei, told CNN on Sunday morning that his country planned to retaliate against the U.S. military targets for the killing of Soleimani.
"The response for sure will be military and against military sites," he said.
"It was America that has started the war. Therefore, they should accept appropriate reactions to their actions," Dehghan argued.
But George Friedman, the founder and president of Geopolitical Futures, expressed skepticism that Iran would launch a successful attack against the U.S. in the coming days.
"The head of their intelligence and special ops unit is dead and it will take time to reorganize. Al Quds normally acts very quietly but this retaliation needs to be public–a building, a crowd or something," Friedman said. "Its nature is that it does not come when you expect it, and doesn't come where you think it will."
Trump warned Iran in a Saturday Twitter thread not to retaliate for the U.S. strike, threatening that his administration had a list of 52 sites that would be targeted if there was any military response.
"The United States just spent Two Trillion Dollars on Military Equipment," the president said in a follow-up tweet. "We are the biggest and by far the BEST in the World! If Iran attacks an American Base, or any American, we will be sending some of that brand new beautiful equipment their way...and without hesitation!"
This article has been updated with additional details and comments.