After Uvalde, Dems See Opportunity to Win Parents With School Safety Debate
Republicans capitalized on public anger over critical race theory and mask mandates in schools to win state and local elections last year, suggesting conservatives would benefit from culture war clashes in the 2022 midterms.
But the political debate around schools was upended last week by the mass shooting in Uvalde, Texas, that killed 19 students and two teachers. Now, advocates are urging Democrats to refocus the conversation on school safety and gun violence prevention — issues that could put Republicans who oppose gun control measures on the defensive, and shift attention away from the fights over Covid regulations, book bans and other topics energizing the GOP base.
"It's going to be very important for Democratic candidates to shift the conversation to gun safety in order to win back some of these parent voters that they lost" last year in state and local races in Virginia and elsewhere, said Peter Ambler, the executive director of Giffords, an advocacy organization.
"Obviously, inflation and the economy are going to be very present concerns" in the midterms, Ambler said. But after the Uvalde tragedy and other mass shootings in recent weeks — and the leaked Supreme Court draft opinion striking down Roe v. Wade — gun violence and abortion are "going to have increased salience, and [the issues] are more advantageous to Democrats."
Leading gun control groups had already been ramping up political spending in recent months as the 2022 primary season got underway, even before the Uvalde shooting on May 24 and a mass shooting at a Buffalo supermarket earlier in May sparked renewed focus on the issue.
Sandy Hook Promise has spent $2.1 million so far this year on political ads urging action to end gun violence, according to Bully Pulpit Interactive, which tracks spending on political ads. Brady Campaign to Prevent Gun Violence has spent $400,000, and Everytown for Gun Safety, a group backed by former New York Mayor Michael Bloomberg, has spent $268,000 on political ads.
The groups were the three top spenders on gun violence-related advertising during the first five months of the year, followed by the NRA, which spent $122,000 on political ads.
Republican primary candidates have focused far more on issues surrounding guns than have Democratic primary candidates so far this year. But gun control advocates said they're pushing Democrats to be more vocal on gun violence prevention, and expect Democrats to highlight the issue — with a focus on school safety — in general election campaigns this fall.
"For far too long we've been failing to protect young people and children in our country from gun violence," said Christian Heyne, the vice president of policy at Brady. After the shooting at Robb Elementary School in Uvalde, "we're really seeing that [frustration] come to a head."
The push hinges on a belief among many advocates that gun control is a winning political issue with liberal and moderate voters, especially in the battleground states that will decide control of the Senate this fall.
The Giffords group, led by former U.S. Representative Gabby Giffords — an Arizona Democrat who was shot and survived an assassination attempt in 2011 — released a poll in April that found 67 percent of voters in battleground states think a system of background checks for all gun sales should be a top priority.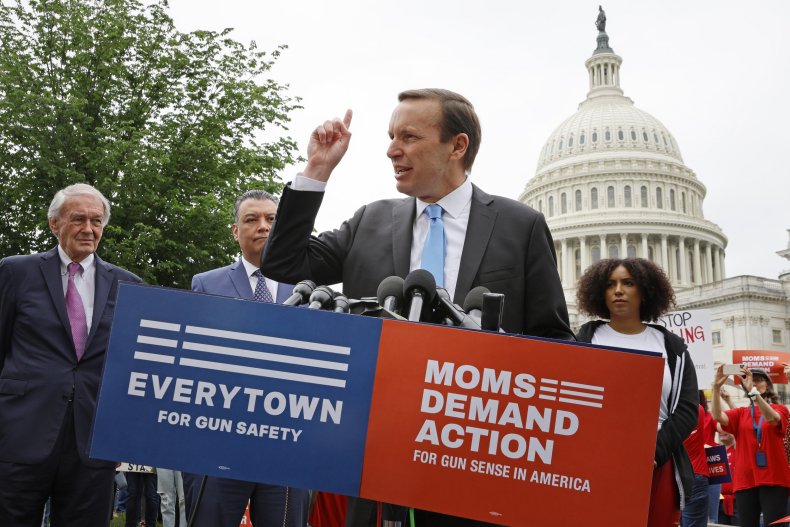 The poll mirrored other recent national surveys taken before and after the Uvalde shooting that show widespread support for some gun control measures. According to a Politico/Morning Consult poll conducted after Uvalde, 88 percent of Americans strongly or somewhat support requiring background checks for all gun sales. The poll also found 67 percent of respondents strongly or somewhat support banning assault-style weapons.
Despite public support, broader gun control measures appear off the table in current Senate negotiations sparked by the Uvalde shooting and a mass shooting at a Buffalo supermarket earlier in May that killed 10 Black people.
Instead, bipartisan negotiators are considering a narrower set of proposals centered on boosting school security and mental health, areas where Democrats have a better shot of getting the 10 Republican votes they need to pass any legislation.
Senate Democrats have acknowledged the proposals under consideration would fall short of the broader reforms many activists want, but have argued steps to make schools safer would be a critical step.
A new gun control law, however narrow, would represent a victory Democrats could point to in the midterms this fall. But as the party in power, Democrats would likely receive more blame from voters than Republicans if the negotiations collapse. And while shifting the conversation around schools to gun violence may energize some progressives, most voters in November will still be focused on the economy and inflation, said Jeff Link, a Democratic strategist.
"The way the Democrats are going to be successful is talking about the economy and fighting inflation. Those are the kind of bread and butter issues Democrats can win on," Link said.
President Joe Biden weighed in Thursday, delivering a rare prime-time speech in which he called on Congress to back sweeping reforms that have little chance of passage, including a ban on assault-style weapons and high-capacity magazines.
But Biden also put school safety at the center of his speech. In a possible preview of messaging Democrats may use this fall, he warned gun control opponents in Congress that they would face consequences at the ballot box in November.
"If Congress fails, I believe this time a majority of the American people won't give up either. I believe the majority of you will act to turn your outrage into making this issue central to your vote," Biden said.