AG Barr Says Berman Was 'Living on Borrowed Time' as Interim U.S. Attorney
Attorney General William Barr said Thursday during an interview with NPR's Steve Inskeep that fired U.S. Attorney Geoffrey Berman had been living on "borrowed time."
During his time with the Southern District of New York (SDNY), Berman led the prosecution against President Donald Trump's former lawyer, Michael Cohen. The SDNY has also been conducting investigations into Rudy Giuliani, Trump's personal attorney. Some observers have seen Berman's removal from office as evidence of corruption, claiming that Barr and the Department of Justice make special accommodations for Trump. In Thursday's interview, Barr said that Berman's firing did not indicate any kind of malfeasance.
"The president had never made an appointment to that office," Barr said. "Geoffrey Berman was interim. He was appointed by the court as a temporary U.S. attorney holding the fort. He was living on borrowed time from the beginning."
Barr also emphasized the fact that U.S. attorneys are "appointed by the president and can be removed by the president."
Allegations that Berman's firing constituted a favor to Trump were dismissed by Barr. "Any time you make a personnel move, you know, conspiracy theorists will suggest that there's something, there's some ulterior motive involved," Barr said.
Democratic Minority Leader Chuck Schumer asked for an investigation into Berman's firing in a Monday letter to U.S. Department of Justice Inspector General Michael Horowitz and Office of Professional Responsibility Director and Chief Counsel Jeffrey R. Ragsdale.
"As the Attorney General was not truthful when he initially represented that U.S. Attorney Berman was 'stepping down,' Schumer wrote, "this corrupt firing cannot be explained by cause and gives the impression that the President interfered in ongoing criminal investigations into himself and his associates."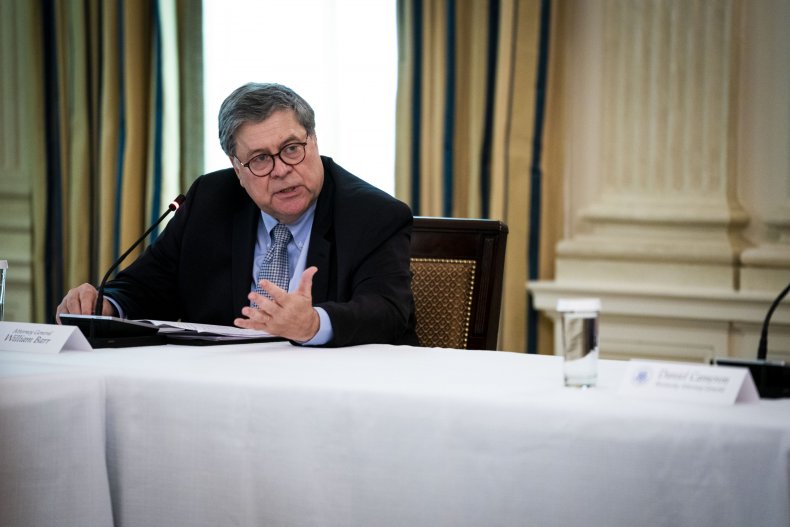 Current Chairman of the Securities and Exchange Commission Jay Clayton was nominated Friday to fill Berman's position. Schumer called on Clayton to withdraw from his name from consideration for the position in order to "save his own reputation from overnight ruin."
Newsweek reached out to Schumer's office for further comment. This story will be updated with any response.
Barr announced in a Friday press release that Berman had resigned his position. Berman released his own statement, contradicting Barr's announcement.
"I have not resigned," Berman wrote, "and have no intention of resigning, my position, to which I was appointed by the Judges of the United States District Court for the Southern District of New York."
Barr took Berman to task in a Saturday letter, saying that Berman had "chosen public spectacle over public service" by announcing that he would not leave the SDNY.
"Because you have declared that you have no intention of resigning," Barr wrote, "I have asked the President to remove you as of today, and he has done so."
Upon receipt of Barr's second letter, Berman announced that he would step down from his position, effective Saturday.
AG Barr Says Berman Was 'Living on Borrowed Time' as Interim U.S. Attorney | U.S.