AG Bill Barr Used His Office to Further Trump's Re-election Campaign, Bipartisan Ethics Group Alleges
U.S. Attorney General William Barr's conduct as head of the Department of Justice is under scrutiny, as a bipartisan group of lawyers alleged he used his influence to further President Donald Trump's re-election in a new report published Monday.
The report, authored by lawyers from University of Pennsylvania's Center for Ethics and the Rule of Law, and Citizens for Responsibility in Washington, some of whom served in staff positions at the White House and Justice Department during past presidential administrations, ultimately called for Barr's impeachment on charges of alleged abuse of power, obstruction of Congress and obstruction of justice.
"The concerns the working group has raised in this report demonstrate that the attorney general has compromised the interests of the United States and jeopardized our national security by failing to enforce the law evenhandedly and at a minimum, created the perception that the law is being applied as a political tool to support the re-election of the current president," the report's authors stated.
"The conduct described in this report is more than enough to justify opening such an impeachment inquiry and we recommend that the House Judiciary Committee do so at once," they continued.
The authors examined Barr's involvement in Justice Department inquiries related to Trump throughout his time in office, including former Special Counsel Robert Mueller's investigation of Russian interference in the 2016 election. Authors concluded that Barr "seriously and intentionally mischaracterized" Mueller's report on the two-year investigation, and suggested "the purpose of this mischaracterization was indisputably political, namely, to benefit Donald Trump by obscuring the Mueller Report's findings regarding the Russia probe."
Authors also evaluated Barr's role in federal prosecutions of former national security adviser Michael Flynn and political consultant Roger Stone, who was charged with witness tampering and lying to investigators following the Mueller Report's publication. They concluded the attorney general's "interference" in both cases was politically motivated and violated Justice Department procedures.
In addition, the report's authors cited Barr's hand in deploying federal agents to Portland, Oregon, and Lafayette Square in Washington, D.C., in response to protests against police violence and racism. They also noted the Justice Department's failure to comply with congressional subpoenas, calling this a resistance to oversight.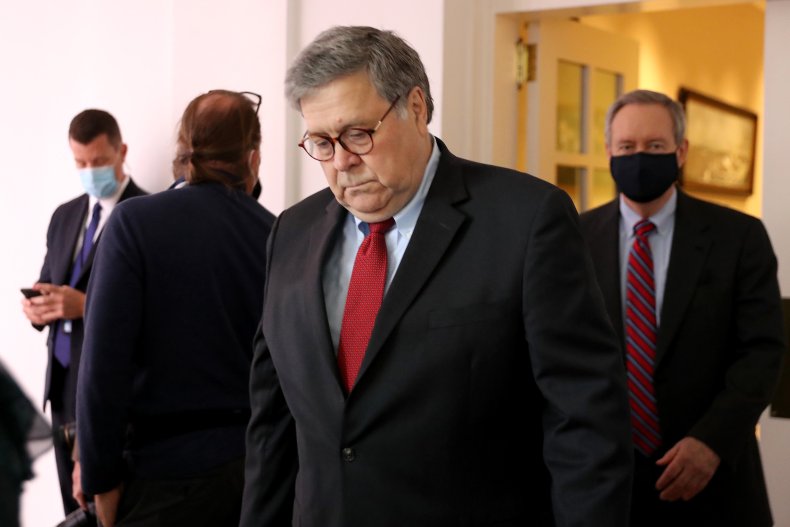 "In light of the severity of abuses set forth in this report, the working group recommends that the House of Representatives open a formal impeachment inquiry into the conduct of Attorney General Barr," authors wrote in the Monday report's recommendations. They also recommended that Congress implement practices to strengthen oversight and bolster "the independence of the special counsel."
Newsweek reached out to the University of Pennsylvania's Center for Ethics and the Rule of Law, Citizens for Responsibility in Washington, and the Department of Justice for comments but did not receive replies in time for publication.