Ahmaud Arbery's Mother Wants to Know Why the Person Who Filmed Her Son's Killing Didn't Do Anything to Help
Wanda Cooper-Jones, the mother of slain 25-year-old jogger Ahmaud Arbery, wants to know why William Roddy Bryan, the neighbor who filmed the viral video of her son being shot, didn't try and help.
"Why would you videotape it? Why didn't he do anything to help? Why didn't he reach out right after the shooting? Why did he only come forward after the video was leaked?" Cooper-Jones asked in a recent interview.
Bryan told CBS News he was trying to be a "good Samaritan" by recording the incident and says he has been "complete shock" since witnessing Arbery's alleged murder.
"I had nothing to do with it," Bryan said. "I am trying to get my life back to normal, and it's been smeared for the last week. I was told I was a witness and I am not sure what I am."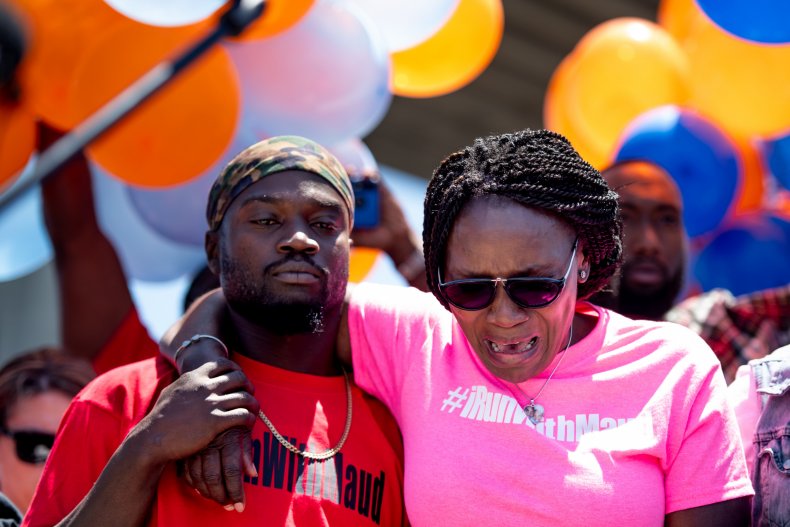 Lee Merritt, an attorney working with Cooper-Jones said, Bryan "is a liar... launching a campaign to clear his name." Merritt believes Bryan needs to be held accountable.
"If he was a good Samaritan, he would have honked his horn," Merritt said. "It's worth noting that on the video, he doesn't even flinch. He doesn't gasp. Shot after shot. He simply takes it all in."
Last Wednesday, Gregory McMichaels, a 64-year-old former law enforcement official, and his 34-year-old son, Travis McMichaels, were arrested in connection with the fatal shooting of Arbery on February 23. The Georgia Bureau of Investigation said both men were charged with murder and aggravated assault and then taken into custody for booking into the Glynn County Jail.
At the time of the incident, Arbery, who is black, was unarmed and jogging around Georgia's Glynn County. Brady's video showed Arbery falling to the ground after being confronted by two white men driving in a truck.
McMichael and his son suspected Arbery of being involved in a string of local burglaries. Though the father claimed that Arbery attacked them, the video shows that he only attacked after McMichael's son brandished a firearm at him.
Merritt claims that Bryan told authorities that he had helped "trap" Arbery just before he was gunned down by McMichaels and his son.
Newsweek reached out to Glynn County Police Department for comment. This story will be updated with any response.
American viewers of the video grew angry when they learned that no one had been arrested for Arbery's death even though it occurred more than two months ago.
Georgia criminal defense attorney Alan Tucker leaked the video to local radio station WGIG, stating that "people had the right to know." However, he didn't say how he obtained the video, according to Georgia Public Broadcasting.
"There had been very little information provided by the police department or the district attorney's office, but there was entirely too much speculation, rumor, false narratives, and outright lies surrounding this event," Tucker said.
"My sole purpose in releasing the video was absolute transparency because my community was being ripped apart by erroneous accusations and assumptions," he added.