AI Candidate Promising 'Fair and Balanced' Reign Attracts Thousands of Votes in Tokyo Mayoral Election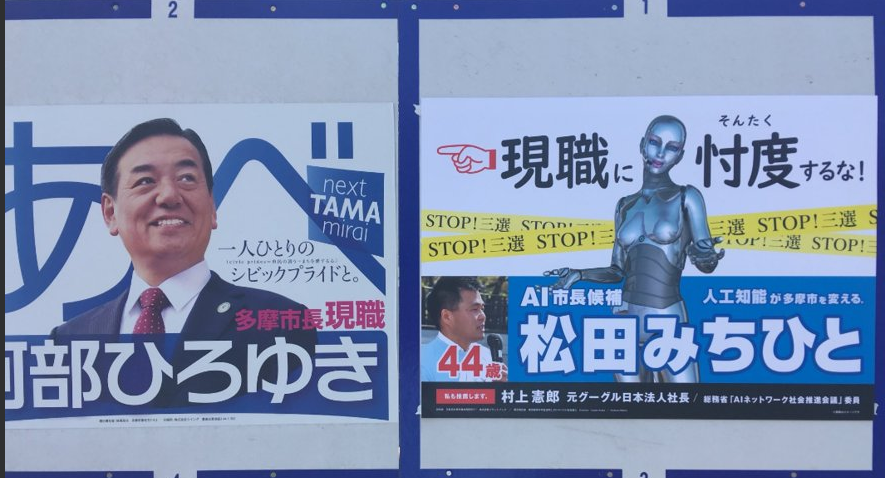 As Theresa May can attest, being dubbed robotic is normally a criticism for a politician, but that term is the unique selling point for one mayoral candidate.
On the hustings in Tama City, west of Tokyo, is Michihito Matsuda. He is running a campaign in which unsurprisingly he wants to display his intelligence, but in this case, it is artificial intelligence.
To shift human error out of the equation, he wants to use AI to gather and collate data from voters to create politics he says will be "clearly defined".
How exactly this will go down in an era of suspicion over data collection remains to be seen, but election posters adorn vehicles and billboards around the city with images of a metallic humanoid robot with female features as Matsuda, 44, seeks a return to the time Tama was the most advanced city in Japan.
"As it stands, the aging population will only continue to grow, prompting a need for change in the current administration.
"Let artificial intelligence determine policies by gathering city data and we can create clearly defined politics," he said, according to Otaquest.
This would involve using AI to analyze the positive and negative aspects of petitions, calculating the best way to implement what residents want and resolving disputes.
The campaign is backed Tetsuzo Matsumoto, vice president of mobile provider Softbank, and former Google Japan representative Norio Murakami.
Non-humans cannot run for office in Japan but there have been a number of unusual candidates in other ballots recently.
A contender dressed as a chicken ran in the Hungarian election earlier this month. In 2016, Limberbutt McCubbins, a male cat from Kentucky, was officially registered as a candidate in the U.S. presidential election.
Matsuda will be hoping to fare better than his 2014 campaign, in which he only got one tenth of the votes of the winner.