Aide to Tulsa Mayor Resigns Amid City Hosting Trump Rally
An aide to the mayor of Tulsa, Oklahoma, resigned Saturday ahead the city hosting President Donald Trump's campaign rally later that day.
Jack Graham, the now-former staff member for Tulsa Mayor G.T. Bynum, announced his decision in a tweet Saturday. Graham posted a photo of the resignation letter that stated he had left the position effective Saturday.
"I appreciate the opportunities you have given me over the years, but my heart is telling me that I can no longer effectively support you and the decisions you make for Tulsa," Graham stated in the letter.
Representatives from Bynum's office could not be reached for comment.
Graham's decision to resign was reportedly over how city officials handled the campaign rally, which took place at Tulsa's BOK Center Saturday evening.
While Graham said he had supported Tulsa welcoming the president to their city, Graham told local media that "not enough was done" by officials to reduce the spread of coronavirus at the event.
"Unfortunately, people are going to die for decisions people have made," Graham told Tulsa World.
Graham, who graduated from the University of Tulsa in 2017, had joined Bynum's staff in 2019 after previously serving as an intern, according to his LinkedIn page. He does not yet have another job.
Bynum has served as Tulsa's mayor since 2016. He is a member of the Republican Party.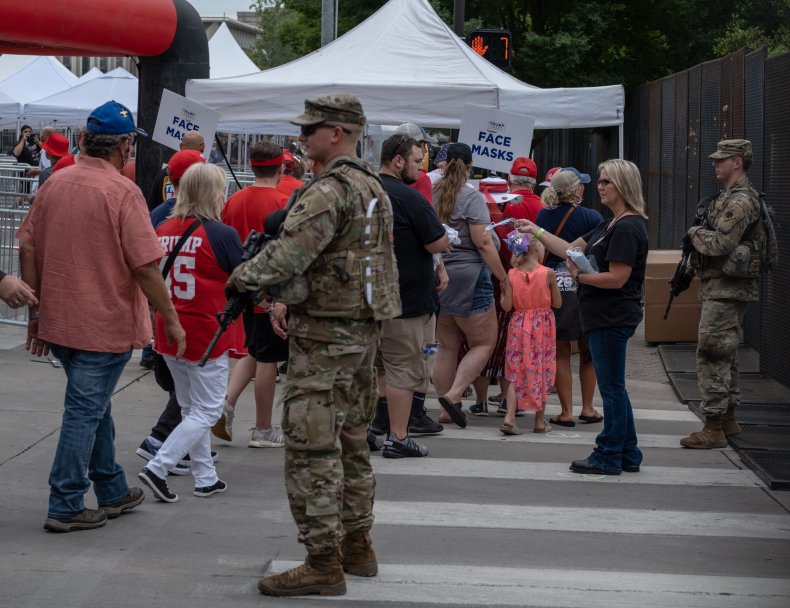 The mass rally — Trump's first in months since the pandemic — was held Saturday evening despite the rising number of coronavirus cases in Oklahoma.
Tulsa County, where the city is located, reported 2,206 confirmed positive cases on Saturday. The number is up nearly 7 percent from the previous day, according to the county's health department.
BOK Center employees had requested that members of Trump's campaign provide them with a detailed plan outlining safety measures for the event.
Attendees were not required to wear a mask and had to agree that they would not sue the campaign if they contracted coronavirus at the rally.
"By clicking register below, you are acknowledging that an inherent risk of exposure to COVID-19 exists in any public place where people are present," stated a waiver that all rally-goers had to sign.
"By attending the Rally, you and any guests voluntarily assume all risks related to exposure to COVID-19 and agree not to hold Donald J. Trump for President, Inc.; BOK Center; ASM Global; or any of their affiliates, directors, officers, employees, agents, contractors, or volunteers liable for any illness or injury," the waiver stated.
Six members of Trump's team had tested positive for coronavirus in Tulsa a mere hours before the president arrived in the state. Quarantine procedures for those employees were immediately implemented, said Tim Murtaugh, communications director for Trump's campaign.