Alleged Neo-Nazi Charged with Illegal Possession of Semi-Automatic Rifles, Thousands of Rounds of Ammunition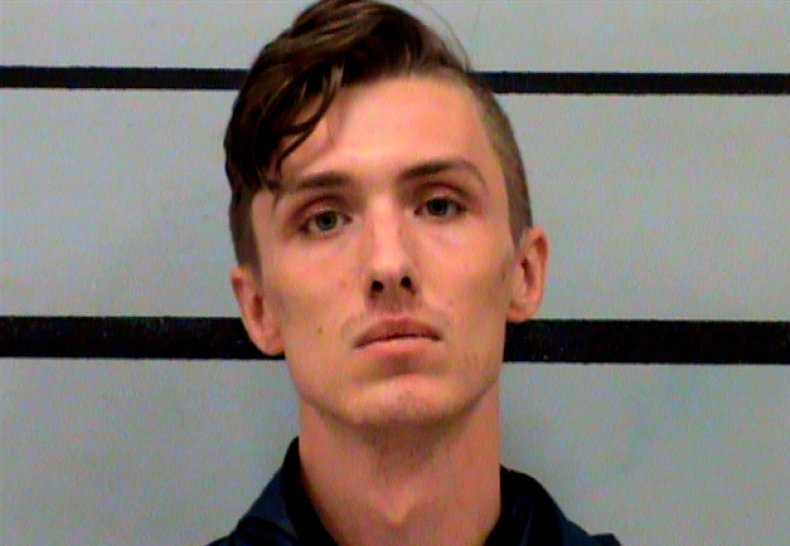 A Washington state man suspected by federal prosecutors of being a neo-Nazi has been charged with unlawful possession of firearms following a routine traffic stop in Texas in which marijuana was also discovered in the car.
Under federal law, it is illegal to possess firearms while also illegally using a controlled substance. Court documents say that Aiden Bruce-Umbaugh, 23, claimed ownership of THC oils and marijuana, both Schedule I controlled substances.
Bruce-Umbaugh was riding in a Ford Focus driven by Kaleb Cole, also of Washington State, when sheriff's deputies signaled the car to pull over in Garza County, Texas, on November 4. During questioning, Cole repeatedly looked to Bruce-Umbaugh to provide answers to the sheriff's deputies. Bruce-Umbaugh, in turn, "avoided eye contact and limited conversation with the chief deputy," according to FBI Special Agent Chris Stier.
Cole is a self-avowed member of the neo-Nazi group Atomwaffen Division, and Seattle police recently confiscated his firearms using the state's red-flag law. The Anti-Defamation League says members of the group "train in preparation for an impending race war and promote the use of violence to reach their goal of 'uncompromising victory.'"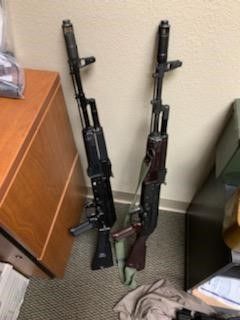 Firearms seized from Bruce-Umbaugh.
U.S. Attorney's Office for the Northern District of Texas
While conducting the traffic stop, deputies noticed the handle of a "machete or bowie knife" protruding from a compartment inside the car, and both Bruce-Umbaugh and Cole "were wearing combat/tactical attire," a criminal complaint alleges.
Bruce-Umbaugh is said to have informed officers that he had rifles in the back of the car. After calling for a drug-sniffing canine, police determined there was reason to believe the vehicle also contained illicit drugs. That is when Bruce-Umbaugh allegedly admitted to possessing a "small amount" of marijuana and THC oils.
A search of the vehicle yielded several weapons, including a Sig Sauer 9mm pistol, an AR-15 rifle, an AK-47 rifle and another semi-automatic rifle. The firearms were seized by law enforcement. Officers also collected "between 1,500 and 2,000 rounds of ammunition" from the car.
At a detention hearing Thursday, prosecutors alleged that they "had reason to believe Mr. Bruce-Umbaugh is a member of Atomwaffen Division" as well.
"In jailhouse phone calls, Mr. Bruce-Umbaugh allegedly referenced his affiliation with 'the group' and discussed a photo taken of him and another AtomWaffen Division member at the Auschwitz concentration camp," the Justice Department said in a press release.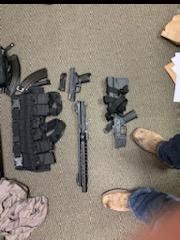 Firearms seized from Bruce-Umbaugh.
U.S. Attorney's Office for the Northern District of Texas
Law enforcement officers say they were told by either Bruce-Umbaugh or Cole that the pair was "traveling from Washington state to Houston to 'meet with some friends.'"
Bruce-Umbaugh is a confirmed member of Washington State's Address Confidentiality Program, Newsweek has learned. The program assigns a P.O. Box to participants, allowing them to avoid publication of their residential addresses.
According to the program's website, one can only be a participant of the program if one is "a survivor of an actual or threatened domestic violence, sexual assault, trafficking, or stalking." Criminal justice employees targeted by harassment can also participate. It was not immediately clear under which category Bruce-Umbaugh was admitted.
In response to a request for comment, a lawyer for Bruce-Umbaugh provided Newsweek with the following statement:
"We believe a citizen accused of a crime should be judged on his or her actions and the facts of the case, not upon alleged associations which should be protected by the First Amendment. We will continue to investigate factual and Constitutional defenses as this case proceeds and wish to highlight that Mr. Bruce-Umbaugh has never before been arrested or convicted of any crime and should still be presumed innocent."
If convicted, Bruce-Umbaugh faces a maximum penalty of 10 years in prison.
This story has been updated to include a statement from Bruce-Umbaugh's lawyer.