Aiden Fucci Says 'Demons Killed My Soul' in Jail Video Ahead of Tristyn Bailey Murder Trial
Aiden Fucci, the 14-year-old Florida teenager charged in the murder of his 13-year-old classmate Tristyn Bailey, claimed to be battling demons in a bizarre video from inside jail.
Fucci appeared confused and disoriented on a video feed from the Duval County jail during a pre-trial Wednesday court appearance.
In the video, obtained by News4Jax, the teenager sits alone in a room before picking up a phone while looking around aimlessly and rocking back and forth.
"I won't let you demons take my soul," Fucci is heard muttering at one point. "Please don't let the demons take my soul. The demons are going to take my soul away," he adds.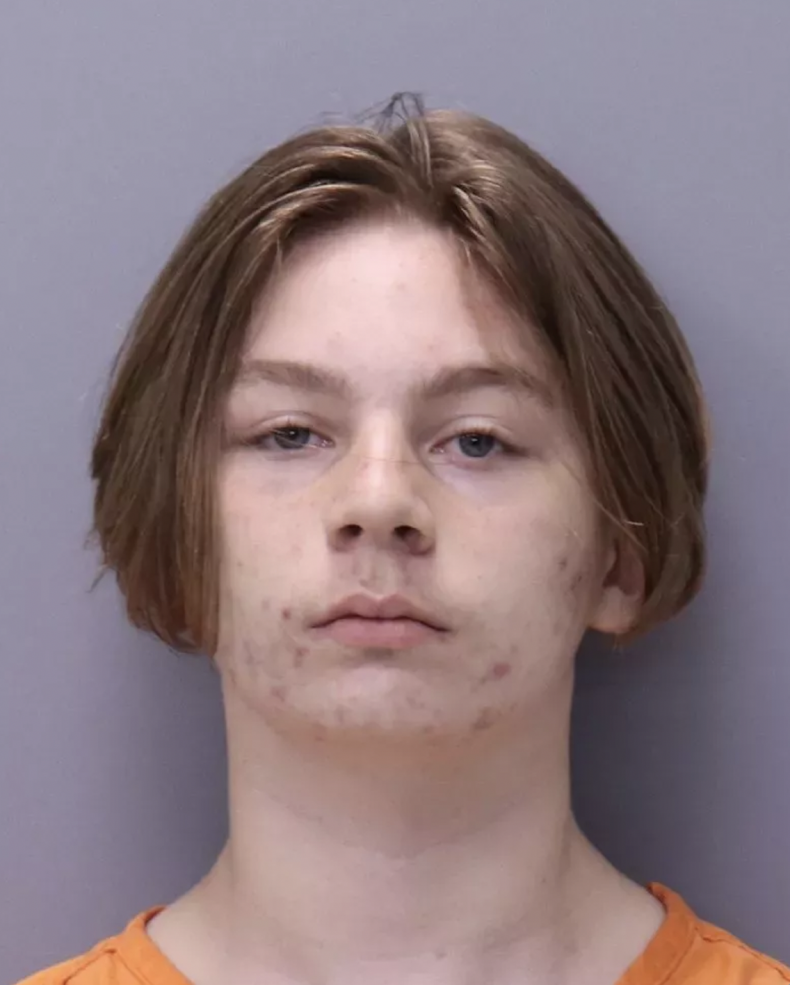 At another point in the live feed he appeared unsure where he was, asking: "What's going on? Why am I here? I just want to talk to my mom and dad. What's going on? What's going on?"
While continuing to rock back and forth in his chair, Fucci flips his hair back and mutters: "I know you demons killed my soul."
The 14-year-old's lawyer reportedly filed a speedy trial waiver and the case was passed to October 28.
Dr. Justin D'Arienzo, a forensic psychologist not affiliated with the case, said he believed Fucci may receive a mental competency evaluation. A judge has not ruled that Fucci take a mental competency evaluation and investigators have not said he suffers from a mental disorder.
"He definitely looked disoriented and confused. It's hard to tell if he's feigning mental illness or if something is really happening with him," D'Arienzo told the outlet. "From my perspective, it seemed genuine, given the pattern of behavior today and from what else we know."
Fucci is accused of stabbing Bailey more than 100 times on Mother's Day earlier this year.
Bailey was stabbed 114 times with least 35 of the wounds located on the head and neck, and 49 of the marks confirmed to be defensive wounds on the upper extremities, according to the medical examiner's report.
Her body was found lying in a wooded area of St. Johns, Florida on May 9 after being reported missing earlier that day.
The word "KARMA" was found handwritten in blue ink on her left ankle, medical examiner's found. A smiley face was also drawn on her right ankle. The report did not state who put the writing on her body, but stated there were "smudged palm prints of dried blood" on her thighs and calves.
Fucci was arrested the following day and charged with second-degree murder. Prosecutors have since upgraded the charge to pre-mediated first-degree murder because of evidence that indicated premeditation.
When learning of Bailey's death, the teenager reportedly responded "How is that my problem?", according to an incident report released by the Seventh Judicial State Attorney's Office.
Fucci and his parents were said to be in a room at the St. John's County Sheriff's Office at the time when his mom informed him that Bailey was dead and her body had been found.
During police questioning, Fucci said he kissed Bailey but when she reacted by grabbing him, he pushed her. She hit her head during the fall, he said, and he told her to "F off" and walked away, according to police interview transcripts.
Fucci will be tried as an adult and has been held without bond. The teen pleaded not guilty in Bailey's murder on June 3.
His mother, Crystal Smith, has also been charged with tampering with evidence, a third-degree felony. She has also pleaded not guilty.
Surveillance video released last month allegedly shows the Smith in the upstairs bathroom of their family home scrubbing a pair of jeans. Prosecutors said it is the same pair of pants that tested positive for blood earlier this year.
Prosecutors also released Snapchat videos of Fucci and a friend in the back of a squad car after Bailey went missing.
"They've got us in a f**king cop car...tripping dude," Fucci tells the camera.
"We're having fun, in a f**king cop car," Fucci is heard saying in another. "Tristyn if you f**king walk out the damn..."
At the time of Bailey's disappearance, Fucci posted a selfie from the backseat of a police car with a message reading "Hey guys has anybody seen Tristyn lately."
Florida 7th Circuit State Attorney R.J. Larizza said Fucci had told friends the killing was "imminent" before Bailey's death.
"It brings me no pleasure to be charging a 14-year-old as an adult with first-degree murder, but I can tell you also that the executive team and I reviewed all the facts, all the circumstances, the applicable law and it was not a difficult decision to make that he should be charged as an adult," Larizza said during a press conference regarding the case back in May.
"I hope parents will learn something from the vicious and brutal murder, and that is you need to know what your kids are doing and what they're saying, because while we might not be able to stop these brutal and vicious murders from happening, we ought to at least try," he added.
Fucci is currently in custody at the Duval County jail where he awaiting trial.