Air Force Prepares Latest Hypersonic Missile Test Amid Arms Race With China, Russia
The U.S. Air Force is set to conduct the first flight test in its hypersonic missile project within the next 30 days, as the Pentagon pushes ahead with its research into the next-generation weapons.
The Air Force Life Cycle Management Center's Armament Directorate issued a statement on Friday noting that the first booster test flight (BTF-1) of the AGM-183A Air-launched Rapid Response Weapon—known as ARRW—will take place within a month, following unexplained delays.
The test had been due to happen last week, and before that was scheduled for some time in December 2020. The Air Force did not say specifically why the launch had been repeatedly pushed back, though cited "technical findings" and the COVID-19 pandemic as factors.
"The BTF-1 test vehicle is complete and is progressing through ground testing to verify its readiness for flight," said Brigadier General Heath Collins, the Air Force Program Executive Officer for Weapons.
"The team has successfully dealt with COVID challenges and resolved technical findings not uncommon in a first-of-a-kind weapon system," Collins added. "We have minimized schedule delays while maintaining a laser focus on engineering rigor. Our first BTF will happen in the next 30 days, followed by several additional booster and all-up-round test flights by the end of the year."
The Air Force's ARRW program is part of the Pentagon's wider hypersonic project, which includes a joint Army-Navy Common-Hypersonic Glide Body, which had its first successful test flight last year.
The coming Air Force test will "demonstrate the booster's ability to reach operational speeds and collect other important data," the press release said. It will also "validate safe separation and controllability of the missile away from the carrier B-52H, through ignition and boost phase, all the way up to separation of a simulated glide vehicle."
The simulated glider will then "safely disintegrate soon after separation." The test will take place over the Point Mugu Sea Range in California.
Hypersonic missiles could reshape the future battlefield given their high speeds, flat trajectory and ability to maneuver in-flight, all of which will make it difficult for existing anti-missile systems to intercept them. Russia and China are investing heavily in hypersonic research, and Moscow has already deployed two hypersonic weapons with troops.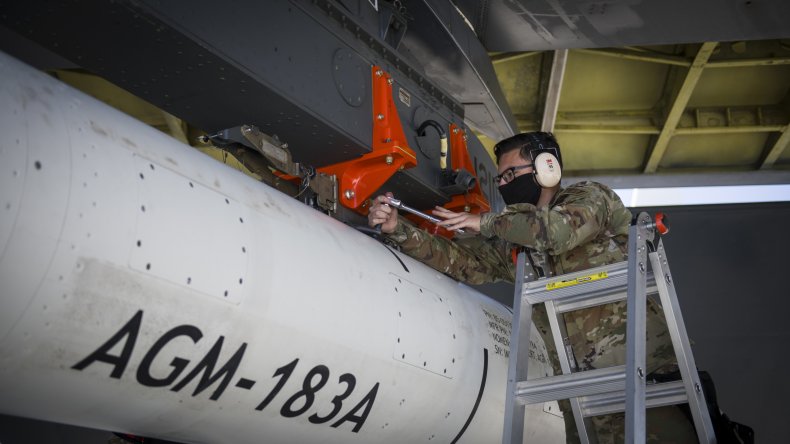 Hypersonic missiles are made up of a solid-fuel rocket booster topped by an unpowered boost-glide vehicle. The booster propels the glide vehicle and its warheads—including nuclear warheads—to hypersonic speeds, after which the latter detaches and continues on its target.
Air Force Major General Andrew Gebara—Air Force Global Strike Command's director of strategic plans, programs and requirements—told Air Force Magazine last year that the ARRW will be able to fly at speeds of between 5,000 and 6,000 miles per hour—somewhere between Mach 6.5 and Mach 8.
The Air Force has already completed the ARRW's early testing phase, mounting a prototype of the weapon on a B-52 strategic bomber. The B-1 Lancer bomber is also being considered as a second delivery aircraft.
The Air Force is hoping to live-fire ARRW prototypes in October 2021, purchasing as many as eight such prototypes. Operational capacity is slated for September 2022, though the Air Force has already had several delays while estimated program costs have swollen by some 40 percent to date.