Chinese Military Teases Hypersonic Missiles Amid Invasion Speculation
The Chinese military yesterday teased the country's most-advanced hypersonic missiles yet amid speculation the weapons had been redeployed for an imminent invasion of Taiwan.
In a social media post on Chinese app WeChat, the army's official account shared images of China's Dongfeng-17 hypersonic missiles, which debuted at last year's October 1 military parade in Beijing.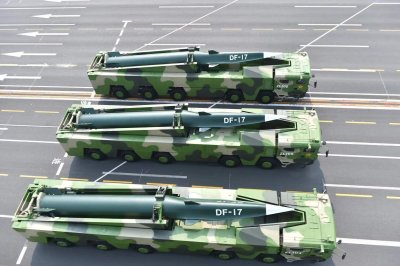 The post had almost no accompanying text, but Chinese media outlets said readers "understood" the reference, which appeared to be hinting at Sunday's South China Morning Post report about new DF-17 deployments in southeastern China, closer to Taiwan.
The Hong Kong newspaper cited an anonymous military source as saying the People's Liberation Army had upgraded its missile bases near the Taiwan Strait and equipped troops with the latest DF-17s, which are said to have a maximum range of over 1,550 miles, while being harder to intercept and having more accuracy.
According to the report, this was an indication that China is preparing for an invasion of the island, which has strayed further and further away from Beijing's one-China ideology since President Tsai Ing-wen's election in 2016.
Chinese Communist Party mouthpiece Global Times attempted to play down the report by calling it "mere speculation," while in the same article warning reunification of Taiwan by military means was now a question of "when and how."
The state news outlet said using the country's most advanced hypersonic missiles on the island just 100 miles away from its shores would be "a waste."
"The close distance between the island and the mainland makes the bombing mission against Taiwan military targets very easy," the newspaper said. "If deployed, [the missiles] are meant for targeting the more powerful enemies that try to intervene in the Taiwan question during the PLA's operation, and other threats that undermine China's sovereignty and territorial integrity."
It quoted an unnamed military expert as saying: "The military targets on Taiwan are totally within the reach of the PLA's rocket launchers and air-launched missiles carried by military aircraft, so using advanced missiles to strike against Taiwan would be a waste."
For its part, self-ruled Taiwan continues to add to its existing defenses with more U.S.-made armaments to deter a Chinese attack.
Foreign Ministry spokesperson Joanne Ou today welcomed the news that the U.S. State Department had approved the latest round of arms sales—reportedly worth over $1.8 billion.