China Media Plays Down 'Speculations' That Beijing Moved Hypersonic Missiles Closer to Taiwan
Chinese state media played down as "mere speculations" reports that Beijing had moved hypersonic missiles closer to Taiwan, though it also offered an explanation for how the weapons would be used.
Chinese Communist Party newspaper Global Times published the lengthy article in response to claims in Hong Kong's South China Morning Post—citing an anonymous source—that the People's Liberation Army had deployed its Dongfeng-17 hypersonic missiles to China's southeastern coastline.
The DF-17 is China's most advanced hypersonic missile, capable of a maximum range of over 1,500 miles and said to be more accurate than its predecessors, SCMP's report stated.
Tensions in the Taiwan Strait have risen in recent months as the PLA conducts live-fire landing exercises and Taipei responds with its own anti-landing drills in the narrow body of water.
However, state-run Global Times quoted a military expert as saying it would be "a waste" to use the missiles on Taiwan given their range capabilities.
The DF-17 hypersonic missile, which was first unveiled at last year's National Day military parade in Beijing, is said to have a range more than 10 times the width of the 100-mile-wide Taiwan Strait.
"The close distance between the island and the mainland makes the bombing mission against Taiwan military targets very easy," the newspaper said, adding that the weapons, if deployed, "are meant for targeting the more powerful enemies that try to intervene in the Taiwan question during the PLA's operation, and other threats that undermine China's sovereignty and territorial integrity."
"The military targets on Taiwan are totally within the reach of the PLA's rocket launchers and air-launched missiles carried by military aircraft, so using advanced missiles to strike against Taiwan would be a waste," the article said, citing an unnamed military expert.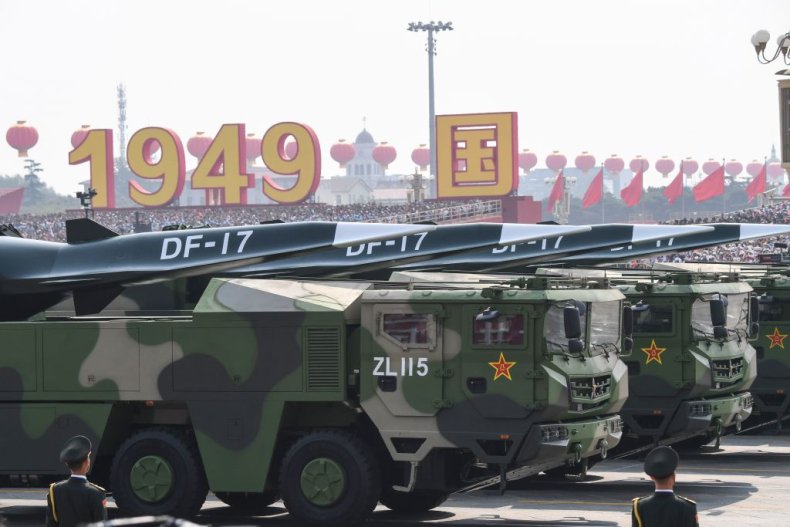 Commenting on the deployment of DF-17s near the island, Taiwanese defense analyst Su Tzu-yun also disagreed with SCMP's report on the missiles' potential uses cases.
Su, a senior analyst at the government-funded Institute for National Defense and Security Research, said the hypersonic ballistic missiles would be for the purposes of "anti-access" and "area denial" should foreign military powers attempt to intervene in a potential Taiwan Strait conflict, Taiwan's Liberty Times reported.
With a potential range of up to 1,550 miles, the missiles could in theory hit Taiwan, but that would be "a waste of DF-17's range capabilities," Su was quoted as saying.
He suggested the weapons would instead be used to target U.S. military bases and carrier battle groups in order to surround Taiwan and strike any U.S. forces attempting to assist Taipei.
Su noted that the DF-17, which has the potential to avoid anti-ballistic missile defense systems by entering the atmosphere, "has a low hit rate."
"Although they would cause a nuisance to the U.S. military, the U.S. will already have relevant countermeasures in place," Su added.
According to Liberty Times, Su pointed out contradictions in the SCMP article, saying the Chinese army had already prepared short-range Dongfeng-15 missiles along its eastern coastline as its main form of attack against Taiwan.
"If the PLA wanted to use DF-17s on Taiwan, it would only need to set them up in central China. The fact that the Chinese military has chosen the east coast for its missile installations is a 'clear' indication that it has U.S. forces in mind," the newspaper, which is regarded as holding a pro-independence stance, wrote.
Finally, the defense analyst said Taiwan's missile early warning system would be able to detect any DF-17 launch and subsequent climb into the upper atmosphere, with the island's Patriot and Terminal High Altitude Area Defense—THAAD—systems then able to quickly intercept.
Su noted that the U.S. would also be able to locate and destroy any mobile launchers or fixed installations with the help of its satellites and reconnaissance aircraft.
With military pressure from Beijing mounting on Taiwan ahead of the November elections, Global Times said reunification by force was now a question of "when and how."
"Based on the development of the current situation, whether to use the reunification-by-force option is no longer a question; the only question is when and how to use it," it said, citing unnamed Chinese analysts.