Woman Catfished by New York Airbnb 'In a Restaurant' in Viral Video
A woman was shocked to rent an Airbnb in New York—which was advertised as having views of the city skyline—only to find she was inside a restaurant.
Desiree Baker booked a trip to the Big Apple and selected a room that looked bright and airy in the photos, with gorgeous views of the city.
Baker shared a series of clips to her TikTok account @desireerosebaker, explaining that the room was in a "good location," adding it was a "nice hotel room, more than what I need, I just need a bed to sleep in."
After arriving in the middle of the night she went straight to sleep, and in the morning looked forward to rolling up the blackout blinds to take in the skyline.
"I was so excited to open up the window, like, roll up the shades and, like, let me see the view," she said.
To her horror, she discovered she was: "In a restaurant. We're fully in a restaurant... I can open up this window, fully, join these people at their dinner, at their lunch."
Demonstrating how she's so close that she can touch a customer's table, Baker added: "You can't make this up."
Baker shared a number of follow-up videos, in which she claimed she was staying at Cassa, which has a website Cassa Times Square Hotel and Residences, and an Airbnb site listed as the Cassa Studios and Residences.
The Airbnb site says: "We can't confirm the exact room, but your room will be the same category you see on the pictures."
Sharing more footage from her room on Monday, in a clip that has been watched nearly 7 million times, Baker asked: "HOW IS THIS LEGAL you literally can not make this up. I can open the window and touch their table."
She compared the glossy advertorial photos with her actual view, which can be seen here, but this time there was a couple dining at the table.
Baker said: "I'm in New York city right now at my Airbnb, these are the pictures from online, like two beds, nice view, whatever, good location.
"This is a little better close up of the view, the window, we thought we had. I rolled up the shades, there's no buildings. We're in a restaurant.
"Look at this, that's a restaurant, that's two people eating dinner. I don't, they definitely can't see us."
Despite turning off the lights, assuming she couldn't be seen by diners, she decided to investigate further—and went into the restaurant herself.
She claimed it was the Tempura NYC eatery, located at 511 9th Avenue, near Times Square, as she headed towards the tables next to her room, confirming that it was one-way glass.
Baker filmed from the other side, as her traveling companion opened the window and waved. She revealed that the restaurant staff gave them tequila shots to take back to their room.
"And now I'm just going to put them back out the window," she joked, referring to the empty glasses. "Great service," she added.
Commenting on the viral clip, JennyDawnTX wrote: "I think you're their server bestie."
Kiersten said: "Order pick up and ask them to bring it to the window."
"This is like those dreams where you walk out of your bedroom or something at home right into some random public place like it's normal," said Hair and Hay.
Alyssa commented: "Omg I would sit there with the blind up and just stare at people all night."
Her bizarre experience didn't end there, as she claimed the couple she accidentally captured eating their meal saw her video and got in touch.
Baker claimed the woman, named Ilana Katz, got in touch via her Venmo, saying: "I'm the girl in the date in your TikTok... Dead serious! Tempura last night... It's me and my boyfriend."
After her video blew up, Baker responded to numerous questions in another clip, addressing whether she was getting a refund.
She shared screengrabs of a conversation—which she claimed was with the host, named as Kristina. Baker complained that the "pictures of the room we booked were completely inaccurate. There is a restaurant outside of our window not a view of outside."
Baker also posted the response she allegedly received, which said: "I believe everything went and is going well during your stay and glad to know that we were able to host you during this time of year."
While Baker said she didn't get a refund from the host, she shared another message that she claims is from Airbnb.
It reads: "We found out about your experience from the TikTok video, needless to say it definitely shocked us and it's not the experience that we want our guests to have."
The message went on to say they're following it up with the host, and offered Baker a coupon or discount.
AirBnB told Newsweek: "We worked to support the guest and the hotel is currently under investigation."
Newsweek has reached out to Baker, Tempura NYC and Cassa Times Square Hotel and Residences for comment.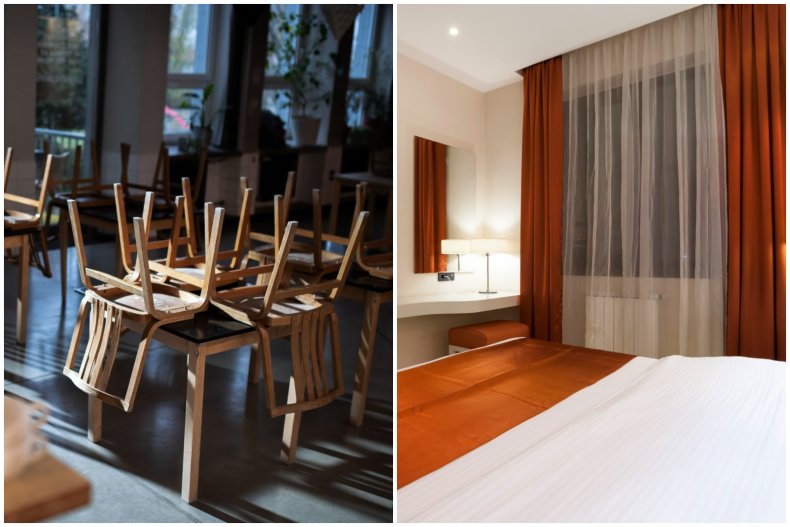 Update 12/21/21, 11:30 a.m. ET: This article was updated with comment from Airbnb.