City Palace of Jaipur, Home of Maharaja Sawai Padmanabh Singh on Airbnb: Location, Price and How To Make A Reservation
Guests can now book an Airbnb stay at the historic City Palace of Jaipur, the real-life home of the Indian royal family in the state of Rajasthan, which dates back to the 1700s and has hosted the likes of Princess Diana and Prince Charles as well as American celebrities including Jackie Kennedy, Bill Clinton and Oprah Winfrey.
The Gudliya Suite, the personal home of Maharaja Sawai Padmanabh Singh (the 21-year-old prince of the Indian royal family), can now be reserved on Airbnb from around $8,000 a night on selected dates in January.
The extravagant one-bedroom suite for two features a private entrance, private living room and indoor swimming pool. Pictures of the interior can be seen on the official Airbnb listing of the suite.
A stay at the suite also comes with chauffeur car service from the airport and a private butler who will make all arrangements for your stay, such as excursions and restaurant bookings, including two curated gourmet dining experiences with tailored menus featuring "hearty Rajasthani dishes like laal maas, top shelf wine and champagne" at Baradari, the recently renovated in-house restaurant of the City Palace, according to Airbnb.
A member of the royal family staff will also take guests on a private shopping tour of Jaipur's "highly lauded retail pleasures" as well as a guided architectural tour of the City Palace complex grounds and guided walks through local museums.
The City Palace is located within walking distance of other attractions such as the pink sandstone Hawa Mahal palace, which is within a six-minute walk away, while the Johri Bazaar, a famous market place, is about a 13 minute-walk, Airbnb notes.
All proceeds from the bookings will go to "the Princess Diya Kumari Foundation (named after Maharaja Sawai Padmanabh Singh's mother, a member of Indian parliament), a non-profit dedicated to supporting rural women and artisans in Rajasthan," Airbnb states.
"I am thrilled that my family and I are partnering with Airbnb to bring the splendour of Rajasthan to life for travelers from around the world. My own travels with Airbnb have made me feel very welcome in new cities and cultures, and I am happy that the experience of quintessential Indian hospitality will be shared with others," Maharaja Sawai Padmanabh said in a statement.
The City Palace was built around 1727 when the city of Jaipur was established and is among the many pink-clad structures dotted around Jaipur for which it has been known as the "Pink City."
The City Palace is one of several royal properties found in Jaipur and sits in the heart of the capital in northwest Rajasthan. Earlier this year, Jaipur was designated as a UNESCO World Heritage Site for his historic roots.
"Unlike other cities in the region located in hilly terrain, Jaipur was established on the plain and built according to a grid plan interpreted in the light of Vedic architecture. The streets feature continuous colonnaded businesses that intersect in the centre, creating large public squares called chaupars. Markets, stalls, residences and temples built along the main streets have uniform facades. The city's urban planning shows an exchange of ideas from ancient Hindu and modern Mughal as well as Western cultures," UNESCO notes.
"The grid plan is a model that prevails in the West, while the organization of the different districts refers to traditional Hindu concepts. Designed to be a commercial capital, the city has maintained its local commercial, artisanal and cooperative traditions to this day," the organization adds.
The City Palace joins a series of other high-profile famous properties available on Airbnb such as the former home of Harry Potter in Suffolk, England, which was made available earlier this month, and Barbie's Malibu Dreamhouse in California, which was unveiled last month.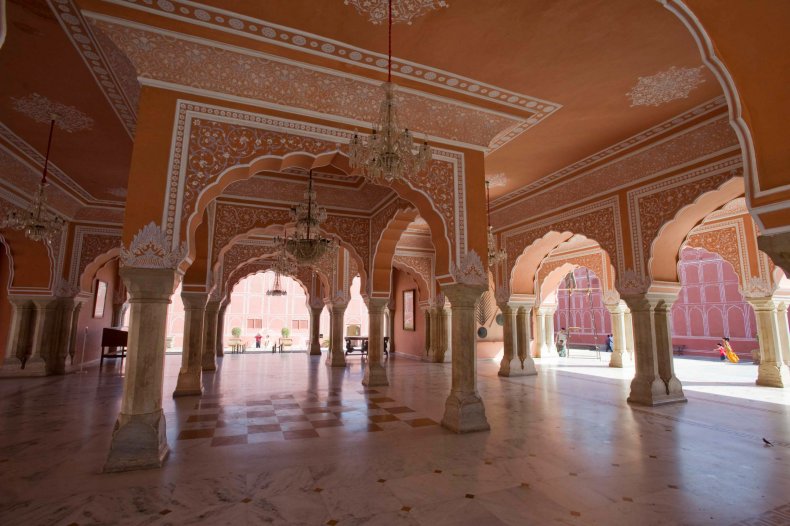 Earlier this month, Airbnb was criticised after an armed robbery took place at a house party held at a rental in Atlanta. The incident came just a week after Airbnb CEO Brian Chesky announced the company is banning party houses in an effort to "combat unauthorized parties and get rid of abusive host and guest conduct."
He made the annoucement in a post on his Twitter account, following the death of five people after a gunman opened fire during a Halloween party hosted at an Airbnb property in Orinda, California.
Earlier this month, Airbnb announced it would be verifying all of its property listings for accuracy so that people "can trust Airbnb when something does go wrong," in view of the fatal incident that took place in Orinda.
"Starting now [November 6], verification of all seven million listings on Airbnb will commence. Homes will be verified for accuracy of the listing (including accuracy of photos, addresses, and listing details) and quality standards (including cleanliness, safety, and basic home amenities) and those that meet our high expectations will be clearly labeled," Airbnb stated on its website earlier this month.
"By December 15, 2020, every home and every host on Airbnb will be reviewed with the objective of 100% verification. Trust is the real energy source that drives Airbnb and has enabled us to scale our platform to 191 countries and to more than 600 million members.
"But recently, events by bad actors on our platform took advantage of that trust, including at a home in Orinda, California. We intend to do everything possible to learn from these incidents when they occur," Airbnb stated.