Airline Bankruptcies Might Leave Customers Without Refunds
Norwegian Air Shuttle ASA, one of Europe's largest airlines, has said that it will need another loan guarantee from Norway's government to survive, having announced losses of $600 million.
An existing NKr3bn ($340 million) loan guarantee from the Norwegian government relied on a $1.7 billion debt-for-equity swap that involved a variety of stakeholders, including aircraft leasing companies and bondholders.
This means that more of the company's equity is in state hands rather than those of private shareholders.
"We were hit by COVID-19 and customer demand literally stopped from one day to the next, as government-imposed travel restrictions and travel advice were introduced worldwide," Norwegian Air Shuttle CEO Jacob Schram said in a statement.
"For the past few months we have been working tirelessly to make sure that we can emerge from this crisis as a stronger company, well-positioned for future competition."
Norwegian Air Shuttle ASA, which trades as Norwegian, is not doing any interviews on the release of these financial results.
In the second quarter of 2020, passenger numbers for Norwegian fell by 99 percent. Not all customers of Norwegian, as with other airlines, have received refunds for flights booked before COVID-19 that were canceled.
"Large parts of the airlines' efforts to remain solvent have relied on not giving customers their money back for the canceled flights," Andrew Lobbenberg, head of travel research at HSBC, tells Newsweek.
"That's how they've stayed alive and retained liquidity. That's not sustainable. They're using consumers as de-facto suppliers of debt."
At least nine airlines have filed for bankruptcy, announced voluntary liquidation or ceased trading, including Virgin Australia and Chile's LATAM.
"We've had a slew of [bankruptcies]," Lobbenberg says.
"All of them filed for administration and the equity holders were wiped out but the airlines have restructured, are still flying and will recover.
"But there's a huge amount of state aid propping up the industry at the moment."
The U.S. Senate has already approved $58 billion in loans and loan guarantees for passenger airlines and cargo carriers based in America. Around the world, governments have moved quickly to help national airlines, whether owned by the state or privately.
The total package in France, for example, has reached $16.9 billion if aviation support payments are included.
Some government funding relies on customers being paid back if customer flights were canceled—but any airline going through technical bankruptcy is no longer liable for passenger refunds, as Newsweek has previously reported.
The share price of Norweigian had hit highs of $38.22 in April 2018, but had already fallen as low as $3.64 before COVID-19. That followed a year of restructuring debt and selling aircraft after five years of rapid expansion, a period seen by some as too quick to sustain.
At the time of writing, the share price stands at $0.14.
This comes with the likelihood that the Norwegian government steps in with a funding deal that transfers further equity to the state.
"It has been surprising how keen governments have been to put money into airlines through this," Lobbenberg says.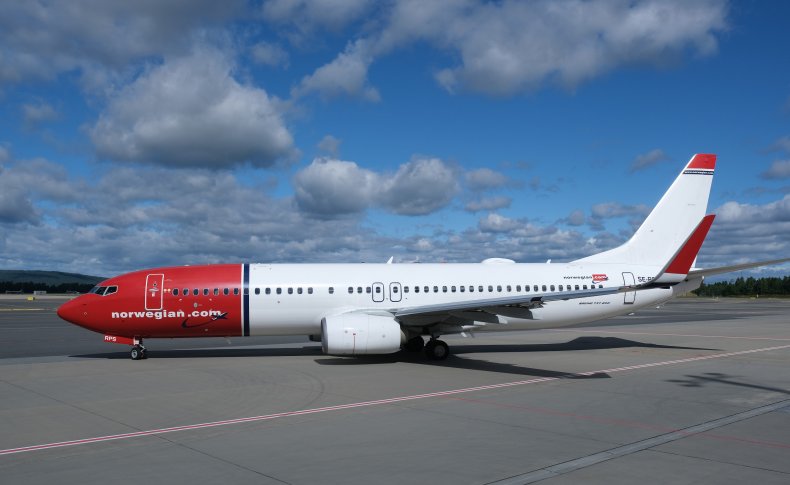 "Health services and other key parts of the national infrastructure are obviously critical, governments have been keen to fund airlines.
"Airlines were previously not regarded as great state institutions and criticized for their environmental impact and customer service performance and finances, suddenly they are regarded as important - for connectivity within countries, regions and globally and as a key enabler of the economy to transfer goods and more obviously of logistics to transfer PPE around.
"Governments care more about airlines than we thought before."
As for how much governments do care about national airlines and if they're too important to fail, it might be years before this becomes clear. Loans and guarantees in Europe are at very low interest rates but increase after two years.
As for Norwegian Air Shuttle itself, directors say there is "significant doubt upon the company's ability to continue as a going concern" but have a "reasonable expectation that the company has adequate resources to continue in operational existence for the foreseeable future."
It is likely, according to people familiar with the matter, that the airline shrinks almost as quickly as it has grown. Those same people are hopeful the airline will be helped by the government but many are unsure if the airline will survive a year.
If they do, as many other airlines like them, it might be a case of the national airlines being back in the hands of the state rather than private shareholders.