'We Don't Owe Refunds,' says Travel CEO Blaming Airlines for '$300M+ Owed'
At the start of the COVID-19 pandemic, the online travel agent (OTA) BudgetAir shut its customer support phone line, stopped dealing with complaints proactively and customers trying to get a refund were left without any real way to get in contact with the company and seemingly little recourse.
There were over half a million customers affected by this decision.
Travix, the parent company of BudgetAir, CheapTickets and others now owned by Chinese firm Trip.com, operates in around 40 countries and sells, in a normal year, around five million airline tickets.
Now, thousands of customers are complaining about no refunds and no communication, with little way to get their stories heard.
"I'm out of pocket by £3,500," customer Zad Mahal wrote on TrustPilot. "Do not use this company, they have stopped responding to my emails, it's disgusting. I have started proceedings through my credit card company."
Mahal is not alone. Social media and review sites are filled with people complaining about a lack of refund, a lack of communication and anger at losing money because of canceled flights.
"They claim to be completely overloaded with emails regarding coronavirus flight changes but that doesn't justify their awful customer service," Daniel Kibsgaard wrote.
"I tried on multiple occasions to cancel my flight but never received a confirmation. I never even received so much as a warning that the flight itself was actually canceled. So far they have only sent impersonal generic confirmation emails which have made me feel robbed.
"COVID-19 has surely caused immense chaos but that doesn't mean that the best they can do is to send the same email to all their customers saying we must wait until airlines get back to them about refunds. I understand the problem but feel neglected as a customer."
The CEO of Travix, John Mangelaars, told Newsweek that he is doing everything he can to help customers and that it is not his fault, laying the blame at the door of the airlines.
"We don't have your money and legally, we don't owe you the money," he said. "It's the airline. Look at the terms and conditions [about who] owes you the money.
"The issue is that the airlines are telling customers they've paid or they have been. They don't say they're paid. They said they're in the process. And that's the sneaky thing. It's in the process. It has been processed. Your refund has been processed.
"We are an agent and the responsibility of refunding sits with the airline. We're working with these [similar online travel booking] groups to actually go to the airline and say, you have to pay your customer. We have to be together against the airline."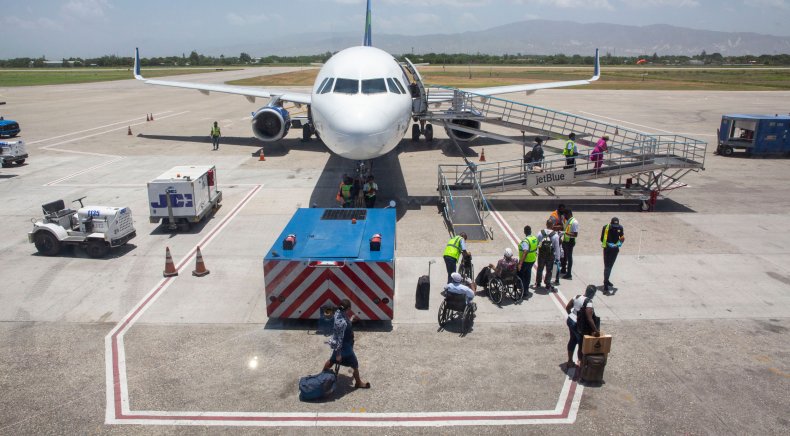 Travix was recently taken over by Chinese company Trip.com and, by the CEO's own admission, the company is without any debt and if the industry continues to be hit by COVID-19 restrictions, it would be "probably the last one to go bankrupt" in the travel sector.
Does this mean that they could refund all their customers now and take on debt?
"That would be a few hundred million [euro]," Mangelaars says. "We make about 20, 25 euro a ticket on an average ticket price six/seven hundred [euro]. If one out of 30 airlines would not pay back, I would lose big-time money.
"That's no risk worth taking. That risk would probably mean that you do end up at risk of going under. There's no bank that would finance it. I have a shareholder responsibility. I would basically go to jail, right? I'm a director of this company and that would be a reckless decision."
The law is complicated about who actually owes the customer a refund. It's technically correct to say that it is not the travel agent that owes the money but there are still things seen as major problems with the way that BudgetAir has acted.
"There's something called the 'denied boarding regulations' and it makes the airline responsible," Rory Boland, travel editor of consumer choice brand Which?, tells Newsweek.
"It doesn't matter that you've booked with an online travel agent in this instance. It's the airline responsible for getting you the money. It is confusing but the airlines delaying refunds isn't just a problem for their customers but it's putting the whole travel industry under immense strain. How can the travel agent refund the customer if the airline won't refund them?"
What has annoyed many customers most, from reading social media and talking to a number of them, appears to be the lack of communication.
"We increased our customer service capacity [from 300] to 400 because we thought this is going to hit Europe, but nobody realized this was going to hit Europe so big back then," Mangalaars says.
"Normally, we have about a thousand, two thousand major airline schedule changes a month. We sell quite a bit of a long haul, complicated itinerary. With corona, we had, in about six or eight weeks, 500,000 schedule changes.
"Everything blew up. So what happens then is you get this 500,000 and the robots send [an automated email] to the customer. And the airlines were changing those flights typically a day before [departure]. They were not changing them all in one go, but quite close. Quite a few were quite close before the departure time."
Customers reported waiting times of up to five hours, in some cases. They reported that web chat services on Facebook Messenger had slowed to a crawl and they had stopped getting responses except for automated ones.
The company then made the decision to close the phone lines and shut the Messenger chat option. There are countless examples of customers furious that one, two or even three months after their scheduled flight, all they receive is automated emails.
Mangelaars told Newsweek that the phone lines would definitely be open by July 1. They are, at the time of writing on July 1, still not open.
"It's not fair and we have disproportionately heard about some online travel agents treating customers abysmally," Boland says.
"Turning off phones definitely falls into the abysmal category. You're in this ridiculous situation where they say they're too busy to talk to you but they don't provide any actual information on what you should be doing. That's what is driving customers around the bend."
This is something that BudgetAir CEO Mangelaars understands could have been handled better.
"The system became completely clogged, I can only apologize for that," Mangelaars says.
"They were blocked by so many people calling so we had no chance of picking up. The only thing we can do is pick up the phone and say, 'Sorry, I'm waiting for the airline.' That takes me five, 10 minutes each time and those people can't work on the refund [while they're answering phones].
"The waiting times, we got to three, four, five hours. It's not just us. People are just calling in, emailing in then emailing again saying 'I did not get a response.'
"The next day I get the same person emailing. Now I've got three, four e-mails in our system doubling everything. They use their own email address, then the email used by their husband and this is how thousands of people double the system."
The losses faced by the travel industry in the U.K and across the world are huge. Over 100 million job losses in the travel and tourism sector are projected to be lost, as shown in the graphic below provided by Statista.*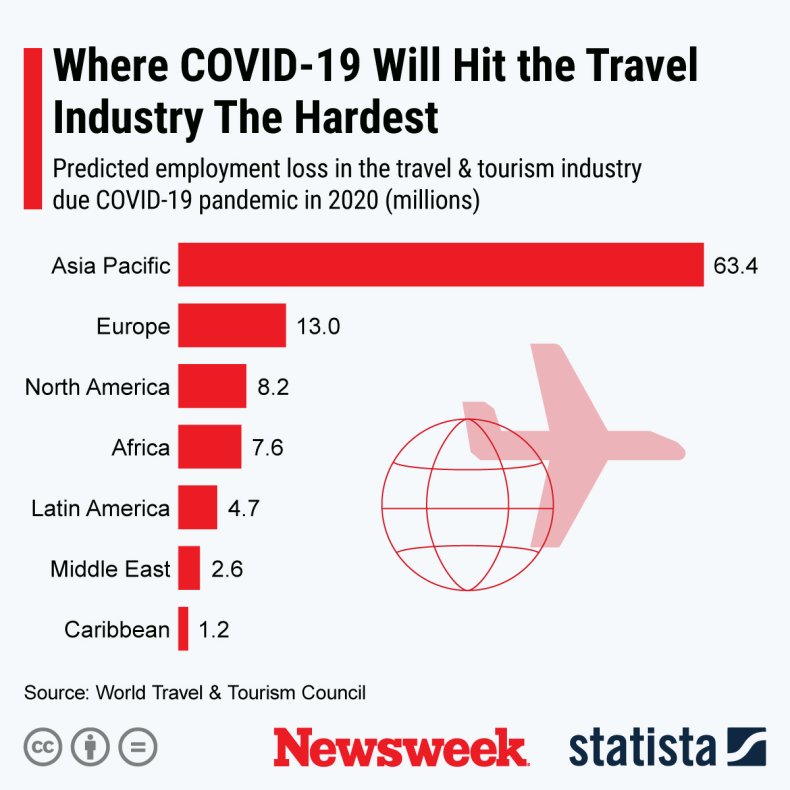 Airlines face a collective loss of $84 billion in 2020, according to The International Air Transport Association, and will be the "worst" year on record.
IAG Group, for example, the parent company of British Airways, Iberia and others, lost around three-quarters of its stock market value between late February and May and its share price still sits at around the same level (218p at time of writing compared to 642p on Feb 19).
Discount airline EasyJet's CEO Johan Lundgren said at the start of lockdown that companies would go bankrupt without state assistance. It has just announced the closure of bases and potentially over 1,000 job cuts. According to portfolio optimization platform Macroaxis, EasyJet has a 36 percent chance of going bankrupt in the next two years.*
The same analysis says that the average likelihood of an airline industry company going bankrupt is just above 50 percent.
"As a result of decisive and urgent action taken by the board, EasyJet has sufficient liquidity for a prolonged grounding and to meet its existing obligations," an EasyJet spokesperson told Newsweek.
"At our Trading Update on 16 April, our notional cash balance was circa £3.3bn."
Then are major airlines really at risk of not refunding customers?
"There are quite sizable airlines going now and they're all technically bankrupt. As part of that, they could basically write off the debt on the refunds," Mangalaars tells Newsweek.
"Every customer - and I can say it with a straight face - and I'll be fined or to go to jail if it's not true - every customer we get a refund for, we pay. Full stop. It is our intention to get all the refunds unless an airline goes bankrupt, then we have a challenge.
"We've got 30 percent of customers refunded, about 50 percent is in the [refund] queue and about 20 percent, we still have to do it because some of these are very complicated [with multiple legs of the journey with multiple airlines]. How you calculate stuff like that?
"In the worst cases when they call the airline, the airline says, 'Yeah, we're in the process of paying.' People think the process of pay is like a week or five days. But they're not saying it's six months. So, the customer calls us again and calls us a bunch of crooks and we're stealing their money.
"And they put it on social media. We're not holding any money. When the customer books with us, we pay within a week. Typically a day but, depending on the arrangement, it's within a week.
"We pay about a million euro a day now in refunds. We have no money in our account that is owed. Everything we get from the airline, we pay to the customer."
In a strange quirk of this period of "mockdown" between full lockdown and full freedoms, holiday bookings, Newsweek has been told from a couple of sources, have jumped up again, in some cases to pre-COVID-19 levels as people rush to get back to "normal," despite lockdown restrictions changing all the time.
Does that mean refunds will be coming soon?
"It is confusing but the airlines delaying refunds isn't just a problem for their customers but it's putting the whole travel industry under immense strain," Boland says.
"How can the travel agent refund the customer if the airline won't refund them? Meanwhile, the government keeps allowing the airline industry to break the law."
The law states that refunds should be given within 28 days. While many have settled for future bookings or vouchers, the law is clear that the customer is entitled to refunds in cash.
If there really is a 50 percent chance of travel companies going bankrupt, it's going to be a waiting game to see if refunds will be issued, if holidays will be back to normal again and when BudgetAir will open their phone lines to customers again.
*Research methodologies
Statista cites research by the World Travel and Tourism Council, April 2020, which can be read in full here.
For Macroaxis' prediction on EasyJet, "probability of bankruptcy is the normalized value of Z-Score [of predicting bankruptcy]. For funds and ETFs [Exchange trade fund] it is derived from a multi-factor model developed by Macroaxis. The score is used to predict the probability of a firm or a fund experiencing financial distress within the next 24 months. Unlike Z-Score, Probability Of Bankruptcy is the value between 0 and 100 indicating the actual probability the firm will be distressed in the next 2 fiscal years." It can be read in full here.
Update 07/01/20, 12.45 EDT: This piece was updated to include a statement from EasyJet provided after publication.