Welcome to 'Mockdown': London Comes out of COVID-19 Quarantine as Camden Market Reopens
The U.K.'s lockdown is coming to an end… sort of.
Schools are back for some pupils, non-essential shops can reopen again on June 15 and outdoor markets are already trading.
You can drive-thru a McDonald's, you can travel anywhere in England to sightsee exercise (as long as you can make it back home before you go to sleep) and, according to government ministers, you can travel across the country to find childcare if you have COVID-19 symptoms.
But the government is seen by many to be giving mixed messages.
Government guidelines also say that "the clear medical advice is to immediately self-isolate at home for at least 7 days" and "do not leave home" if you have COVID-19 symptoms.
Ever since a U.K. nationwide lockdown was announced on March 23, people have been asking when lockdown will come to an end and when it will be safe to leave the house for extended periods of time.
With the guidelines changing on June 1, many are venturing out of their houses for reasons other than daily exercise, work or their health for the first time.
"We're out walking and it feels strange to be out when people are dying," Zoe Wright, a senior audit associate visiting Camden Stables Market in London, tells Newsweek on the first day the market has been trading.
"Are we allowed out now? We know we're meant to 'stay alert' but it's very confusing to understand exactly what we are meant to be doing or not. The uncertainty is difficult and it's hard to know what doing the right thing means at the moment."
It gets even more confusing for many people as the rules in England, Scotland, Wales and Northern Ireland are now slightly different, meaning that if your trip to sightsee exercise goes into Scotland, you would be in breach of guidelines no longer in place in England.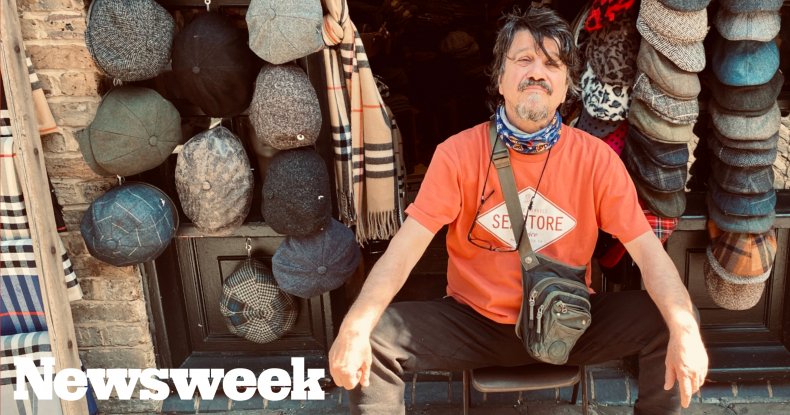 It is within this confusion that landmark destinations like Camden Market, in north London, have reopened and traders are trying to get their head around what happens now and how to attract customers who aren't sure if they're allowed to visit.
"It's a relief to be open," Lars Jorgensen, manager of The Juice Bar in Camden Market, tells Newsweek.
"It's clear that some of us have to start opening to get people to slowly get the confidence to come back and hopefully build up from here. It's probably going to take weeks, months.
"We're trying to make it feel like Camden but it doesn't feel like Camden at all. But we'll get there. If we don't start, we will never get the feeling back. Hopefully, more traders will join us. We've been shut for 10 weeks so it's not just simply switching everything on but we'll get there."
The government is keen for people to exercise caution, get out and exercise, and exercise their desire to get back to a version of normal, or at least a "new normal" that has become one of the buzzphrases.
"People are going to come back," Hilmi Kivanic, known as Pako, who runs the Wild Balance hat shop in Camden Market, tells Newsweek.
"I was doing really well before [COVID-19] but, you know what happened, but I still have hope. I've been here 40-odd years. Camden Market has become really nice over the years but it's never going to be the same. Impossible. With Brexit, tourism is going to be difficult and I'm going to retire. This market will recover but I have no good feeling for the country returning to the old days."
This easing of the lockdown, which some people have started referring to as a "mockdown," is happening while over 100 people die in the U.K. each day. Medical advisers are warning of the risk of a second spike in infections, with the danger level remaining at level 4 of 5, where virus transmission is said to be "high or rising exponentially," and while there are over 1,000 new COVID-19 cases each day.
The ease of lockdown was expected when the risk hit level 3, where COVID-19 would be "in general circulation" but transmission between people is not high.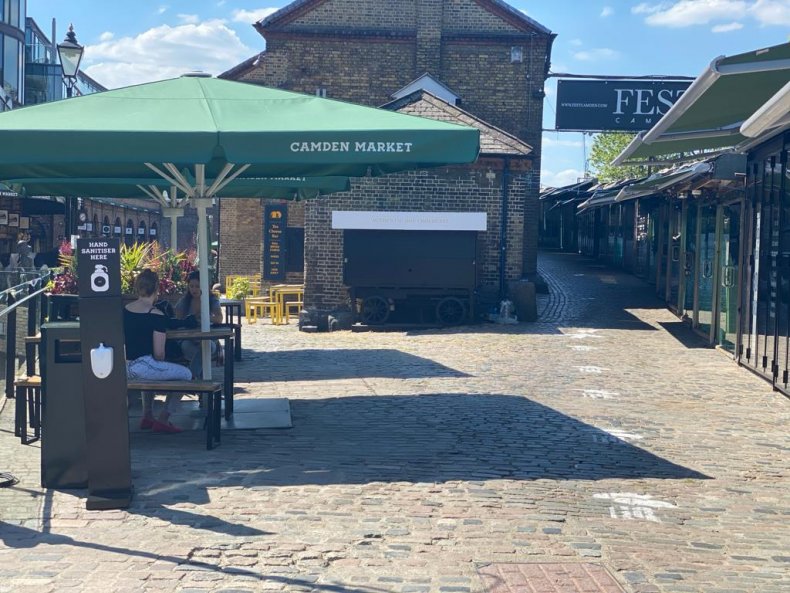 But the easing of lockdown is happening before that risk level decreases, though Foreign Secretary Dominic Raab told BBC's Andrew Marr that the risk level was in transition and was between level four and three.
And it is within this "transition" that people will have to navigate their return to work, to school, to shopping for non-essential items and eating at restaurants, albeit only outside for now.
You are allowed to go out but you should stay at home. You shouldn't leave the house with COVID-19 but a senior adviser with coronavirus symptoms who left his house for "exceptional circumstances" wasn't asked to resign.
You should support local businesses but you mustn't gather in groups. You can have barbecues with up to five other people but you shouldn't enter a park if it is crowded.
Nearly half of the British public think the messaging around COVID-19 has been either not very clear or not at all clear, according to polling company Ipsos Mori. The poll of 1,076 British adults age 18-75 was conducted May 15-18, 2020.
A government spokesperson said: "The coronavirus public information campaign continues to be insight led, ensuring people across the UK receive the information that they need to stay safe."
What is clear is that it is a very fine balance between the lockdown being over for good, the mockdown lasting for a while yet or a second spike in COVID-19 cases forcing people back into their homes in a second lockdown.
For businesses and customers at the newly-reopened Camden Market, they are hoping that they can return to business as usual before too long.