Between a furlough and a hard place: U.K. COVID-19 response costs millions of jobs, billions of pounds or both
With "unprecedented" falls in the U.K. GDP, nearly a quarter of the workforce currently not working and an impending recession nearly certain, the decisions made by government now could have consequences that last a generation.
So much depends on British Chancellor Rishi Sunak's red briefcase.
For the 2020 Budget on March 11 this year, he carried documents in it outlining his "£12 billion plan" to support the U.K. economy amid the coronavirus crisis.
Since that day, the FTSE 250 has fallen by 6.3 percent (though has fallen as much as 41 percent from its pre-COVID peak on February 20 to its March 19 low point); the FTSE 100 index of big companies fell so sharply the day after his Budget that £159 billion was wiped from the value of the U.K.'s top companies in a single day; and GDP is expected to drop by as much as 30 percent in a quarter.
British GDP has suffered an unprecedented fall with worse still yet to come.
The £12 billion total for "targeted measures" has now been bolstered by further announcements, with £55 billion in budget deficits expected. That forecast still looks tiny compared to the £14 billion a month needed just for the furlough scheme aimed at keeping people in jobs.
The total deficit, it has been reported, could run to £337 billion in the best-case and £516 billion in the worst-case scenario, according to leaked Treasury documents.
The furlough scheme now looks likely to cost over £100 billion by itself and unlikely to ever be directly recoupable by the Treasury.
That worst-case scenario would mean that it costs more than the £500 billion total bailout packages promised by the U.K. government in the middle of the 2008 financial crash.
And there are so many differences between then and now.
"It's really hard to model and work out exactly what the impact will be, we've never experienced anything like this," Mike Hawking, policy and partnerships manager at research charity Joseph Rowntree Foundation, tells Newsweek.
"It's taking a lot of time to get this right. We can't say yet exactly how many jobs we think are going to be lost. All the government's choices are hard. The furlough scheme is incredibly expensive but it's providing a very important service in protecting jobs, businesses and people's incomes."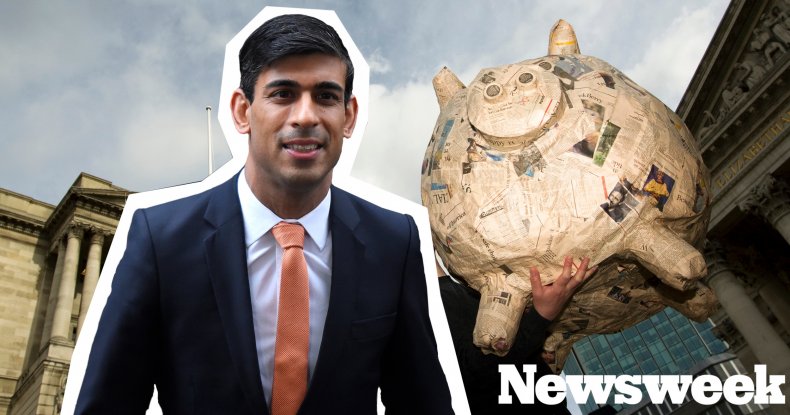 Furloughing was announced as the Coronavirus Job Retention Scheme. It allowed companies who could no longer keep certain employees because of the impact of COVID-19 to apply to the government to cover 80 percent of a worker's salary up to a maximum of £2,500 each month.
This is operating like a paid sabbatical and has stopped, it is argued, millions more redundancies than would otherwise have happened.
"Seven and a half million jobs have been furloughed, jobs we could've lost if we had not acted, nearly a million businesses supported who could have closed shop for good," Chancellor Rishi Sunak told the House of Commons.
"And as we reopen the economy, we will need to support people back to work. We will do so in a measured way."
This scheme has now been extended until October and allowed more flexibility in returning part-time to work, with further details to be published before the end of May.
But what comes next for the economy when the government can't really afford to keep the furlough scheme for much longer financially and can't afford to end it politically?
Does the government choose to increase taxes, to lower state support, to freeze public sector pay, to increase state debt by trillions of pounds or all of the above?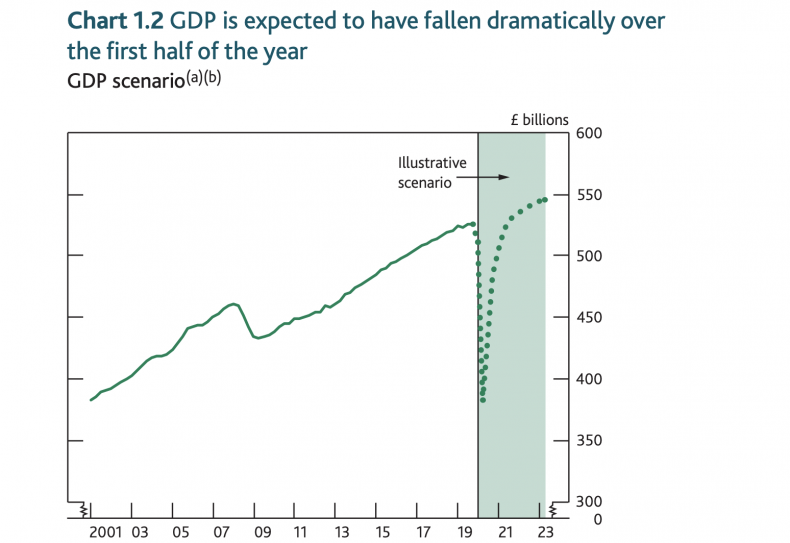 "We cannot know where we will be, it's too soon to get into those figures. Time will tell," Transport Secretary Grant Shapps told the BBC.
With around a quarter of the total U.K. workforce on furlough, it's going to be a long road back to economic recovery.
"It's not as simple as turn the economy off, turn the economy on and coordinate everything," James Smith, research director of the Resolution Foundation, tells Newsweek.
"You just wouldn't be able to do that while the virus is out there because people will still act in ways that will weaken the economy, even without social distancing measures.
"The recovery could be slower than envisaged. We could end up going back in and out of periods of more draconian social distancing measures. The longer this thing goes on, the more sticking plasters will be in place, like the loan scheme to firms, which will force more firms into bankruptcy."
The loan scheme could be where all this stimulus falls apart.
It is a complex group of different loans—Bounce Back Loans for small businesses, the Coronavirus Business Interruption Loan Scheme (CBILS) for mid-size firms and The COVID Corporate Financing Facility (CCFF) for large businesses—broadly characterized as offering no fees and zero interest rates for the next year.
A 'large and sharp shock'
While the government is never expecting the money spent on furlough to be returned, the £15 billion loaned so far to mainly smaller and mid-size businesses will be paid back to lenders including the government and interest will become part of that process in mid-2021, as it stands.
The logic of loan now, payback later relies on Bank of England forecasts showing a spike in unemployment up to almost 10 percent that shrinks back to pre-COVID-19 levels within a year. It also shows projections of a nearly 30 percent quarterly drop in GDP that returns to its previous path by the middle of 2021.
"The support measures in place are assumed to help prevent much longer‑lasting damage to the economy," The Bank of England said.
"It is possible that the rise in unemployment could prove more persistent than embodied in the scenario, for example if companies are reluctant to hire until they are sure about the robustness of the recovery in demand."
For the next year, the U.K. is predicted to go through the most severe recession in 300 years.
Sunak has admitted it is very likely that Britain has a recession officially declared by the end of 2020.
Mark Carney, the governor of the Bank of England, warned back in March of a "large and sharp" shock to the economy that "should be temporary."
"There is no reason for this shock to turn into the experience of 2008 and a virtual lost decade in a number of economies if we handle it well," he said.
If this is true, the economy will return to buoyancy, companies will return to profit and be able to repay loans without too much worry and the COVID-crash of 2020 will be a blip in the economic history books rather than an event that defines a generation of policy.
But politicians across Parliament from all major parties have talked about a "new normal" endlessly, that what came before will not be what comes after.
The Bank of England projections seem to predict that the new normal will be almost exactly like the old normal, it'll just take another year to get there.
Not everyone thinks that way:
"Those who write the history of Britain post-1945 will divide it into B.C., Before Corona, and A.C., After Corona," historian Professor Peter Hennessy wrote in The Tablet.
"Ours is an experience laced with sorrow, loss and widespread anxiety. Never before have we been both collectivised—the huge surge of extra state power requiring us to be the 'Corona state' itself embodying the liberties we have temporarily lent to the government—and atomised at the same time."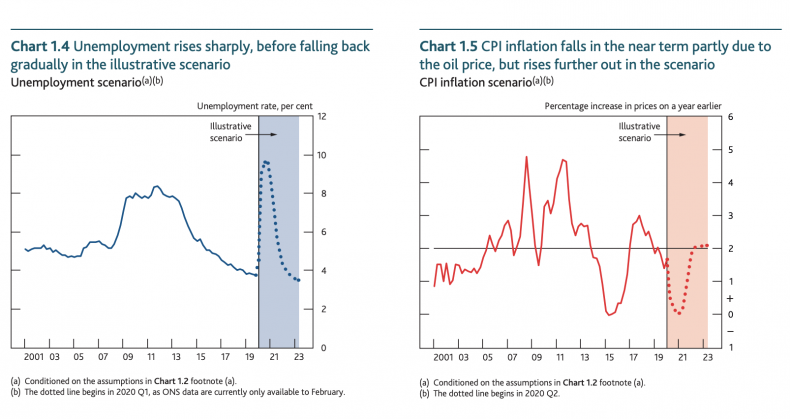 These comparisons between the end of the Second World War and now are widespread.
The question being asked is whether this will be like 1918, when everything returned to a familiar version of pre-War normal, or like 1945, when everything changed and the Welfare State was established.
"Some people thought 2008 would be this 1945 moment," Hawking says. "The difference between this pandemic and the 2008 crisis is that many more people have been affected this time.
"My colleague Helen puts it very succinctly: 'We're all experiencing the same storm, the difference is that we're all in different sized boats.' Whether that does open up conversations about wider social issues or not, we still don't know... But we're testing whether public opinion has changed enough."
Before whichever of the "normals" become normal, there is a lot of work to be done and a lot of questions to be answered.
Away from the humanitarian repercussions, the economic recovery (or lack of one) could come to define policy for a generation.
"In the near term, a recovery is very unlikely," Smith says. "It's going to be slow. If you do get a genuine end to social distancing, it's unrealistic to think that we could get a rapid recovery. That said, we would have said it was unrealistic to think that we could shut down the economy and look where we are now.
"I think the recovery will be more protracted than some predictions. There is a risk of it lasting years and years but that's not where I'd start from. All the big challenges that were already around us—the long term demographic challenges, getting to net zero carbon, Brexit even—are still there, they're not going anywhere. They're going to be big challenges going forward."
Prime Minister Boris Johnson has admitted that a vaccine may never be found and herd immunity, where enough of the population have had the virus so develop antibody resistance, is a long way off.
Johnson said that around 4 percent of the population have contracted the virus so far, with around 40 percent of people needing to contract the condition for herd immunity to be viable.
And even if that vaccine does arrive, it might take years before it is rolled out fully, particularly to the most vulnerable parts of society.
20 percent unemployment?
This all comes after a decade of austerity and many economic forecasters predicting a recession well before the first cases of COVID-19 were reported.
Economist John Mauldin predicted that the 2020s will be the worst decade in history; the International Monetary Fund's annual economic outlook in 2019 said that "large challenges loom for the global economy to prevent a second Great Depression"; and "a global financial crash of a previously unprecedented scale is highly probable" was predicted by Professor Stanislaw Drozdz, of the Institute Of Nuclear Physics of the Polish Academy Of Sciences, in 2018.
While it's easy to look back at only accurate predictions from the past and declare them all to be soothsayers, the underlying issues facing the economy that led to these predictions haven't gone anywhere.
"I wouldn't go as far as to say that a recession was coming before coronavirus but there was a very hot U.S. debate about this because certain indicators were flashing hot," James Smith says.
"Linking those indicators with [the impact of] coronavirus is pretty tenuous but we know that the group on lower incomes came into the crisis in a vulnerable position, with lower financial buffers and less access to financial products.
"There was a massive hangover from the financial crisis. Wage growth had stagnated for everyone but it's been made even more difficult with the benefits freeze and then growth at the bottom of the distribution has been weaker.
"The coronavirus has come on top of that. If we're left with an even weaker economy, even more austerity then there are risks of social cohesion issues and extremism."
The more current question is to what extent the furlough scheme is delaying what some forecasters see as the inevitable, that predicted huge spike in unemployment, and how much is it removing the spike altogether.
"The primary function of it is job retention," employment lawyer Russell Dann, of Clarkslegal, tells Newsweek. "Even when there are large job losses, there's an expense to the company of redundancies and the recruitment process and this will prevent that.
"Redundancies are possible within the furlough scheme. More companies will think about it when they have to pick up some of the cost, as they will from August 1. The fact the scheme is being extended is indicative of the seriousness of the situation and how far we still have to travel."
University of Essex research reported a much starker figure, that unemployment levels could reach 20 percent as the economy contracts.
"Our next step will be to evaluate the impact of the macroeconomic consequences of the lockdown on household disposable income, inequality and poverty, and quantify the cost of the rescue package put forward by the Government," report author Professor Matteo Richiardi said.
The advantage for the government here is that interest rates are at historic lows.
"Even if the government continues the furlough scheme for even longer, debt rises but, given extremely low interest rates, the amount to service that debt is actually falling," Smith says.
Government debt to GDP in the United Kingdom is expected to reach 95 percent by the end of 2020, according to Trading Economics.
"In the long-term, the United Kingdom Public Sector Net Debt to GDP is projected to trend around 100 percent in 2021 and 104 percent in 2022," its forecasts say.
The average debt to GDP ratio was 44.18 percent from 1975 until 2019 and hit an all-time high in 2017 of 82.9 percent.
The disadvantage is that long-term low interest rates make it difficult to promote investment and stir up growth quickly, as shown in Japan over a "lost decade" of a stagnating economy, partly accentuated by interest rates.
What is clear in these unprecedented times is that the reality of the next five, 10 or 20 years is nearly impossible to predict accurately.
With so much depending on Sunak's financial decisions, we could have to wait until the Autumn Statement of the government's economic plans to find out exactly what the short term costs of COVID-19 have been and what the long term strategy will be.
That statement usually happens at the end of October or the start of November, just as the existing furlough provisions come to an end.
If we really are all experiencing the same storm of COVID-19 in different sized boats, Sunak will hope that most passengers will have found a port to dock in by then.