The airline lobbying group Airlines for America, along with 28 other airline, travel, and business groups, issued a letter Wednesday to White House Coronavirus Response Coordinator Jeffrey Zients to urge the removal of pre-departure COVID testing for vaccinated international travelers.
"Removing the requirement will greatly support the recovery of travel and aviation in the United States and globally without increasing the spread of COVID-19 and its variants," the letter says.
The airline industry has been heavily impacted by the pandemic via restrictions and the cancellation of flights. It's estimated that global passenger traffic was 49 percent less in 2021 than in 2019, according to the International Civil Aviation Organization. There is also an estimated $324 billion loss in revenue in 2021 compared to 2019. Passenger traffic stayed 60 percent less below 2019 levels in 2020, according to the U.S. Government Accountability Office. But, projections show that the decrease in revenue and global passenger traffic is lessening, with projections for 2022 being a 28 to 33 percent reduction in global passenger traffic compared to 2019 levels, according to International Civil Aviation Organization.
Currently, all international airline passengers ages 2 and older coming to the United States must show proof of a negative COVID test taken within 24 hours of the flight's departure, or proof of recovery from COVID, according to the U.S. Department of State. The Trump administration made a policy in January 2021 requiring incoming international air travelers to show proof of a negative COVID test taken within 72 hours of departure, CNBC reported.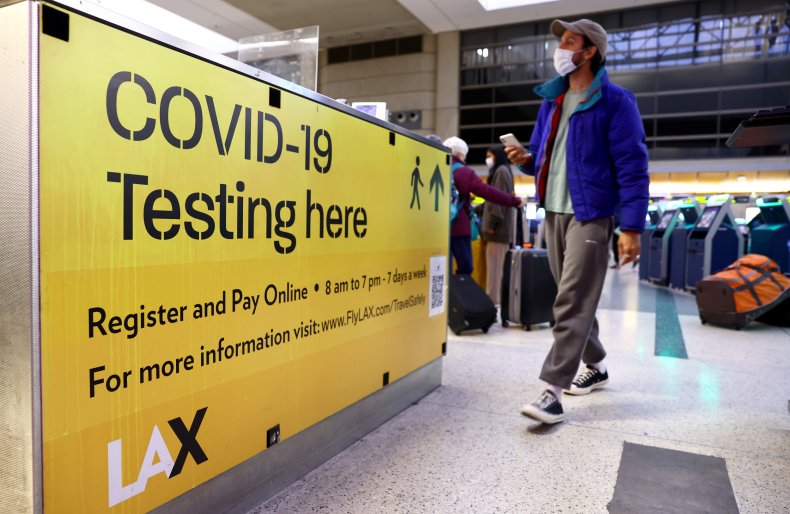 A survey shows pre-departure testing is the leading factor when deciding to not travel internationally for air travelers, the letter says.
The letter also mentions that because COVID is so widespread in the U.S., attempting to prevent it with air travel restrictions is unlikely to change the spread, citing that at least 22 percent of the population has had COVID.
Additionally, the letter mentions that the European Union advised its countries to remove COVID travel restrictions within Europe and the United Kingdom's removal of pre-departure testing. The U.K. announced the removal of pre-departure testing for vaccinated travelers last month to take effect February 11, with Transport Secretary Shapps saying it has "outlived its usefulness," The Associated Press reported.
The letter notes that the World Health Organization (WHO) recommended states consider a risk-based approach in facilitating international travel by lifting COVID policies. However, the WHO also urged governments to tighten COVID restrictions to curb the virus on Tuesday, as the organization reported 90 million cases since Omicron was first identified 10 weeks ago, Newsweek reported.
Roger Dow, president and CEO of the U.S. Travel Association, an industry group, said in a call with reporters Wednesday that international inbound air travel isn't likely to recover to pre-pandemic levels until 2024, CNBC reported. He said that is "leaving a tremendous amount of ground to make up."