Airline Passengers Stranded in Boston Told to Delete Videos From Phones or Face Getting Arrested
Updated I Passengers made to sit on the tarmac at Boston Logan International Airport for around two hours say they were forced to delete videos of the incident from their phones by an airline staff member, who also threatened to have them arrested if they didn't comply.
After would-be passengers of the Toronto-bound Porter Airlines flight learned that their trip would be canceled due to a mechanical malfunction on the aircraft, they were ordered to leave the plane and wait in the terminal building.
The ordeal began after a 3-hour flight delay due to a luggage compartment issue, Kira Wegler, a Toronto resident returning home from a Florida vacation with her family, told Newsweek.
"The crew made the announcement that if they couldn't fix the issue by 10PM, that we couldn't fly because in their words, 'it's past our shift maximum and we will turn in to pumpkins'."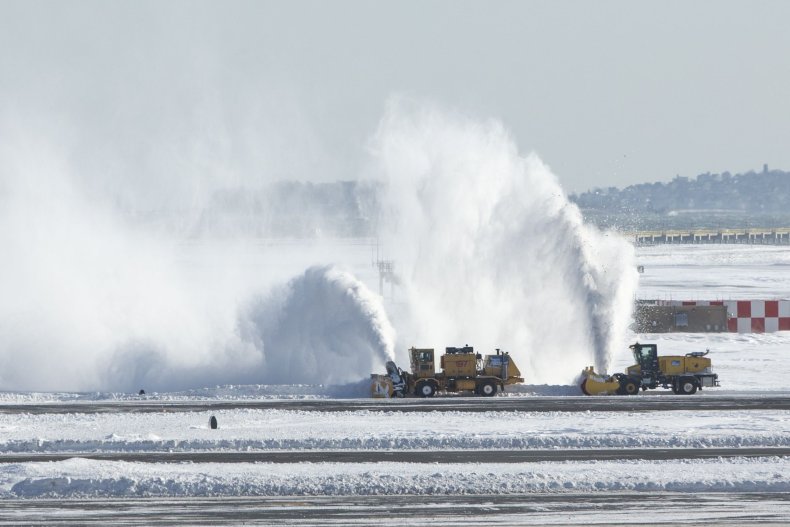 After being told that the gate's public address system was not working, passengers had to line up to get information individually from Porter staff.
Things became heated, however, when frustrated passengers began to pull out their phones and video-record Porter staff delivering information.
"At this point, the customer service representatives came from behind the counter, demanding that the individuals delete the footage otherwise they will not help us any further. If we didn't comply, Porter's representative also threatened to call the police and have us arrested," Wegler said.
"He was demanding that he check the phones in question to ensure the footage was removed from the devices and recently deleted folders."
She said passengers were warned that if they failed to delete their video recordings they "were going to have us arrested."
Wegler said many of her fellow passengers agreed to delete their videos. However, she decided to keep some on her phone, despite the airline staff's threats.
One of Wegler's videos appears to show a Porter representative in a standoff with customers. One customer can be heard saying: "Call the cops. What are they going to do?"
"Don't make it worse," the airline representative can be heard responding. Another customer chimes in, saying: "Why don't you go behind the counter and take care of your customers. People are frustrated."
The Massachusetts Port Authority has said there is no law or policyprohibiting filming inside the Logan airport.
"There is no law or policy that prohibits filming inside Logan Airport except in secure areas and of all security procedures," MPA spokesperson Jennifer Mehigan told Newsweek.
Porter Airlines spokesperson Brad Cicero told Newsweek the company "apologizes to everyone who was affected by the flight delay and for the information provided about taking video." He said the delay was a result of the "bomb cyclone" that rocked much of the East Coast.
"We do not have any policy that would prevent people from taking video at airports," he said. "Circumstances may differ on an aircraft if taking video has the potential to affect safety or the personal comfort of others on board."
He continued, "There is an airport policy at Boston Logan Airport about not allowing filming in secure airport areas and at security screening. In this particular case, there was a misunderstanding by the team member involved that taking video beyond the security checkpoint was part of the secure area and was not permitted. He did not realize the distinction at the time, but we have advised the team members involved for future reference."
Cicero said that while the request to stop filming and to delete footage was incorrect, "the intention was only to try and enforce what was believed to be an airport policy." He said that he has been advised that if policies apply, which was not the case in this instance, it is not uncommon for staff to ask that video and photos to be deleted.
He also refuted passengers' claims, insisting that "while it was indicated at the time that police based at the airport could be called to address this situation, there was no direct statement that passengers would be arrested."
Passengers ended up having to spend three extra days in Boston until they could be placed on a different Toronto-bound Porter flight on Monday.
While Porter has provided hotel accommodations and covered the cost of some meals, it has refused to pay stranded passengers additional compensation, citing the weather as the cause of its flight delay rather than mechanical reasons.
"To this day, no one from Porter has reached out directly or apologized. All I have received is a $100 voucher towards a future Porter flight, which doesn't even cover the initial cost of the flight," Wegler said.
"Making unfounded threats of police action was completely unacceptable and made us feel abused and helpless. If Porter's claim that the representative was acting on his knowledge of security regulations, then they should strongly consider retraining ALL their staff to ensure that everyone is aware of these important and relevant regulations."
It is common policy for airlines to be exempt from having to pay compensation for flights delayed by weather-related problems.
"The conditions were such that, after arriving, one of the aircraft doors froze," Cicero said. "It could not be fixed prior to the crew exhausting their regulated duty day limits, preventing the flight from departing."
He continued, "Because the root causes of the cancellation were weather related, we assisted with finding hotels in the area for those who needed accommodation. Porter does not typically pay for these costs when flights are affected by weather, but we do our best to help find reduced rates."
He added, "We understand that this is frustrating for anyone who has a flight delayed for multiple days. It isn't our intention to put people in this situation, but the severe nature of the storm resulted in significant effects."
The extreme cold and snow from Winter Storm Grayson last week caused chaos at airports nationwide, leading to more than 3,300 flights getting canceled. Terminals in major airports such as JFK Airport in New York City were nearly brought to a standstill over the weekend due to mounting delays, freezing cold and equipment problems.
This story has been updated to include quotes from witnesses, as well as information about Winter Storm Grayson.