Woman Shares How to Get Even Comfier on a Plane: 'One of the Best'
A woman has shared a "game changer" travel hack that has been hiding right under our noses the whole time, describing it as "one of the best."
Struggle to sleep on a plane? So do 48 percent of travelers, according to Expedia. In her video, which has had over 6.2 million views, wedding photographer Sophia Savage and her boyfriend are onboard a plane, sitting in coach. "When your boyfriend doesn't know about the airplane head cushion hack," the text reads.
She then reaches behind him to the head rest on the seat, revealing that you can bend it in to a comfortable sleeping position to lean your head on.
"Very few know of it," said one user, while another said: "Omg I didn't know this either."
Another user commented: "only available on some airline seats btw."
How Do I Get to Sleep on a Plane?
In an article written by Ben Smithson for travel website The Points Guy, he explains that despite flying on a lot of economy flights, he struggles to sleep for more than 15 minutes at a time, "and it's the headrest that seems to be the reason."
Unless you're lucky enough to fly business or first class, it's unlikely that you'll expect a good night's sleep on a long haul flight, however, consistently failing to reach that REM stage of sleep will undoubtedly mean you'll exit that plane in a less than cheerful mood.
Mr. Smithson explained in the article that an issue he has regularly had with folding side headrests is that they simply won't stay up. "On a flight in Virgin Atlantic's Premium cabin earlier this year," he writes, "I discovered as the headrest did not stay up, it meant the pillow fell through the gap between the seats into the seat behind me so I awoke confused with a sore neck and a missing pillow. Again, not ideal."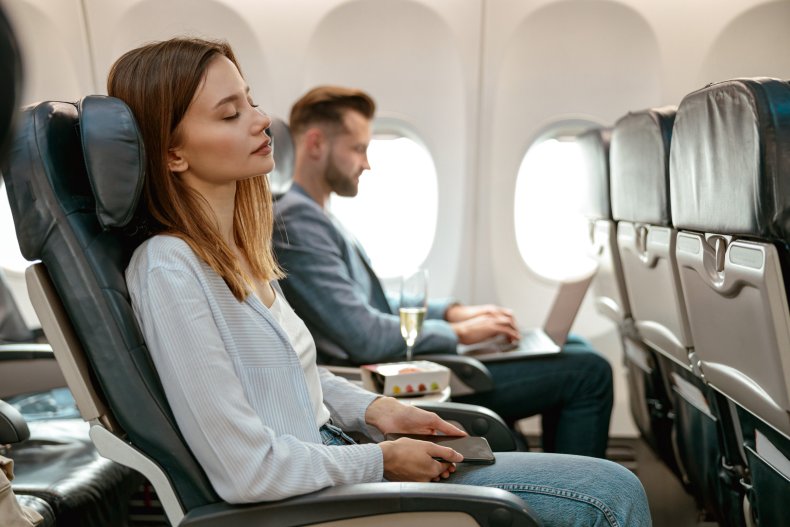 If you want a more luxurious, or maybe conscientious, economy experience, Mr. Smithson reveals that the Recaro CL3710 seat used on the Airbus A350 aircrafts, also on Kuwait Airways' 777, as well as other airlines, is the headrest "all economy passengers have been waiting for."
Describing it as "best economy seat I have ever tried to sleep in," Mr. Smithson explains that it can be moved up and down to fit a passenger's height and size requirements, but the unique selling point here is that foldable sides can be "curved far upwards, but they actually stayed that way."
The other airlines that use this Recaro seat are, according to Mr. Smithson;
ANA – B777-300; B787-10
British Airways – B777-200
Cathay Pacific – B777-300
China Southern Airlines – A330-300
Delta Air Lines – A350-900
El Al – B787-9
Iberia – A330-200; A350-900
Japan Airlines – A350-900; B787-8
KLM – A330-200; B777-200; B777-300
Qatar Airways – A350-900; A350-1000; B777-200; B777-300
Singapore Airlines – A350-900; A380-800; B787-10
TAP – A330-900
Air Travel Hacks
Expedia recently revealed its 2023 travel hacks report, and the main takeaway—plan ahead to take advantage of price alerts, and timing is key when it comes to smashing air travel.
They found that people who book flights on a Sunday save up to 15 percent on average over other days of the week. Additionally, book six months before you fly on international flights to save 10 percent on average, "compared to those who waited until two months out or less to book."
Another useful tip from Expedia is that to reduce your chances of a delayed or disrupted flight, travel before 3 p.m. The report says that flights that depart after 3pm have the highest chance of being canceled, 50 percent higher than those that leave earlier in the day.
Newsweek has reached out to Sophia Savage for comment.