AJ Styles Turns Heel After Loss to Ricochet on Monday Night RAW
It felt like a long time coming, but AJ Styles turned heel after his loss to Ricochet in the main event of Monday Night RAW.
The heel turn was facilitated by a mini storyline that ran across the July 1 episode of RAW as well as Styles' own frustration with the result of the match. AJ Styles hit Ricochet with a Phenomenal Forearm - the same finisher that fell the US Champion last week - but unbeknownst to Styles and the referee Ricochet got his foot under the ropes. Another referee would appear from the back while Styles was celebrating and the match would restart.
After some back and forth, Ricochet would sneak a pin and retain his championship. Following the match, The Club get on the apron and Styles assures Ricochet that they aren't going to do anything. When Ricochet lets his guard down, Styles hits a suckerpunch on the champ and the three superstars pull out their finishers to send a message.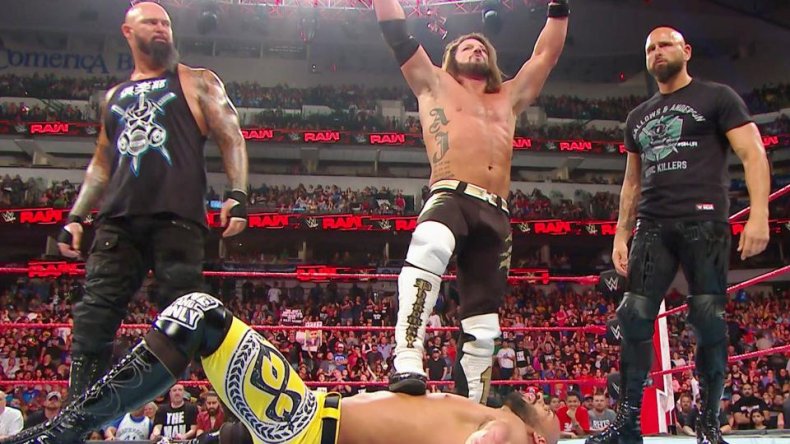 The storyline that was playing out backstage throughout the night was the interaction between Ricochet and The Club. AJ Styles and The Club were talking about last week and how Ricochet almost beat him. Karl Anderson challenged AJ Styles to prove that he could beat Ricochet again, but AJ didn't seem too keen on accepting.
In an interview later in the night, Ricochet was asked about his loss to AJ last week and if he could beat him if they squared off again. Ricochet said that he felt he could, which brought The Club out to confront him. They try to intimidate the young champion, but Ricochet stands his ground.
Later on, Gallows and Anderson are seen talking to AJ Styles and tell him how Ricochet has been talking trash on how he can beat him. They tell Styles that the AJ they used to know would accept the challenge and then slap him in the face.
Styles, visibly upset, finds Ricochet in the back. AJ confronts Ricochet about what he's been saying and that he wants a match for the US Championship tonight. Ricochet accepts and holds out his hand. AJ looks at the hand before slapping Ricochet, who then slaps AJ back before the former WWE Champion walks away with a smile.
In May, Styles told Newsweek that he wants to work with Gallows and Anderson again after being apart for months.
"If it were up to me, we'd be together right now." Styles said. "Those two and myself, we have chemistry, man. It's not something you can teach. And they can be very entertaining. Who knows? Maybe soon we'll be back together again and put on some entertaining matches. But who knows when that'll be. I would love to be back with those guys."
This isn't the first time AJ Styles was a heel since coming to the WWE. When he first arrived in the company in 2016 he was a face who went up against the likes of Chris Jericho. However, that he feud he would get into a program with John Cena with the help of his Club brethren. The "Beat Up John Cena" line got over with the crowd, and Cena and Styles would put on classic bouts with The Phenomenal One eventually going over.
After a feud with Dean Ambrose that saw Styles take the WWE Championship off of the Lunatic Fringe, Styles would slowly but surely become a face again.
What do you think of AJ Styles' heel turn? Are you excited for The Club to be reunited with Styles again? Let us know in the comments section below.