WWE Monday Night RAW Live Results: Will We See AJ Styles vs Ricochet Again?
Tonight's Monday Night RAW could be the start of something new and different.
Last week, Paul Heyman and Eric Bischoff were appointed to new positions in the WWE. Heyman is now Executive Director of Monday Night RAW and Bischoff is Executive Director of SmackDown Live. It's unclear when Heyman and Bischoff will be set in their new roles but fans of the WWE should tune in to tonight's episode to see if there's any noticeable changes in creative.
As the WWE continues its build to Extreme Rules on July 14, many superstars (like AJ Styles) are positioning themselves for title shots. Following a great match against Ricochet last week, The Phenomenal One is primed for a shot at the U.S. Championship. Fans will likely see the continuation of their feud. However, how will Karl Anderson and Luke Gallows fit in? AJ Styles has tried to get the good brothers back on the winning track, so wherever he goes The Club isn't far behind.
In the tag team division, the "wild card rule" will bring all three members of New Day to Monday Night RAW to take on the Viking Raiders. Xavier Woods and New Day have been involved in tag team feuds as Kofi Kingston carries the WWE Championship, and tonight they ascend to a possible title shot.
However, Samoa Joe attacked Kofi last week and will face Kingston at Extreme Rules for the WWE Championship in a couple of weeks. With RAW being Joe's home brand, he'll be keeping a close eye on this matchup.
Lacey Evans and Baron Corbin have formed an alliance to take out Becky Lynch and Seth Rollins. Before the four superstars go at it at Extreme Rules in a mixed tag match for both the Universal and RAW Women's Championships, the two heels will try to get under the skin of both champions. What do Evans and Corbin have planned?
Here's everything that happened on the July 1 episode of Monday Night RAW.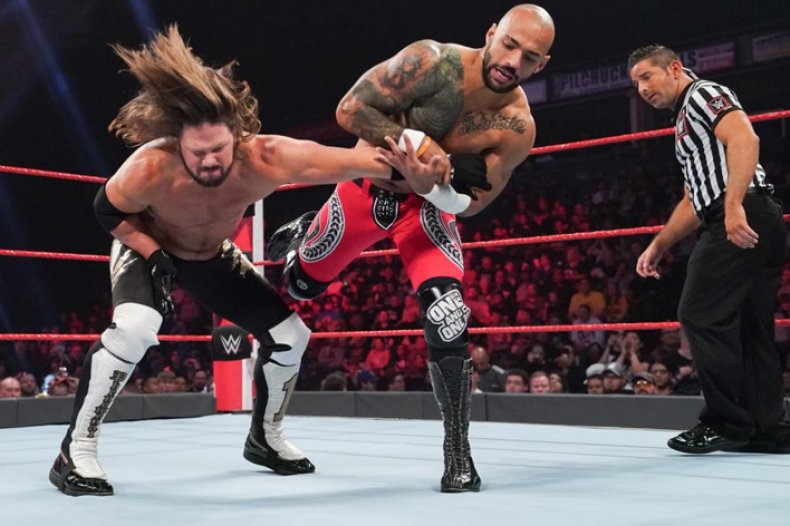 MONDAY NIGHT RAW RESULTS
In the opening moments of the show, the production crew probably accidentally showed NXT Tag Team Champions, The Street Profits backstage.
Braun Strowman vs Bobby Lashley - Falls Count Anywhere Match
The two fight all around the ring and in the crowd. Strowman charges Lashley through the LED causing an explosion. Both men are knocked out and paramedics come to tend to them before WWE cuts to commercial.
Notably, Corey Graves said "holy shit" on commentary when Strowman and Lashley went through the wall.
When we come back from commercial, Lashley and Strowman are stretchered into EMTs.
Viking Raiders vs New Day (Big E and Xavier Woods)
New Day wins via DQ after Samoa Joe comes out from under the ring to attack Xavier Woods.
Kofi Kingston comes out for the save, but Viking Raiders take out Kofi before the two sides are separated as RAW goes to commercial.
Viking Raiders and Samoa Joe vs New Day (Big E, Xavier Woods and Kofi Kingston)
The match is restarted when RAW comes back from commercial
Joe and Viking Raiders win after Kofi Kingston was put in the Coquina Clutch and passed out.
24/7 Segment
Drake Maverick brings his wife, Renee Michelle, backstage in a blindfold. He tells her that they are at their honeymoon. She takes off the blindfold and gets upset. Drake says that he brought her to RAW to meet Dana Brooke and everyone else.
Renee says that he needs to choose between her and the 24/7 Championship. Drake says that of course chooses her. They embrace, and Drake opens his eyes to see R-Truth there saying that he is a sucker for love and not to mind him before he walks off singing.
Backstage
AJ Styles walks up to The Club and congratulates them for their victory in Japan. Styles says that they still lost to the Viking Raiders and that AJ almost lost to Ricochet, the new kid.
AJ says he didn't want to re-injure himself that's why he took it easy. Karl Anderson calls AJ on his bluff. Anderson bets his "hot asian wife" that Styles won't beat Ricochet again.
24/7 Segment
R-Truth is a part of No Way Jose's conga line for Jose's match with Cesaro. Truth starts dancing and taunting in front of Drake and Renee who are in the front row. Drake looks at the title but Renee looks at him, but before anything happens the rest of the superstars in the locker room come out and chase Truth.
Cesaro throws Jose to the outside and hits him with the Gotch Neutralizer on the outside.
Street Profits Interview
Street Profits say they are on Monday Night RAW to bring the swag back and just because they are the NXT Tag Team Champions doesn't mean they stop working.
Miz Interview
Miz says you don't wish what happened to Strowman and Lashley on anyone.
Miz reiterates how he was the one who created Shane and will be the one to stop him.
Shane McMahon Promo
Shane comes out with Drew McIntyre and shows a recap of what happened at RAW last week. Shane says that Roman begged Undertaker to come back and help him.
Shane gives Undertaker credit for surprising them last week. But at Extreme Rules he and Drew will put Roman and Undertaker "in the ground."
Drew says that the Undertaker is the greatest legend in the WWE. He says he respects him, but he doesn't give a damn about the Undertaker. Drew says that he came dressed to fight and calls out the Undertaker.
Sounds of thunder fill the arena as the lights flicker until everything goes dark and then the gong hits. Undertaker walks to the ring, while Shane and Drew get out of the ring and wait on the outside.
Undertaker says that Roman Reigns never asked him for his help. Undertaker says that if Shane wants to know why, he'll explain to him who he is. He's the reaper of wayward souls and he's here to collect. He says that he had a little respect for Shane after their Hell in a Cell match, but he fell victim to his own greed and ego. He says that Shane may be the best in this world, but where he's sending him to he'll be nothing more than another couple of lost souls suffering in death and they won't rest in peace.
Backstage
Baron Corbin says that making his and Lacey Evans' match with Seth Rollins and Becky Lynch an Extreme Rules match is foolish because they are willing to do anything to defeat them.
Lacey Evans says that Becky's accomplishments are impressive but she will become the new RAW Women's Championship and the first step is defeating Natalya.
Lacey Evans (with Baron Corbin) vs Natalya
Evans wins via pinfall after a Women's Right
Finish was set up when Corbin trips up Natalya when the referee wasn't looking
Ricochet Interview
Ricochet is talking with Zack Ryder and Curt Hawkins before Charlie Caruso pulls him away
Ricochet says that facing AJ Styles in the main event of RAW was a dream but he doesn't know if AJ Styles was fighting at 100 percent.
Karl Anderson and Luke Gallows come up to him and ask if he really thinks that he had a chance of beating AJ Styles. Ricochet says that he's confident that if he faces AJ again, he can beat him. Gallows gets in Ricochet's face and the US Champion says he's willing to put the title on the line with them, but The Club says that they aren't the ones he should be worried about.
Note: Miz is walking backstage when Mercy the Buzzard appears in the background.
Backstage
The Club goes up to AJ Styles and tell him that Ricochet was running his mouth. AJ says he'll talk to Ricochet, but Anderson tells Styles that the old AJ wouldn't take that.
AJ finds Ricochet backstage and tells him that if he wants to keep talking that he'll take the title off of him tonight. Ricochet accepts puts his hand out but AJ slaps Ricochet, and Ricochet slaps AJ back. Styles shakes his head and walks off.
Miz vs Elias - 2 out of 3 Falls Match
Before the bell, Miz jumps Elias
Miz pins Elias after a Skull-Crushing Finale very quickly
Elias pins Miz after a Drift Away
Miz submits Elias after a Figure Four set up by Elias hitting his knee against the corner post.
Seth Rollins and Becky Lynch Interview
Seth says that they hope that Braun and Bobby are doing ok after the opening segment
They playfully joke about how Seth is impulsive and that's why they accepted to put their titles on the line.
Maria Kanellis shows up and finds it funny that Becky and Seth consider themselves the first couple of WWE. Mike Kanellis shows up and Maria says that the only reason Seth is still Universal Champion is because Mike hasn't had a shot yet. Maria challenges them to a mixed tag match, which Becky accepts.
Seth Rollins and Becky Lynch vs Maria and Mike Kanellis
Becky Lynch submits Mike with a Dis-Arm-Her
The finish was set up when Seth forces Mike to tag in Maria. Becky goes to attack Maria but she says she's pregnant. Maria runs down Mike and says he's not man enough. Becky pulls Mike in the ring and hits the finish.
After the match, Maria belittles Mike some more and leaves him in the ring.
Backstage
Paul Heyman shows up and says that it's been bad nights for Seth and Kofi and may be the perfect time for Brock Lesnar to cash-in.
Street Profits show up and clown with Heyman who slinks away.
Moment of Bliss
Alexa Bliss congratulates Nikki Cross on her victory against Bayley
Carmella comes out and says that Alexa is using Nikki and that Cross should be getting the title shot. Bliss says that she used to think highly of Carmella but now she is just R-Truth's sidekick.
Carmella challenges Bliss to a match and Mella rolls up Bliss in less than a minute for the victory before a commercial.
Nikki Cross vs Carmella
After RAW comes back from commercial, these two have a match.
Cross wins via pinfall after a swinging neckbreaker
Backstage
Nikki Cross, with Alexa Bliss, is asked how she feels that the WWE Universe wants her in the match with Bayley instead of Bliss. Alexa says no comment and pulls Nikki away.
Drake Maverick and his wife are about to exit the arena to go to their honeymoon when she leaves to freshen up. The locker room is running around looking for Truth when he appears next to Maverick. Drake says that he's not looking to pin Truth, but when the champion turns his back Maverick hits him with his luggage and asks for a referee. Drake pins R-Truth to become the 24/7 Champion. When Renee Michelle shows up, Drake says that they are going to be on honeymoon 24/7 and run away.
AJ Styles vs Ricochet (c) - US Championship Match
AJ Styles pins Ricochet after a Phenomenal Forearm but Ricochet's leg was clearly under the rope.
A second referee comes out and after a commercial break, the match is restarted but The Club have come out to watch ringside.
Ricochet pins AJ Styles after a top rope crossbody and gets a sneaky pin
After the match, the two shake hands. The Club clap their hands sarcastically and get on the apron. AJ Styles turns around and clocks Ricochet. The Club hit Ricochet with the Magic Killer and stand over the US Champion.
AJ Styles hits Ricochet with a top rope Styles Clash