Peter Liang Shot Akai Gurley 'for No Good Reason,' Say Prosecutors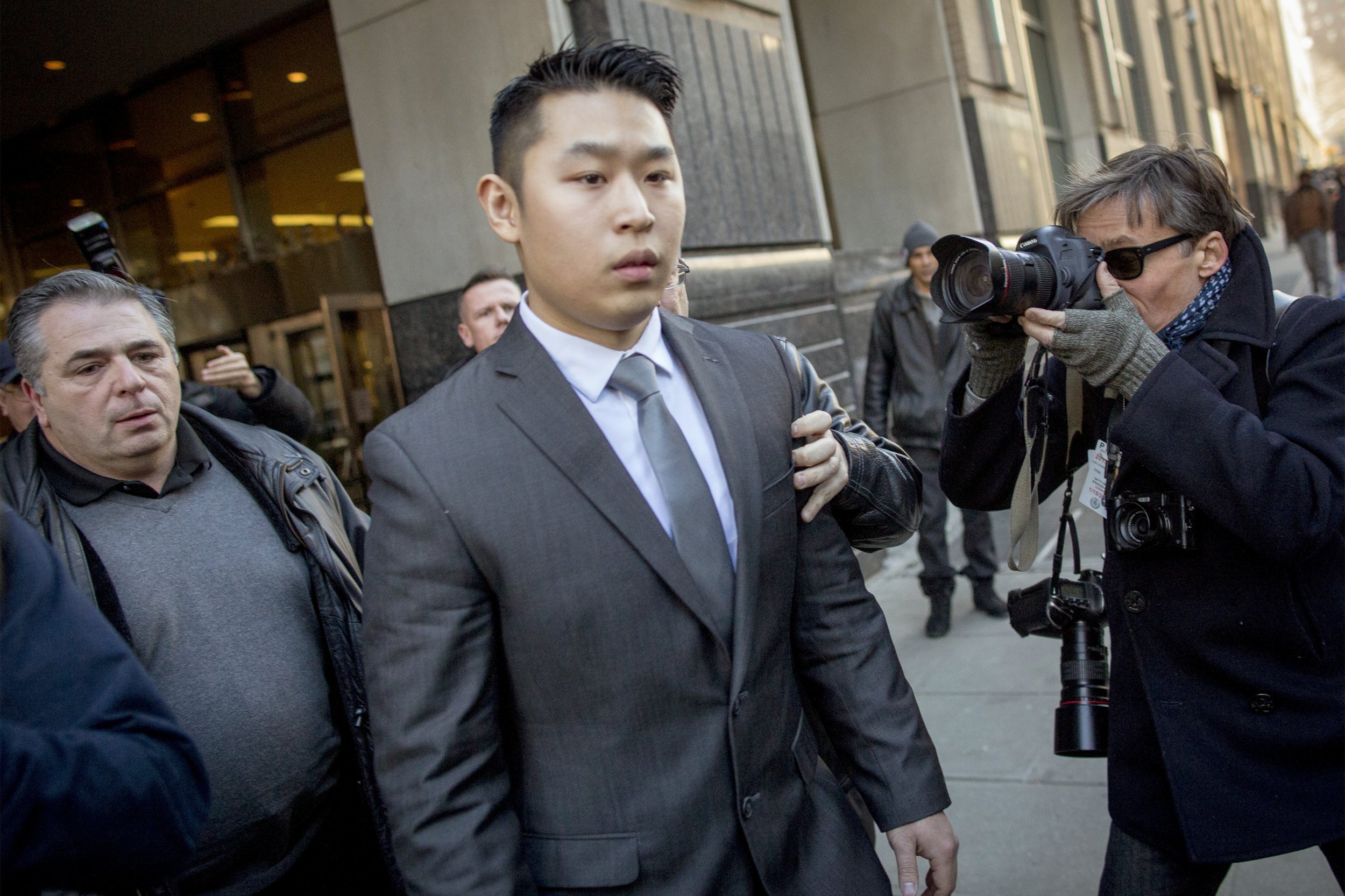 New York City police officer Peter Liang, who is charged in the death of Akai Gurley, shot the unarmed black man in a Brooklyn housing complex last year "for no good reason," prosecutors said on Tuesday in closing arguments.
Gurley was shot in November 2014 in the darkened stairwell of a housing project in East New York, Brooklyn. Liang maintains that his gun went off accidentally. The 28-year-old officer faces five counts in Gurley's death—manslaughter, assault, reckless endangerment, criminally negligent homicide and official misconduct—and up to 15 years in prison. The fatal shooting has gained national attention. Gurley, who was unarmed at the time, was killed when a bullet from Liang's gun ricocheted off a wall and entered Gurley's liver and heart when he was a flight below.
A 12-person jury began deliberations in the case just after 4 p.m. on Tuesday. Jury members were sent home after an hour. Court is set to resume on Wednesday morning in the 10-day trial.
Assistant District Attorney Joseph Alexis dismissed Liang's defense during closing arguments, saying he gave his fellow New York Police Department officers a bad name.
"Peter Liang was sworn to protect and serve Akai Gurley, but he shot him for no good reason. He heard a noise in a dark stairwell and instead of shining a light, he pointed his gun and shot Akai Gurley," Alexis said on Tuesday. "He recklessly pulled the trigger. He, nor his partner, didn't face a threat."
"Peter Liang is not the same as the officers who bravely patrol our city," Alexis said. He argued that Liang's firing of his gun wasn't an accident, and Liang "didn't trip or fall."
Liang said during the trial that he felt justified to use his gun in the Louis Heaton Pink Houses, the housing development where Gurley lived, because it's a "high-crime area," a notion that Alexis refuted in court.
"Not everyone has the luxury of living in a doorman building. The defendant would have you believe the Pink Houses is full of criminals," he said.
Much has been made about Liang's apparent delay in rushing to help Gurley after he had been shot. The officer's attorney, Robert Brown, said Liang "had no idea someone was shot" that night. Brown said his client called for help as soon as he realized Gurley was injured. He also said police officers are "trained to have their gun out while approaching the roof, to have your finger along the gun and pointing down at a safe distance."
According to the New York Daily News, police will be stationed at "key locations," including the Pink Houses and the Barclays Center, both in Brooklyn, in preparation for the jury's decision. Both locations have been the site of protests over the shooting deaths of unarmed black men in the past.