Akon's Romance with Dictatorship | Opinion
Another chapter was recently written in the ongoing romance between celebrities and dictators. This time the dictator seeking to launder his reputation and distract from his crimes was Uganda's Yoweri Museveni. And the celebrity was American rap artist Akon. What made this instance particularly worthy of note is how the Grammy-nominated artist's disgrace went one step beyond selling his soul. He blatantly acknowledged how popular culture plays a role in enabling dictatorship and went so far as endorsing Museveni while articulating his disapproval of democracy.
Last month, Akon visited Museveni (the country's dictator since 1986) ostensibly to explore business and investment opportunities. President Museveni was quick to indulge in ceremony and appointed Akon, whose real name is Aliaune Thiam, as a special envoy for tourism and culture. Beyond diplomatic pomp, the dictator personally granted Akon one square mile of land to "build a futuristic city" powered by Akon's own cryptocurrency Akoin. Some Ugandans asked why it was that local investors struggle to get similar opportunities from the same government. The answer is that Akon's visit wasn't about business or investment. It was a propaganda piece by the Ugandan government to purchase and exploit the prestige of the multi-platinum-selling music star.
Akon played his part to perfection. At the end of his visit, he declared that "not every place in the world is made for democracy." Akon's appalling comment is base and outrageous given that Akon himself enjoys the trappings of wealth in a democracy and is engaging in predatory behavior in a dictatorship.
Akon made his heartless declaration as Ugandans are still reeling from the most violent spate of regime repression in decades. In recent months, Museveni's regime forces have killed dozens of demonstrators, abducted hundreds of opposition supporters and brutalized, beaten, jailed and tortured untold numbers of Ugandans. The violent repression forced Bobi Wine, the leader of Uganda's People Power Movement—a nonviolent political movement seeking democratic change—to suspend his campaign for fear of his personal safety.
Akon's comment was published as Wine spent Election Day and the following weeks under house arrest, unable to contact the outside world because of a government internet shutdown while a subservient electoral commission handed Museveni a sixth presidential term. Today, about 3,000 opposition activists, demonstrators and Wine supporters are still missing, reported to have been arrested or abducted by state security agents.
In Uganda, democracy has never had a chance to grow not because it isn't "made for democracy," as Akon says, but instead due to a succession of repressive and brutal leaders, most notoriously Idi Amin, who earned the nickname "Butcher of Uganda" for killing between 300,000 and 500,000 Ugandans during his bloody reign. And the butchery back then was enabled by a coterie of useful idiots much like Akon who sold their approval for Amin. Following Amin's fall, a succession of military coups, rigged elections and a civil war strife enabled Museveni to shoot his way into power.
Over his more than 35 years of rule, Museveni has clung to power through constitutional amendments, rigged elections marred by fraud, intimidation, censorship and violent repression.
Akon's hypocrisy is glaring for another reason. Beyond thriving in a democracy, Akon has frequently exercised his freedom of expression in the U.S. to speak up about injustices. In the wake of the police killing of George Floyd, he released a music video, "Ain't No Peace," condemning police brutality, and signed an open letter, along with 91 prominent African artists, media personalities, academics and leaders, expressing solidarity with African Americans and the Black community globally. Ugandan victims of police brutality, apparently, matter far less to Akon than George Floyd.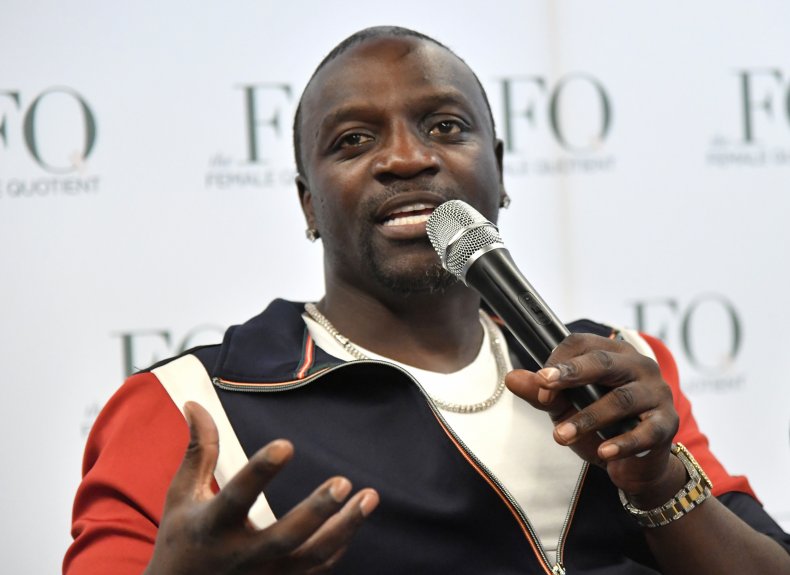 Celebrities like Akon play an outsized role in the public imagination. Their presence and media influence have the power to bring wider attention to important issues. But with the power of celebrity comes the responsibility to support just causes, or at the very least, avoid supporting evil and exploitative causes. Akon's comments are a gift to dictators such as Museveni, who relish the opportunity to pose alongside glamorous celebrities and lend their murderous regimes the appearance of stability, normalcy and calm.
Unfortunately, Akon isn't the first celebrity to perform propaganda for dictators in order to line his pockets, and nor was Uganda his first time. In 2018, he joined rappers Ludacris, Young Jeezy and Sean Kingston in performing for the 49th birthday of the spendthrift son (and vice president) of Equatorial Guinea's dictator Teodoro Obiang Nguema Mbasogo, who has been in power since Akon was 6 years old. Akon is also part of a broader ecosystem of celebrities and companies that choose money over morals.
Jennifer Lopez has accepted millions of dollars to play private concerts for some of central Asia's most corrupt and brutal figures, including Turkmenistan President Gurbanguly Berdimuhamedow. In 2019, dozens of celebrities, including Janet Jackson, Liam Payne, 50 Cent, Future, Chris Brown and Tyga performed at a music festival in Jeddah, Saudi Arabia, which was funded and authorized by Crown Prince Mohammed bin Salman (MBS), one of the world's worst human rights violators.
Purveyors of popular culture hold the power to spark change. And, at least while they are in America, most celebrities take this responsibility seriously. Corporations, athletes and celebrities alike routinely condemn police brutality in the United States and use their voices to promote equality and social justice. But why is it that as soon as they are out of the country, so many of them are quick to embrace the world's most evil men?
Akon seems to hold a profoundly prejudiced view of Ugandans, who he seems to think are not capable of living in human liberty, as he does. Akon's remarks are an affront to Ugandans' courageous struggle to live free of tyranny.
Holding Akon accountable for his comments is not an example of "cancel culture." His remark was not off the cuff. Akon's explicit praise and endorsement of Museveni is worthy of international condemnation. Ugandans have the same right to freedom and democracy as Americans, Norwegians, Chileans and South Africans. Akon's clear disregard for democracy in Uganda and support of a murderous regime is an unbearable affront to human dignity.
Garry Kasparov is a former world chess champion and chair of the Human Rights Foundation.
Celine Assaf-Boustani is chief program officer at the Human Rights Foundation.
The views expressed in this article are the writers' own.