Is Al Franken Really Resigning? Democrats Were Hypocritical While Republicans Never Left Trump, Senators Say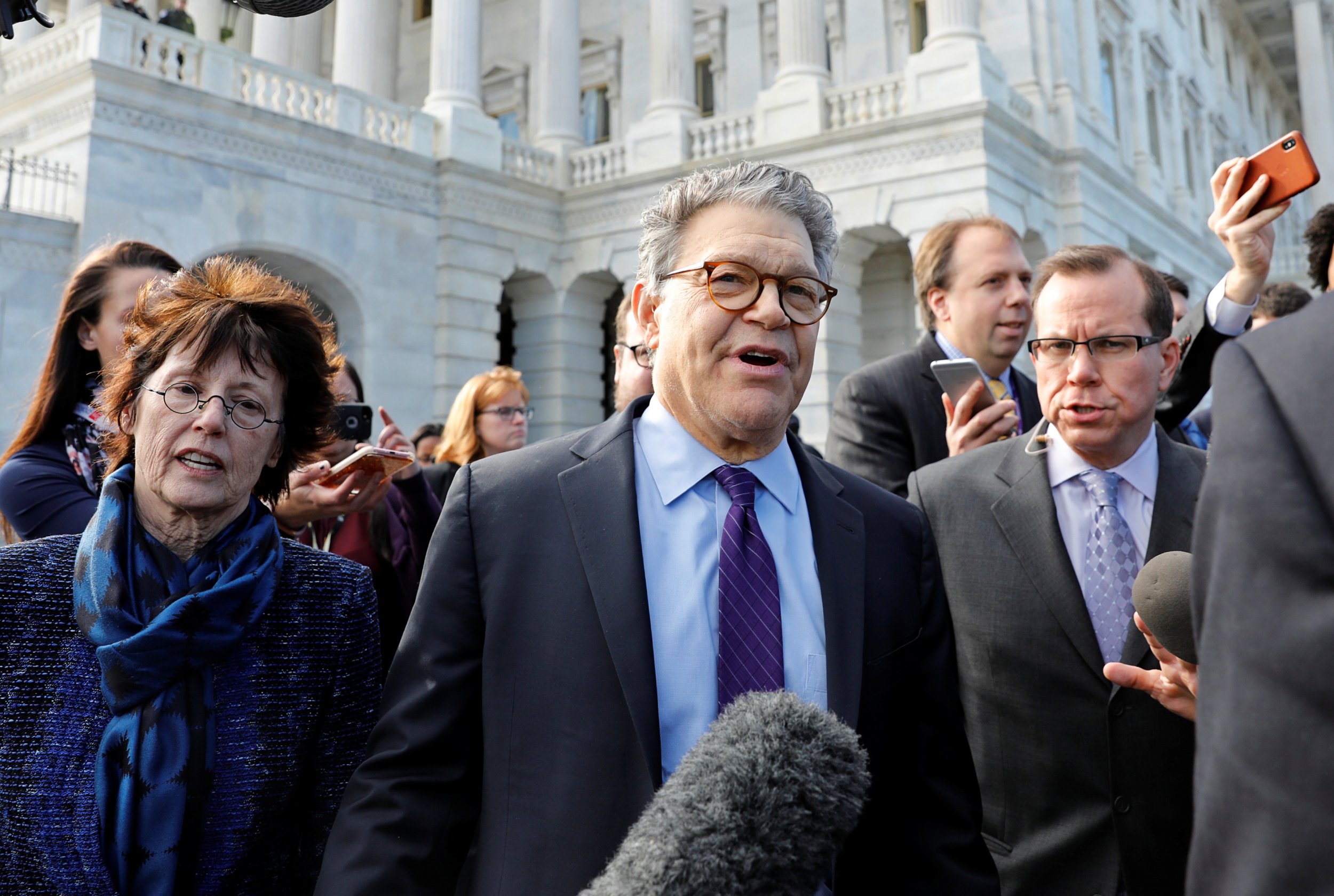 Some Democratic U.S. senators are reportedly regretting their calls for Minnesota's Al Franken to resign amid accusations of sexual misconduct. At least four are now second-guessing their statements against Franken, raising the question of whether the disgraced senator will still step down.
One is Senator Joe Manchin of West Virginia, who told Politico he felt the way Democrats abandoned Franken was "atrocious." He also cried hypocrisy over how members of the party treated Franken following his resignation speech.
Manchin specifically took umbrage with the Democrats who gave in to pressure and publicly called for Franken to leave and then were seen hugging him December 7 after he announced his intended exit on the Senate floor.
"The most hypocritical thing I've ever seen done to a human being—and then have enough guts to sit on the floor, watch him give his speech and go over and hug him? That's hypocrisy at the highest level I've ever seen in my life. Made me sick," Manchin said.
Manchin also cited Franken's willingness to go through and cooperate with an ethics investigation.
"Here's a man, that all he said [was] 'Take me through the Ethics Committee. I will live by whatever decision, and I will walk away thinking about this opportunity I've had while I was here. But you find out if I'm a predator,'" Manchin said about Franklin.
According to Politico, three other Democratic senators have started questioning their opposition to Franken: Patrick Leahy of Vermont and two others who were not identified but reportedly felt they were "rushed" to pass judgement on the Minnesota senator.
But one top Democratic senator, Kirsten Gillibrand of New York, wasn't quite so reticent.
"She has said, 'He was entitled to a process, but he was not entitled to my silence,'" a person who spoke to Gillibrand told Politico.
After accusations from eight women, some of whom claimed the former Saturday Night Live star harassed them while he was in office, Franken said he would resign in the "coming weeks." But his speech was laced with indignation and even defiance in the face of how Republicans have responded to misconduct scandals in their own ranks. He singled out President Donald Trump, who has refused calls to resign over allegations against him from nearly 20 women, and Roy Moore, the Alabama Senate candidate who kept campaigning despite allegations of sexual misconduct with teenagers.
"I, of all people, am aware that there is some irony in the fact that I am leaving while a man who has bragged on tape about his history of sexual assault sits in the Oval Office, and a man who has repeatedly preyed on young girls campaigns for the Senate with the full support of his party," Franken said, referring to Trump and Moore, respectively.
Trump and Moore have denied all of the accusations against them, saying that their accusers as liars. Last week, Moore lost the Alabama Senate race to Democrat Doug Jones, who does not believe Trump should leave office over his allegations.
Franken has also dismissed some of the allegations that were made against him. But his departure for now seems set, as Minnesota's lieutenant governor, Tina Smith, was tapped as his successor last week.
Around the time of the Franken accusations, Democrats also called for Representative John Conyers to end his five-decade congressional career over sexual misconduct allegations. Conyers announced his immediate resignation two days before Franken's exit speech.
Franken's office did not immediately return a request for comment from Newsweek.