Former Vice President Al Gore believes President Donald Trump has "ignored the science" in his response to the coronavirus crisis, accusing him of "magical thinking."
Although he did not mention them directly, Gore's comments appeared to be targeting Trump's comments suggesting ultraviolet light and disinfectants could be possible treatments for coronavirus patients.
Trump later said that he was being sarcastic when he made the remarks and that he did not encourage their use as a COVID-19 treatment. A White House spokesperson said that Trump's remarks had been taken out of context.
But Gore, who served two terms as vice president, took aim at Trump's response throughout the crisis, telling MSNBC: "There's no more important role for a president than to lead a nation through a crisis, and that means unifying people, and leading not only your political base, but reaching out to others with whom you disagreed, and Donald Trump has made this all about himself.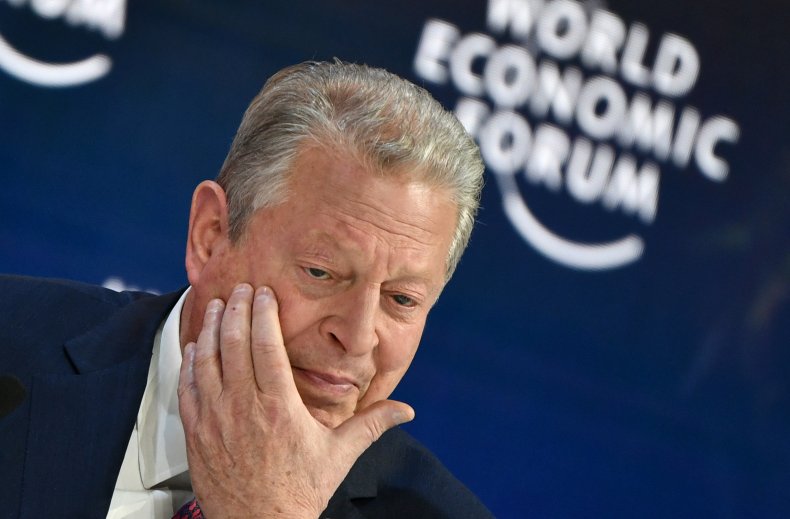 "He has ignored repeated warnings... he ignored the science, as he has done with the climate crisis as well. He has engaged in a kind of magical thinking, he's pushed dangerous and potentially deadly snake oil-type remedies."
Gore told host Chris Hayes that Trump had "lashed out" at people asking legitimate questions. However, the former VP praised the response of governors of both political parties, as well as the performance of scientific and medical experts, mentioning in particular Dr. Anthony Fauci, saying the crisis had "brought a lot of good out in the American people."
But he went on to say that the pandemic was a "dangerous time for our country," with people around the world "dropping their jaws in amazement at the things he [Trump] says."
"That's not good for anybody in this country, and we've got to get through this in spite of Donald Trump, but it has been an irresponsible, incompetent, and, in many ways, disgraceful performance," Gore added. Newsweek has contacted the White House for comment.
On Monday, Trump gave a news conference in the White House Rose Garden, where he expressed optimism about some governors deciding to start reopening their states. He was also confident that states will soon be able to expand testing and tracing.
"The testing that has been developed and is being developed right now has been truly an amazing thing," Trump said.
Admiral Brett Giroir, the assistant secretary for health, told CBS News that the government would provide every state with enough tests to screen two percent of their population, translating to 6.6 million people nationwide being tested per month.
The infographic below, provided by Statista, shows the states worst hit by COVID-19 as of April 28.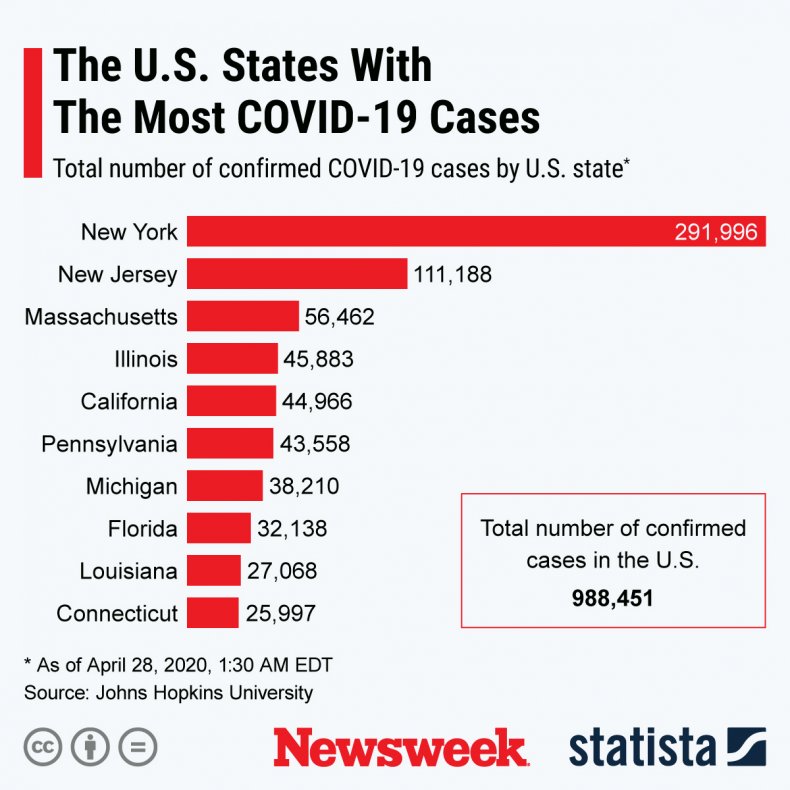 This story has been updated to include the latest Statista figures on COVID-19 cases in the U.S.