A Democratic congressman in Texas who has repeatedly called and set votes for President Donald Trump's impeachment said Tuesday that every House representative has a "right and privilege" to bring up impeaching Trump.
Speaking on C-SPAN Tuesday, Representative Al Green of Texas's 9th District acknowledged that he and House Minority Leader Nancy Pelosi, a California Democrat, do not agree on how—or if—the party should move forward with potentially impeaching the president. Green said he's pushing for the impeachment of the president should the Democrats retake the majority after the 2018 midterm elections in November.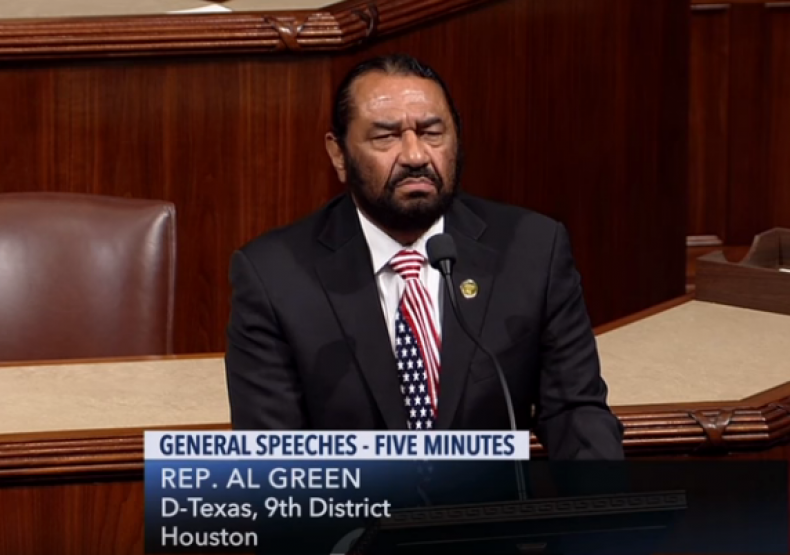 "I think there is a good likelihood there will be Articles of Impeachment," Green responded to C-SPAN host Pedro Echevarria on Tuesday. "I'll let Speaker Pelosi address her actions. But here is a point that I think is salient and one that ought to be referenced. Every member of the House is accorded the opportunity to bring up impeachment. This is not something that the Constitution has bestowed upon leadership. It is something that every member has the right and privilege of doing."
Pelosi has amassed several Democratic Party followers in the House who agree with her strategy of dismissing Trump impeachment talk. Pelosi has repeatedly rebuffed discussion of impeaching Trump, calling for a "no drama" approach publicly and privately to avoid falling for Trump distractions. Pelosi has sought to avoid getting Democratic campaigns mired in fighting every tweet and inflamed statement from Trump as a means of getting back the Democratic majority in Congress.
"There's nothing any of us can say in Congress that is going to change people's view of Donald Trump," freshman Representative Ro Khanna, who said she agrees with Pelosi's strategy, told Politico. "What they need is us to help them form their view of whether the Democratic Party is ready to lead."
But Green, whose Texas district includes southern portions of the city of Houston, has taken a very different approach. "[I]t is intuitively obvious to perhaps even the most casual observer that [Pelosi] and I are in different places on this. I respect her position...I am not sure that there will be members who are going to wait for someone else if that someone else, doesn't matter who it is, is declining to do it. We can all do it. And I think there is a good likelihood there will be Articles of Impeachment."
The impeachment process is a two-step procedure on the federal level that begins with the House of Representatives passing articles of impeachment by a simple majority before the Senate must vote the president out by a two-thirds majority.
Green struck a different tone on Pelosi earlier this month when he issued a statement saying, "It is regrettable that Leader Pelosi would trivialize President Trump's hateful discrimination against Jews, Latinos, Blacks, Women, and the LGBTQ community by reducing the president's harmful bigotry to his 'being a jerk.'"
In September 2017, Green took to the floor during the U.S. House of Representatives session and laid out his case for Trump's impeachment. "This is not what America is all about, calling people 'SOBs.' I rise because my heart tells me that I must do something. So Mr. Speaker, I denounce the comments that were made that next week. Mr. Speaker, I will bring a privileged resolution before the Congress of the United States of America...I will call for the impeachment of the president of the United States of America."
In June of last year, Green responded to former FBI Director James Comey's comments that Trump instructed him to end his investigation into former national security adviser Michael Flynn. "There is a desire ... to see articles brought so the president can answer for obstruction of justice," Green said. The House voted to kill his articles of impeachment resolution in December 2017.