'Death to America, Death to Israel': Iran Protesters Chant and Burn ISIS Flags in Tehran
Iran held its annual Quds Day marches across the country on Friday, with protesters burning the flag of the Islamic State militant group (ISIS) and chanting "Death to Israel" and "Death to America."
Iran's Revolutionary Guard displayed ballistic missiles to mark the day, showing off the Zolfaghar missile that the military fired at ISIS positions in eastern Syria for the first time on Sunday.
The celebration is to rally for Al-Quds, the Arabic name for the city of Jerusalem, and protest Israel's occupation of East Jerusalem and the West Bank in solidarity with the Palestinians.
Protesters burned effigies of Israeli Prime Minister Benjamin Netanyahu, held up critical posters showing him alongside U.S. President Donald Trump and Saudi Arabia's King Salman, and carried banners that read "Israel should be wiped off the map."
At the biggest march, in the Iranian capital of Tehran, Parliament Speaker Ali Larijani, who called Israel "the mother of terrorism," attended alongside Iranian President Hassan Rouhani.
"This year's rally...shows people want our region to be cleaned up from terrorists, backed by the Zionist regime [Israel]," Rouhani told state TV.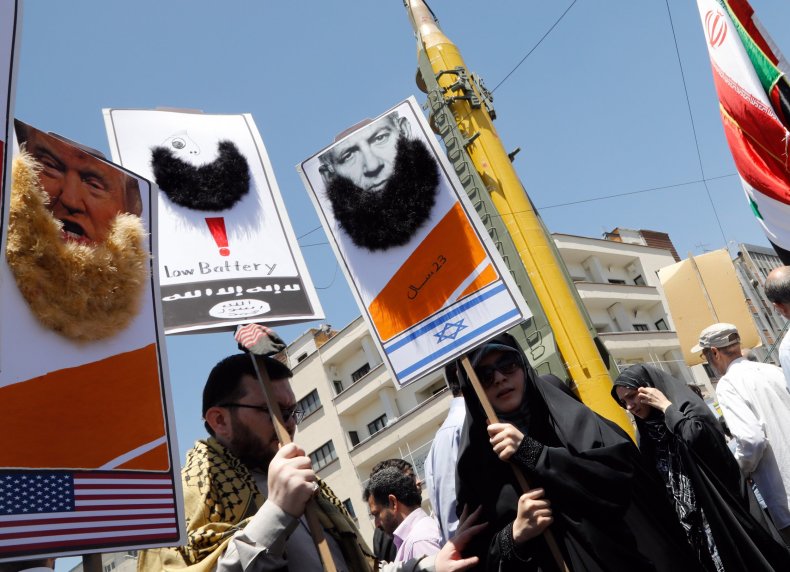 Shia-majority Iran considers Israel to be its archenemy, and anti-Israel sentiment is widespread. The country supports Lebanese militant group Hezbollah and Palestinian militant group Hamas, who fought wars with Israel as recently as 2006 and 2014, respectively.
The protesters also targeted ISIS after it claimed a twin suicide-bomb attack in Tehran that left 18 people dead at the country's parliament and the Mausoleum of Ayatollah Ruhollah Khomeini.
Read more: 'You call that a missile?': Israel mocks Iran's first strike on ISIS in Syria
The burning of the flags comes after the strikes against ISIS on Sunday. The Iranian military said it had killed more than 300 militants in the raid. But Israelis mocked the strike as failing to hit its target.
Israeli military chief Gadi Eisenkot said Tehran was lying about the strike. "Their achievement was less than what was reported in the media. The strike manifested something, but it was far from a direct hit or what they have said," said Eisenkot during the Herzliya policy conference on Tuesday.
He said Iran was attempting to "get more accurate rockets" in its "push for hegemony" in the Middle East, but it was not there yet.
At least three of the seven ballistic missiles did not reach their intended targets, Israeli sources said in the Hebrew-language media, The Times of Israel reported.
Iran repeatedly threatens Israel with destruction and says its missiles can reach Israeli territory. Israel says its ballistic missile program, and what it says are ambitions to obtain a nuclear weapon, threaten its national security.