Election Official Says Death Threats His Family Got Should Be Considered in Trump Verdict
An election official in Philadelphia, whose office oversaw the vote count in the 2020 presidential election, says the death threats his family has faced should be taken into account when considering the impeachment verdict of former President Donald Trump.
Commissioner Al Schmidt repeatedly refuted the unsubstantiated claims of voter fraud peddled by Trump and his allies, describing them as "fantastical" and had "no basis in fact at all."
Trump had claimed without evidence that tens of thousands of votes were "illegally received" in Pennsylvania and alleged that his poll watchers were not allowed to observe counting.
Amid legal challenges from Trump's team that were thrown out, Schmidt's insistence that a free and fair election had taken place came at a cost. Members of his staff as well as his family received death threats after Pennsylvania Gov. Tom Wolf had certified the election in favor of President Biden.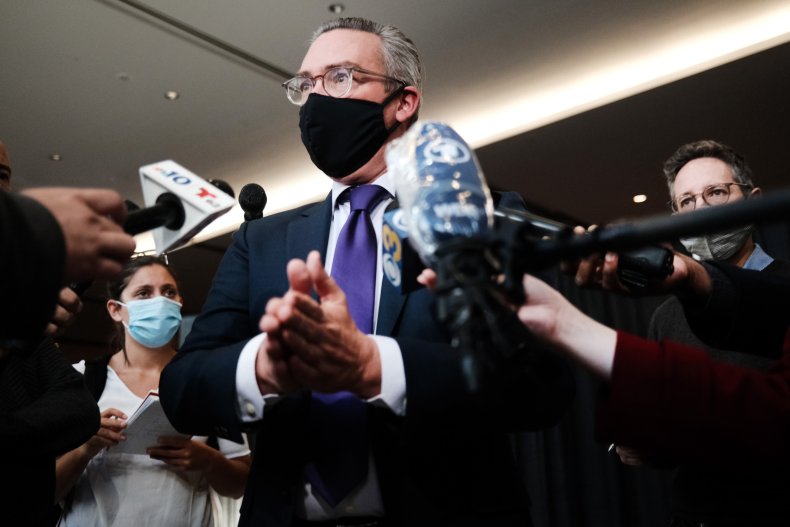 Trump had targeted Schmidt, accusing him in a tweet of being "used by the Fake News Media to explain how honest things were with respect to the Election in Philadelphia."
But in a tweet on Friday in which he tagged Senate minority leader Mitch McConnell, Schmidt wrote: "The former POTUS incited supporters to threaten to kill my children and put their 'heads on spikes' because we counted votes cast by eligible voters.
"They named my children and included my home address in the threats. Please consider when voting your conscience," Schmidt added.
In December, Schmidt told The New York Times his wife and their son and two daughters had been threatened by text and email. One email to his wife said: "Heads on spikes. Treasonous Schmidts."
Another read: "Albert Rino Schmidt will be fatally shot," referring to the disparaging term that Trump frequently used to describe "Republicans in name only."
Schmidt, the only Republican on the three-member board in Philadelphia overseeing the election, announced last month that he would not be seeking reelection in 2023, although he said the threats he had received were not factors in his decision.
"That would be like capitulating to the psychological terrorists, which was their point," he told the Philadelphia Inquirer last month.
His tweet comes ahead of a Senate vote expected on Saturday on whether to convict Trump of inciting his supporters to storm the U.S. Capitol which led to five deaths.
The graphic below provided by Statista shows the impeachment process.