Is Al-Shabab Training Boko Haram Fighters?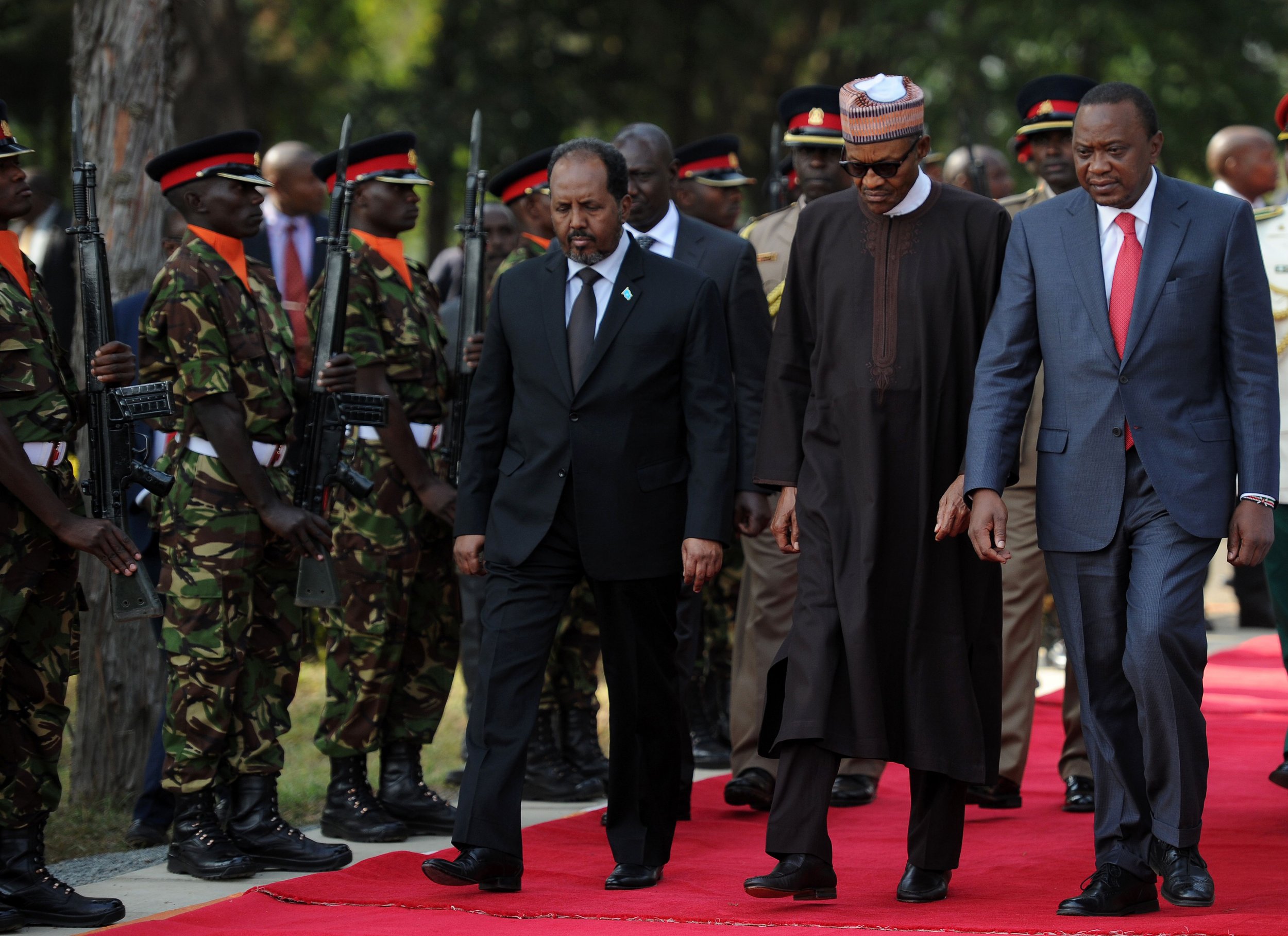 Boko Haram and Al-Shabab are possibly the most feared militant groups in West and East Africa respectively.
The Nigeria-based Boko Haram has killed more than 17,000 people and displaced more than two million Nigerians during a six-year insurgency. Somali group Al-Shabab, meanwhile, continues to launch deadly attacks on domestic and foreign targets, recently claiming to kill more than 100 Kenyan soldiers in an assault on an African Union base in El Adde, near the Somali border with Kenya.
Now, Somali President Hassan Sheikh Mohamud has raised the worrying possibility of collaboration between the two militant groups, both of which purport to want to establish Islamic caliphates in their respective domiciles. "There are proofs and evidence that [for] some time Boko Haram has been trained in Somalia and they went back to Nigeria," said Mohamud at the Munich Security Conference in Germany on Sunday. "The terrorists are so linked together, they are associated and so organized, [that] we the world need to be so organized."
The idea of pan-African cooperation between the two groups is a terrifying prospect. Boko Haram fighters would have to travel through several countries, including conflict-riddled states such as Central African Republic (CAR) and South Sudan, in order to reach Somalia. Such transit routes could raise the possibility of what was a Nigerian insurgency spreading: the United Nations coordinator in Cameroon, Najat Rochdi, warned in December 2015 that Boko Haram was threatening to expand as far eastwards as CAR after coming under increasing military pressure in Nigeria.
Members of the Nigerian militant group have definitely traveled to Somalia for training in the past, says Stig Jarle Hansen, an Al-Shabab expert and author of a forthcoming book on African militant groups titled Horn, Sahel and Rift . "Boko Haram fighters ran to Somalia after the crackdown in 2009," says Hansen, referring to the suppression of a Boko Haram uprising by Nigerian security forces, in which the group's then-leader Mohammed Yusuf was captured and killed. Jansen says that Al-Shabab "trained Boko Haram fighters at this stage" and that Nigerians were among the three most numerous foreign fighter groups in the Somali militant organization at this point, along with Kenyans and Tanzanians.
Hansen doubts the strength of the relationship now, however, due to the different affiliations taken on by each group. Al-Shabab has long ties with Al-Qaeda that were cemented in 2009 when its former leader, Ahmed Abdi Godane, declared the Somali group's allegiance to Al-Qaeda. Boko Haram, meanwhile, pledged to obey the authority of Abu Bakr al-Baghdadi, the purported leader of the Islamic State militant group (ISIS) in March 2015. The differing allegiances have strained the relationship between Boko Haram and Al-Shabab, says Hansen: the Somali group has reportedly enforced a brutal crackdown on segments expressing affiliation to ISIS, while Boko Haram fighters have reportedly been urging their Somali counterparts to abandon Al-Qaeda and align themselves with ISIS.
The structure of both groups is mysterious: while both appear to have leadership structures—with Abubakar Shekau leading Boko Haram and Abu Ubaidah heading up Al-Shabab—it is unclear how closely connected these are to the rank-and-file foot soldiers tasked with carrying out suicide bombings and armed attacks. The structure of Boko Haram in particular is "nebulous" and so differences in official allegiance may not preclude ground-level cooperation, according to Raffaello Pantucci, director of international security studies at the Royal United Services Institute for Defense and Security Studies (RUSI).
"Even if they [the leaders of Boko Haram and Al-Shabab] did prescribe to these bigger ideologies, that's not to say that the organizations wouldn't necessarily cooperate at the ground level," says Pantucci. "The fact that the leadership [of Boko Haram] has pledged allegiance to Daesh [ISIS] does not necessarily filter all the way down."
Despite the possibility of low-level cooperation, Pantucci says it is unlikely that either Boko Haram or Al-Shabab are looking to extend their insurgencies beyond their local regions. Boko Haram is the subject of a persistent Nigerian military offensive, while Kenyan efforts to tackle Al-Shabab are likely to redouble after the El Adde attacks. Moving into other countries like CAR or South Sudan would represent a drain on resources at important times for both movements. "I don't think that either Al-Shabab or Boko Haram would have a vested interest in launching attacks there, frankly. They're much more focused on their own areas of interest," says Pantucci.