Boko Haram Is Not ISIS, But It's Still a Problem For the West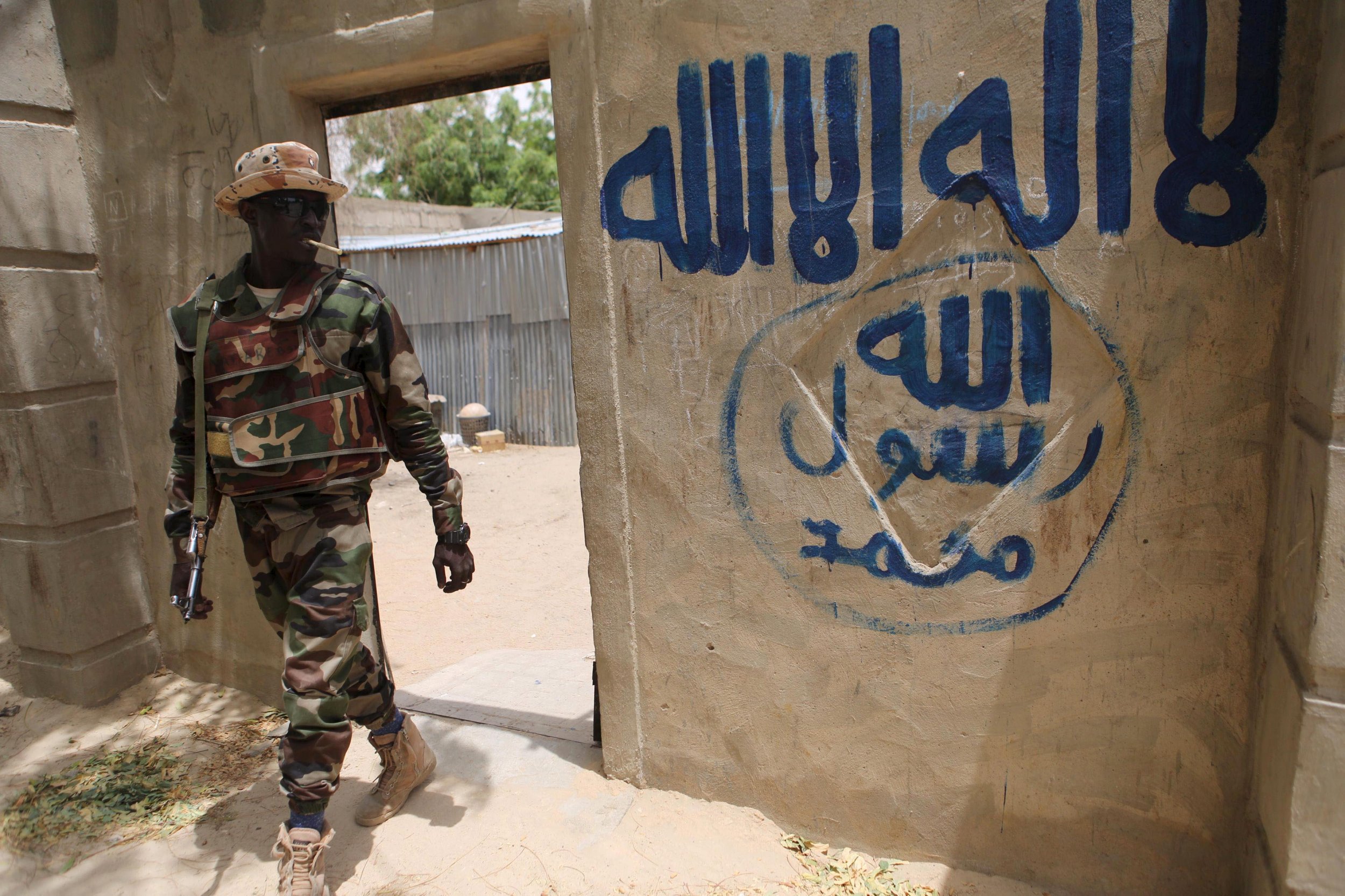 In March 2015, Boko Haram declared allegiance to the Islamic State militant group (ISIS) in a move that helped it anchor its international profile in a way that the slaughter of thousands of Nigerians had failed to achieve. Nearly a year later, little by way of evidence has emerged to prove a financial or instrumental link between the two groups.
Boko Haram remains strongly rooted in its domestic context of local grievances, and does not seem to be wedded to the ISIS approach of controlling territory, producing slick propaganda, or engaging in direct attacks on Western targets at all costs. Boko Haram's goal of hollowing out the Nigerian state and eroding national cohesion by all means possible has remained unchanged.
In setting a December 2015 deadline for ending the long-running Boko Haram conflict, Nigerian President Muhammadu Buhari allowed himself to be drawn into an unnecessary contest over narratives. The recent coordinated raids on Dalori village, on the outskirts of Maiduguri in northeastern Nigeria, were a brutal rebuttal by Boko Haram of the Nigerian government's declaration that the group had been pushed into a "fall-back position" and on the verge of extermination.
With fire bombs, guns and suicide bombings, the group's fighters executed an assault that lasted several hours and resulted in the types of fatalities it is now infamous for. Eighty-six people were killed, with many young children burned in devastating fires, and at least 62 residents sustained burn injuries. Soldiers of the Nigerian military were unable to quell the attack in their first attempt, succeeding only after a retreat and reinforcement.
From the moment that Buhari took office in May 2015, the Nigerian armed forces have intensified their operations in the northeast, dislodging the group from the towns it had seized and triggering a return to Boko Haram's old tactics of asymmetric warfare and sporadic attacks on civilians. The Nigeria Security Tracker has recorded 2,608 deaths from June 2015 to date by Boko Haram.
The insurgency has also fanned out into Chad, Niger and Cameroon. A Multinational Joint Task Force (MNJTF) of 8,700 troops from these countries and Benin has been put in place, but sustained full-scale operations and intelligence coordination seem shaky. For now, it appears that Nigeria's neighbors are preoccupied with stamping out Boko Haram in their own backyard before the group takes root, while Nigeria has struggled to consolidate the operational reliance that would come with genuine cooperation.
Since its 2009 transition from a movement bound together by an extreme ideology to a murderous, rampaging sect, Boko Haram has shown no particular preference for whether it spreads its terror through indiscriminate massacres, sporadic suicide bombings or mass kidnappings. Terrorizing the people of northern Nigeria has been lethally effective in both draining government resources and exposing institutional weaknesses. The group's campaign of violence has benefited from the complexities and fragilities of its political context and an assortment of actors and interests.
It is still unclear how Boko Haram's fundamental dynamics have been so far altered by joining ISIS' global franchise, beyond the adoption of the title of the Islamic State's West Africa Province (ISWAP). This, however, does not mean that an ideological alignment between Boko Haram, the world's deadliest terrorist group, and ISIS, a successfully global terrorist network, should be underestimated. Such ideological camaraderie is typical of Boko Haram's tactical opportunism, allowing it to showcase its vision and operations in order to draw in resources—financial and otherwise—from an international crop of would-be investors in a global jihad through violent means.
For a time in 2015, Boko Haram's public messaging took on the sleek, promotional quality of the tech-savvy ISIS. Similarly, Boko Haram's ambitious territorial strategy of 2014-2015 raised international concerns over a comprehensive unification of purpose with ISIS. The control over territory in Nigeria's northeast would have almost certainly consolidated the group's presence as West Africa's branch of ISIS and raised its appeal to Islamist extremists and militants for hire in the region; integrating instability and conflicts in Sudan, Niger, Mali and Libya in a very dangerous way.
But Boko Haram's territorial expansion has not been sustained and its opportunistic ambitions have been forced to adjust. Whereas ISIS continues to expand its estate reaching into parts of northern Libya, Boko Haram's territorial gains across several northeastern towns have since seen a reversal as a result of the counter-insurgency operations of the Nigerian military and regional allies. In any case, the resources Boko Haram required to successfully maintain a fully-fledged caliphate spanning several towns and populated by millions were simply not obtainable within the impoverished context of northeast Nigeria and outside assistance was needed for this plan to succeed.
Boko Haram now also seems less concerned with finessing its propaganda for social media. The opacity that continues to shroud its internal structure, and the lack of credible information on the actual composition of its core leadership, are characteristics that have helped to fuel Boko Haram's mystique and longevity. The scaled-back tactics of suicide bombings that dominated Boko Haram's strategy later in 2015 would have cost it less in terms of money, equipment and fighters while keeping alive its central aim of creating mass fear.
And while Boko Haram has celebrated attacks on Western targets, it has not demonstrated an appetite for masterminding a direct attack of its own. Of course, it can never be ruled out that individuals linked to the group could attach themselves to terrorist operations further afield. Regardless of direct involvement, Boko Haram will continue to cheer in ISIS' corner when major attacks are staged on Western targets.
Overall, the Boko Haram threat to the West remains more oblique. But by continuing to challenge the unity and stability of Africa's most populous country and biggest economy, provoking an unprecedented displacement of 2.2 million people with long-term economic, environmental and social implications for the region, the group has been able to put pressure on the hard-won progress and stability of Western and Central Africa.
Leena Koni Hoffmann is a researcher and associate fellow of the Africa Programme at Chatham House. Her research focuses on Nigeria's politics, governance issues, regional security and trade in West Africa. Leena tweets @LeenaHoffmann.