Alabama Bill Prohibiting Trans Youth Hormones, Surgery Goes to Governor
In the wake of anti-LGBTQ legislation being enacted across the country, an Alabama bill banning gender reassignment surgery and medical treatments for transgender youth is now headed to the governor for signing.
Alabama lawmakers approved the bill by a vote of 66-28. Once Governor Kay Ivey signs the legislation, doctors could face felony charges, punishable by up to 10 years in prison, for prescribing puberty blockers and hormones to minors or performing gender reassignment surgeries.
The legislation, called the Alabama Vulnerable Child Compassion and Protection Act, claims that most youth who identify as trans will "outgrow" the phase once they go through puberty.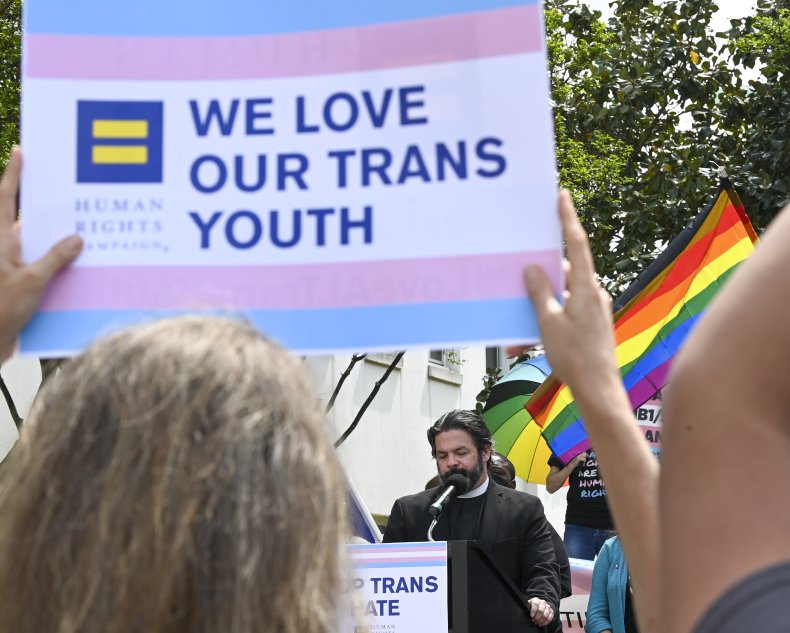 "This internal sense of discordance is not permanent or fixed, but to the contrary, numerous studies have shown that a substantial majority of children who experience discordance between their sex and identity will outgrow the discordance once they go through puberty and will eventually have an identity that aligns with their sex," the bill states.
The bill's wording mentions that a "wait-and-see approach" for transgender youth "who reveal signs of gender nonconformity" is the best course of action, instead of hormone therapy and surgery.
Democrat Representative Neil Rafferty, the only openly gay member of the Legislature, said the bill would make life for transgender youth harder.
"This is invasive," Rafferty said, according to AL.com. "It's hard enough growing up being different. It's even harder growing up being different and then have the state legislature, your elected officials, the leaders of this state, put a target on children's backs. Put a target on the parents' backs. And once again, get in the middle of their decisions and say you don't know what to do. You don't know what's best."
Republican Representative Wes Allen of Troy, sponsor of the House version of the bill, argues that minors aren't old enough to make permanent decisions about their developing bodies.
"Their brains are not developed to make the decisions long term about what these medications and surgeries do to their body," Allen said, according to the Associated Press (AP).
In the wake of clearing the Vulnerable Child Compassion and Protection Act, Alabama also passed a bill similar to Florida's "Don't Say Gay" law, prohibiting elementary teachers from teaching about sexuality and gender in grades K-5.
However, Alabama's bill differs from Florida's in that the newly amended legislation also requires students to use the bathrooms and locker rooms that match their birth-assigned sex for grades K-12.
The amended bill will now head to the House, where members will have to approve the changes before the bill can be sent to Ivey for her signature.
Newsweek reached out to Governor Ivey for comment.
For LGBTQ mental health support, call the Trevor Project's 24/7 toll-free support line at 866-488-7386. You can also reach a trained crisis counselor through the National Suicide Prevention Lifeline by calling 800-273-8255 or texting 741741.