Alabama Confederate Memorial Worth $500K Held Hostage by 'White Lies Matter' Group
A Confederate monument worth $500,000 is being held for ransom by an anti-racism group calling itself White Lies Matter.
The stone chair, which was dedicated to Confederate President Jefferson Davis, was taken by the group from the Old Live Oak Cemetery in Selma, Alabama, last month, according to local media reports. Now White Lies Matter is demanding that the organization United Daughters of the Confederacy (UDC) hang a banner with a specific quote outside its headquarters in Virginia in order for the Confederate monument to be returned. If UDC fails to do so on April 9, White Lies Matter has threatened to turn the stone chair into a toilet.
"Failure to do so will result in the monument, an ornate stone chair, immediately being turned into a toilet," White Lies Matter wrote to AL.com. "If they do display the banner, not only will we return the chair intact, but we will clean it to boot."
The organization said it already sent the banner to UDC. The quote on the banner reportedly is from Assata Shakur, a Black Liberation Army activist who is wanted by the FBI. "The rulers of this country have always considered their property more important than our lives," Shakur is credited with saying.
"We took their toy, and we don't feel guilty about it. They never play with it anyway. They just want it there to remind us what they've done, what they are still willing to do. But the south won't rise again. Not as the Confederacy. Because that coalition left out a large portion of its population. All that's left of that nightmare is an obscenely heavy chair that's a throne for a ghost whose greatest accomplishment was treason," White Lies Matter said in its statement.
Newsweek reached out to UDC for comment but did not immediately receive a response.
District Attorney Michael Jackson said, "This incident is sending Selma back into 'The Twilight Zone,'" adding that "there's never a dull moment in Selma," according to AL.com.
The Montgomery Advertiser reported that the stone chair was first unveiled in 1893 and dedicated to Davis, more than 20 years after his last visit to Selma and about four years after his death. Someone first reported it missing on March 19. There is currently a $5,000 reward for information about the chair's disappearance. White Lies Matter also shared photos with AL.com appearing to show some of their members stealing the monument.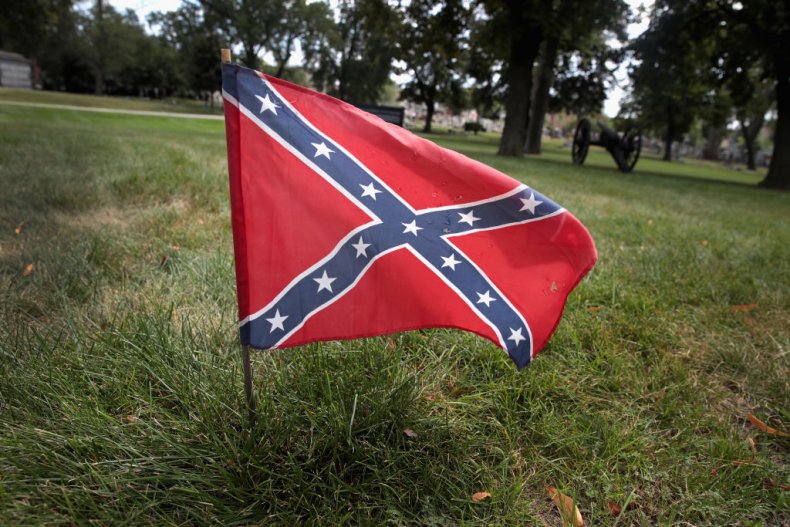 Many activists have long demanded the removal of Confederate monuments and flags around the country. These statues and symbols, activists point out, are erected in honor of a racist rebellion that was launched in order to preserve the enslavement of Black Americans. The leaders of the Confederacy, like Davis, they say, were traitors to the country.
Last summer, as a wave of Black Lives Matter and anti-racism demonstrations took place across the nation, some activists took matters into their own hands, defacing and tearing down Confederate monuments. Some cities and states also took steps to remove the symbols. Meanwhile, the U.S. military is working to rename military bases named after Confederate military leaders—a decision vehemently opposed by former President Donald Trump.