The number of COVID-19 patients in Alabama hospitals has risen by more than 400 percent in the last three weeks, amid criticisms from Republican Governor Kay Ivey that unvaccinated people are to blame for the state's latest outbreak.
As of Monday, there were at least 916 coronavirus patients in state hospitals, up from 179 at the beginning of July. That marks a 411 percent increase in just over three weeks, and the highest rate of hospitalization since February, WSFA reported.
The seven-day average of daily new cases in Alabama has also tripled over the last two weeks, rising from 472 new cases a day on July 10 to 1,495 on Saturday, according to data from Johns Hopkins University.
In the past 24 hours, the state has recorded 1,536 new cases. As of Monday, the Centers for Disease Control and Prevention (CDC) said that nearly every county in Alabama is now listed as having "high" levels of community transmission.
The rise in new infections is largely due to the spread of the Delta variant, a highly infectious strain of the coronavirus that has been predominantly affecting unvaccinated individuals.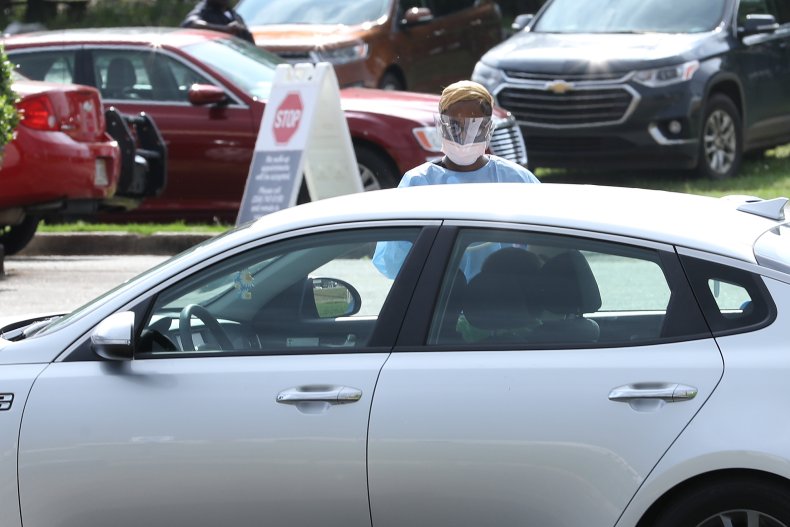 On Thursday, Ivey told reporters that nearly all of the state's new hospitalizations are happening among unvaccinated folks, while adding that it's time to start "blaming" the issue on them.
"The new cases of COVID are because of unvaccinated folks. Almost 100 percent of the new hospitalizations are with unvaccinated folks. And the deaths are certainly occurring with the unvaccinated folks. These folks are choosing a horrible lifestyle of self-inflicted pain," she said.
"It's the unvaccinated folks that are letting us down. I've done all I know how to do. I can encourage you to do something but I can't make you take care of yourself," she added.
While some criticized Ivey for her remarks, including Alabama gubernatorial candidate Stacy George, President Joe Biden issued praise for the Republican governor's effort to encourage more vaccinations.
"A lot of our very conservative friends have finally had an altar call. They've seen the Lord," Biden said on Friday. "Whether it's on Fox News or whether it's the most conservative commentators or governors."
Alabama currently has one of the lowest rates of vaccination across the country, with just 34.1 percent of the population fully vaccinated, according to a report by Our World in Data.
"To my surprise and horror, people are not lining up to get the vaccine that's offered to them free and that works extraordinarily well," University of Alabama at Birmingham's (UAB) Dr. Michael Saag said during an interview on Saturday.
"People are choosing to remain in harm's way, but worse, when they get infected, they put people who are vaccinated at risk, at least those who are immunocompromised who could get very sick from this," he added.
Newsweek contacted Ivey's office for additional comment but did not hear back in time for publication.