Nathaniel Woods' Alabama Execution Is 'Unjust' Says Sister of Murdered Police Officer: 'He Did Not Kill My Brother'
The sister of one of three police officers killed in a shooting in Birmingham, Alabama, which led to the death sentence of Nathaniel Woods, says her pleas to the state governor for him not to be executed fell on deaf ears.
There has been a growing outcry over the decision by Alabama governor Kay Ivey not to grant clemency to Woods, who died by lethal injection just after 9 p.m. on Thursday at William C. Holman Correctional Facility, despite appeals and protests from his supporters that he was innocent.
Prosecutors said Woods had "conspired" with Kerry Spencer to kill police officers Carlos Owen, Harley Chisholm III, and Charles Bennett when they arrived at a drug house in June 2004.
But Spencer, who is on death row, said he shot the officers in self-defense after one officer pointed a gun at him and insisted that Woods had nothing to do with it. Under Alabama law, Woods was deemed an accomplice and convicted.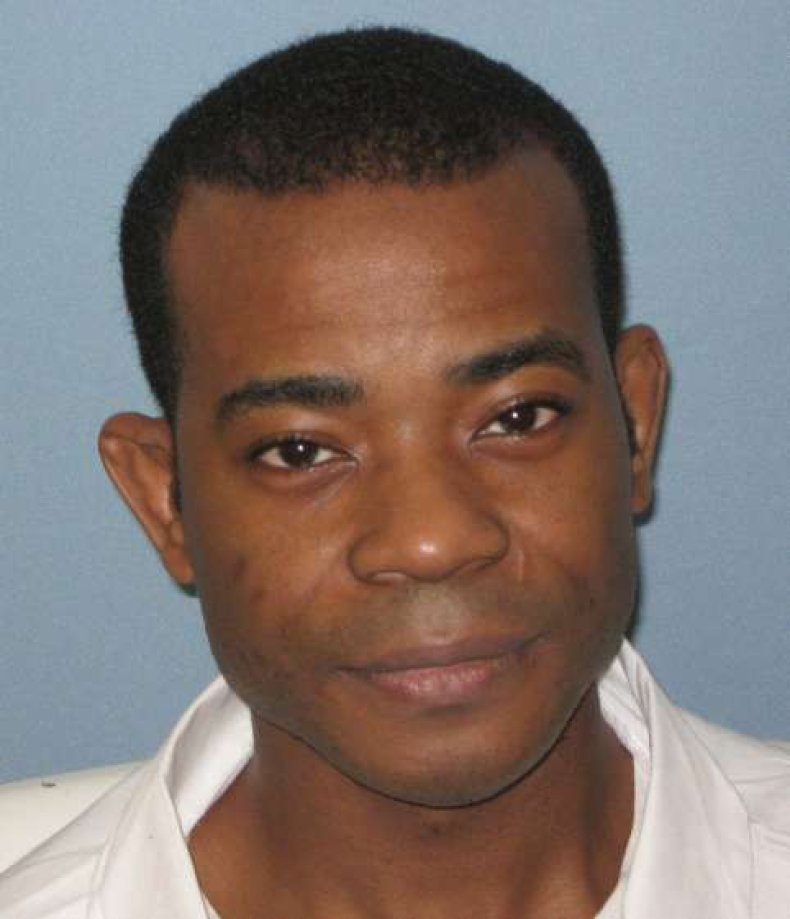 Kimberly Chisholm Simmons, sister of Harley Chisholm, had pleaded with the Alabama governor to intervene and to allow more time for the courts to investigate evidence.
She said in a statement, "I do not think that Nathaniel is guilty of murder. ... My conscience will not let me live with this if he dies. I beg you to have mercy on him," criminal justice website The Appeal reported.
Just before Thursday's execution, she told local investigative journalist Beth Shelburne in a phone conversation, "He did not kill my brother. This is so unjust. I don't understand.
"He was just a loud-mouthed kid," she said, "this madness has got to stop," adding that she felt for his family. "I pray God's mercy on them. I know the pain they're going to feel."
Shelburne, who also works for criminal justice reform in Alabama, told Newsweek that Simmons was in tears during the conversation and that more broadly, the execution had had a significant impact on the community.
"There is a lot of anger and pain and trauma associated with this act. For this execution, there was a lot more outrage we have seen and it is broader than we typically see.
"This case seemed to awaken something in people who might not normally protest an execution.
"It speaks to how problematic the death penalty is and how arbitrarily it is applied, when people realize that this man was slated for execution in the case before the actual shooter—that really doesn't compute," she told Newsweek.
Newsweek has contacted the Alabama governor's office for comment.
In a statement before the execution, Governor Ivey said, "After thorough and careful consideration of the facts surrounding the case, the initial jury's decision, the many legal challenges and reviews, I concluded that the state of Alabama should carry out Mr. Woods' lawfully imposed sentence this evening."
Meanwhile, in a statement released Wednesday, Alabama state attorney general Steve Marshall insisted Woods had been "correctly found guilty and sentenced to death by a jury of his peers."
"The only injustice in the case of Nathaniel Woods is that which was inflicted on those four policemen that terrible day in 2004," it said, adding "although Woods was not the shooter, he was hardly an innocent bystander."
Among those who had been appealing for clemency were Martin Luther King III, the son of the civil rights leader, rapper and actor T.I. as well as reality television star Kim Kardashian.
Many took to social media to voice their unhappiness using the hashtag #RIPNateWoods which started trending on Friday. Bishop Talbert Swan tweeted to his 137,000 followers, "Last night, AL executed an innocent Black man."