Alabama Nurses Protest Wages, COVID Working Conditions: 'We Don't Feel Appreciated'
Nurses in Birmingham, Alabama are protesting unequal compensation and poor working conditions amid the coronavirus pandemic.
WIAT, a local CBS affiliate, reported that more than two dozen nurses at UAB Hospital refused to clock-in for the night shift on Monday. Gathered outside the hospital, nurses spoke about the toll that the health crisis is taking on their profession.
"It has been very overwhelming," one nurse told WIAT. "We don't feel appreciated. We want someone to come down and be willing to negotiate with us."
Another worker told WVTM13 that the staff has gotten to the point where they are "extremely defeated."
"We love what we do, we love our patients and we want to continue to fight and care for our patients," she said, "but we just want to be equally compensated and treated correctly while we save all the lives that we do."
WVTM13 posted a video of the protest and interviews with several nurses on its Twitter page.
Alabama State Nurses Association President Lindsey Harris also spoke at the event. Harris noted that Alabama nurses are paid eight percent less, on average, than their colleagues in nearby states.
Harris told Newsweek that in addition to comparable pay, nurses in the state want adequate staffing.
"We want to feel valued," Harris said. "Nursing is the most trusted profession but it's also one of the largest professions. We all know that without nurses, healthcare will definitely suffer."
The night-shift staff did eventually enter the hospital to care for patients. UAB told Newsweek that the workers started their shift two hours later than scheduled after meeting with hospital leadership. Day shift nurses continued to work during that time so patient care wouldn't be affected.
"We recognize the pressure COVID has put on our nursing staff," UAB Chief Nursing Officer Terri Poe told Newsweek. "As a result, we have offered pay increases, bonuses and incentives as we have been able over the course of the pandemic, and we have continued to explore additional short- and long-term opportunities to reward employees for delivering world-class care to our patients."
"The concerns voiced this week by emergency department staff will help inform ongoing discussions about compensation as we adjust the rapidly evolving healthcare landscape and pressures of the pandemic," Poe added. "We continue to encourage the public to get vaccinated and to wear masks so we can end the pandemic sooner and relieve stress from our dedicated staff."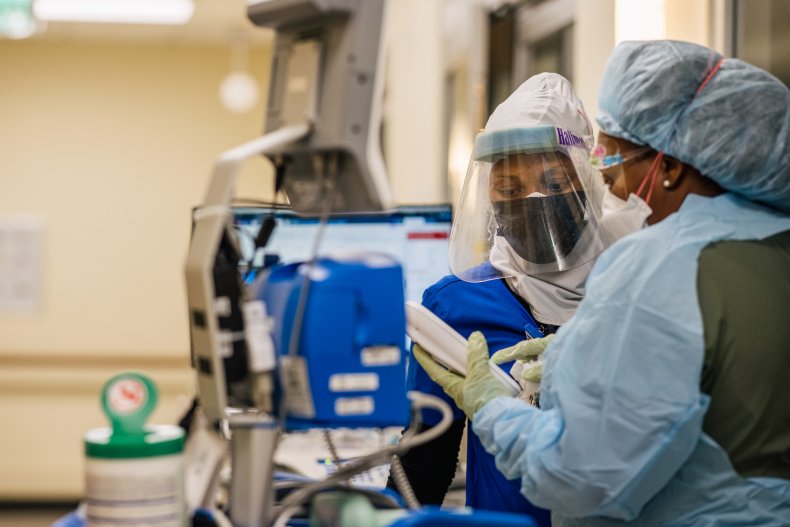 Alabama saw a record number of COVID-19 cases in August due to the prevalence of the highly contagious Delta variant. The state saw more than 114,000 new cases last month, roughly triple the amount of cases reported in July.
The state has seen roughly 436,000 cases since the outbreak began last year, according to the Alabama Department of Public Health. More than 40,000 residents have been hospitalized, and 6,486 people have died due to the virus.
Nearly 1.8 million Alabamians have been completely inoculated against COVID-19. Approximately 2.3 million residents have received one dose of the vaccine. Alabama has one of the lowest vaccination rates in the country.
Now, a majority of people being hospitalized due to COVID-19 are unvaccinated. The Alabama Hospital Association reported that of the 2,713 people hospitalized with COVID-19 on Sunday, 84 percent were unvaccinated.
At UAB Hospital in Birmingham, nearly 90 percent of COVID patients on Friday were unvaccinated, according to the Alabama Political Reporter.
Update (9/7/2021, 4:00 p.m. Eastern Time): This story has been updated with comments from UAB and the Alabama State Nurses Association.