Alabama High School Removes Bathroom Stall Doors to Stop Kids From Vaping
A high school in Alabama has removed the doors to stalls in the boys bathroom this week to prevent students from vaping.
The decision to take down the doors comes two weeks after a male student was found passed out in a stall after vaping.
Vaping has become increasingly popular with young people—Gary Horton, principal at at Wilson High School in Florence, Alabama, told WAFF 48 students are sneaking off to vape every day. Removing the doors was the best way to put a lid on these illicit smoke breaks, he said.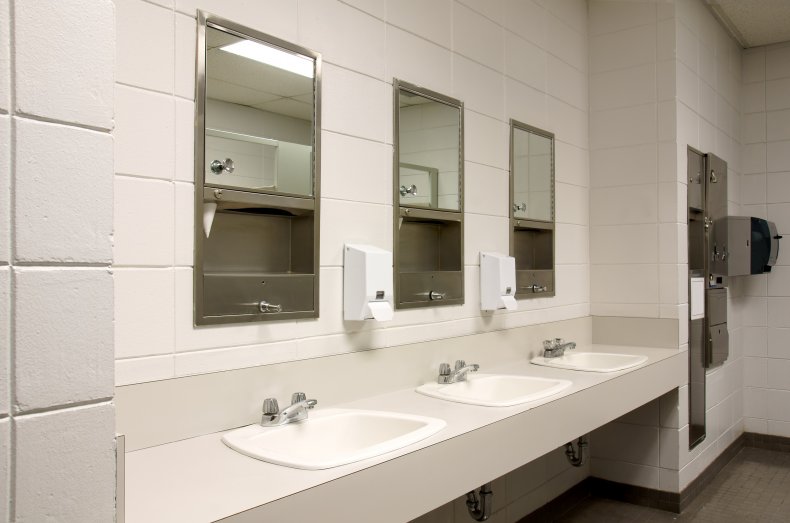 But some parents disagree, calling the approach excessive.
"I don't like it. They take their only private place in the school that they can do their business," Rachel Munsey told the station.
Brian Campbell, whose child attends Wilson High, called the move "excessive."
"Maybe they need to put a monitor in the hall.... Usually they have a truancy officer or a police officer at the school. Have them monitor the hallway because a bathroom is for each individual person's privacy."
Horton claims the removal of the stall doors could be a temporary measure as the school figures out other solutions. He would not address why it wasn't done in the girls bathrooms.
Last month, Alabama tightened its vaping laws, requiring vape shops to have a tobacco license, prohibiting advertising vapes and alternative nicotine products as healthy alternatives to cigarettes, and restricting selling e-cigarettes to anyone under 19.
The law also prohibits advertising vaping products near schools or opening vape shops within 1,000 feet of a school, childcare facility, church, youth center or public library, playground or park.
Last year, 37.3 percent of high school seniors said they had vaped during the year according to a survey from the National Institutes of Health. That's an increase from 27.8 percent in 2017.
Juul Labs was called out by the FDA in a warning letter on Monday that criticized it for illegally advertising that its products were a safer alternative to cigarettes and for marketing toward young people. Juul has 15 days to respond to the FDA or face a fine or have its products seized.
Last week, Michigan Governor Gretchen Whitmer announced the state would be the first state to ban flavored e-cigarettes.
Five deaths have been attributed to vaping, with another 450 cases still being investigated.