Alabama Secretary of State Under Fire for 'War on Whites' Retweet
Alabama Secretary of State John Merrill pushed back against criticism from social justice groups, after they sent him a letter raising concerns about content he retweeted from his personal Twitter account.
One of the retweets that the groups identified in their letter as problematic included a video clip of a hooded Black man punching a white man, which the groups said did not show the full interaction between the individuals involved. Above the video was a caption that read: "#BlackLivesMatter's war on whites continues on camera." Another retweet the groups pointed to read: "When patriots decide it's time to fight back it's gonna be ugly."
According to screenshots of the posts obtained by WHNT-TV, Merrill retweeted the content from his personal Twitter account without adding his own commentary.
In the letter sent to Merrill's office, the groups wrote that the retweeted content served as a "dog whistle" without context that was "unacceptable and irresponsible at best; immature and racist at worst."
"Many of our protestors have been violently threatened by the very base your recent retweets invigorate and embolden," the letter read, referring to the protests demanding an end to systemic racism and violence against Black Americans that have occurred in Alabama and across the U.S. following George Floyd's death in May. "As an elected official, we expect you to know better, to do better, and to simply be better."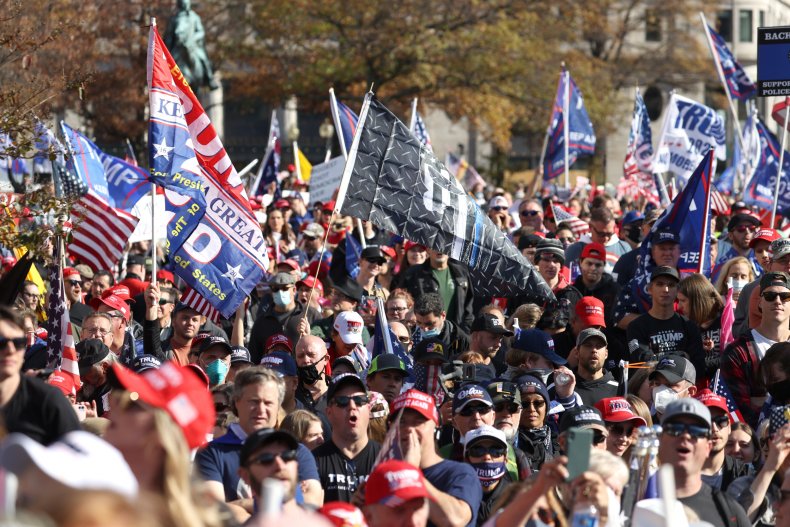 Merrill told Newsweek on Friday that he has not read the letter, which more than 20 Alabama-based groups and individuals co-signed and sent to his office earlier this week. The secretary of state also said that he does not intend to participate in a press conference at the Alabama State Capitol on November 24 that the groups invited him to within their letter.
"Typically I don't waste my time on things that are—how can I say this—that have no validity, that have no singular purpose other than to try to draw attention to the people who are writing the letter," Merrill said.
One of the groups that co-signed the letter and posted its content on its Facebook page is Project Say Something, which Camille Bennett founded in 2014. Bennett told Newsweek that the group's mission is to "eradicate systemic racism from the lens of history" by raising awareness and drawing attention to relevant incidents as they occur.
"Whenever we see racial injustice anywhere in the state, we're going to talk about it," Bennett said. "We're going to ask for some level of accountability."
Merrill told Newsweek that his view of the group is different. "This group, Project Say Something, is well known in Alabama as a liberal racist group that is designed to tear down businesses, tear down individuals and tear down conservative causes that they are opposed to," he said. "They use any opportunity that they can identify to do that very thing. And it doesn't matter who it is or what it is—if it's something they think they can take advantage of, they do."
Merrill went on to say that the press conference mentioned in the letter was designed to draw attention to Project Say Something and "to raise money for their nonprofit that promotes liberal racism."
"If he read the letter, he would see that we have over 20 organizations across the state that signed on," Bennett said. "So it's not specifically from Project Say Something, though we are actively putting the information out to the public. But it also involves organizations that care about racial justice statewide."
Merrill said he didn't hear about the press conference invitation until a reporter from a local news station asked him about it. "Obviously they have no interest in engaging or interacting with me because I have no appointments on my calendar on Tuesday," he said. Merrill said he is willing to schedule meetings with individuals from the groups, but he does not plan to attend the press conference they scheduled.
"I'm not in the habit of letting people determine when I hold press conferences," Merrill said.
Bennett told Newsweek that the groups "absolutely" plan to follow up with Merrill about scheduling meetings in lieu of a press conference. "The press conference was more for him than it was for us—just to provide him an opportunity to speak to his constituents," Bennett said.
"It's extremely unsettling, which is why we felt it was so important to address it immediately," Bennett said of Merrill's retweeted content. Bennett said she and several others from the groups who co-signed the letter have been "protesting nonstop" since Floyd's death. "We understand that these tweets are dog whistles, and they're calling for organizations and groups that specifically stand against racial injustice. Whenever you say the 'war on whites,' you're going to get a specific demographic that's already been violent," she said.
"When an elected official, specifically the secretary of state, calls for more of the same, we absolutely need to bring awareness to the issue and make sure that people understand what it is, why it's being said and what the results could potentially be for us," Bennett said.