Alabama Will Open Most Businesses by May 15, Weeks Later Than Some Neighboring States
As several Southern states begin to lift coronavirus lockdown restrictions, Alabama has implemented a gradual approach to reopening restaurants, recreational facilities and other businesses. During a news briefing on Tuesday, Governor Kay Ivey released instructions to guide residents through Alabama's reopening plan, which called for a two-week period of regulated activity following termination of the state's stay-at-home order on Thursday.
According to the plan, dubbed Proceeding With Caution, individuals are encouraged to remain at home during the weeks between April 30 and May 15. Some businesses will be permitted to resume operations, but they are expected to comply with additional sanitation and physical distancing mandates. Governed by the same safety protocols and occupancy restraints, all retail establishments can reopen statewide after Alabama's stay-at-home order expires this week. State beaches will also reopen, but gatherings of more than 10 visitors remain prohibited.
"I trust the people of AL to practice personal responsibility while enjoying the Gulf," Ivey wrote on Twitter Tuesday afternoon, another message in which she urged residents to "wear face coverings around people from other households" in public spaces, continue to wash their hands regularly and engage in "other good, common-sense hygiene" practices.
"Alabamians, let me be abundantly clear, the threat of #COVID19 isn't over," she continued in a string of tweets shared alongside Alabama's reopening guidelines. "We're still seeing the virus spread & our people are susceptible to the infection. Folks, we must continue to be vigilant in our social distancing both today & for the foreseeable future."
Restaurants and bars throughout the state will remain closed for in-person services, and educational instruction will remain online. Hair and nail salons, night clubs, theaters, bowling alleys and fitness centers will similarly remain closed. Ivey's plan did not provide specific reopening procedures for after May 15, but it noted that state administrators will offer updates after monitoring progress over the next two weeks.
Alabama's economic restoration strategy differs in pace from those outlined by a handful of governors in neighboring states. In Georgia, Governor Brian Kemp allowed gyms, barber shops, salons and bowling alleys to reopen on Friday. Theaters and restaurant dine-in services followed on Monday, though many food service establishments throughout the state still declined to resume operations.
Tennessee restaurants were permitted to reopen at half of their usual capacity on Monday, and retail companies are due to follow under the same guidelines on Wednesday. Most retailers reopened in Mississippi earlier this week, with capacity limits in place through May 11.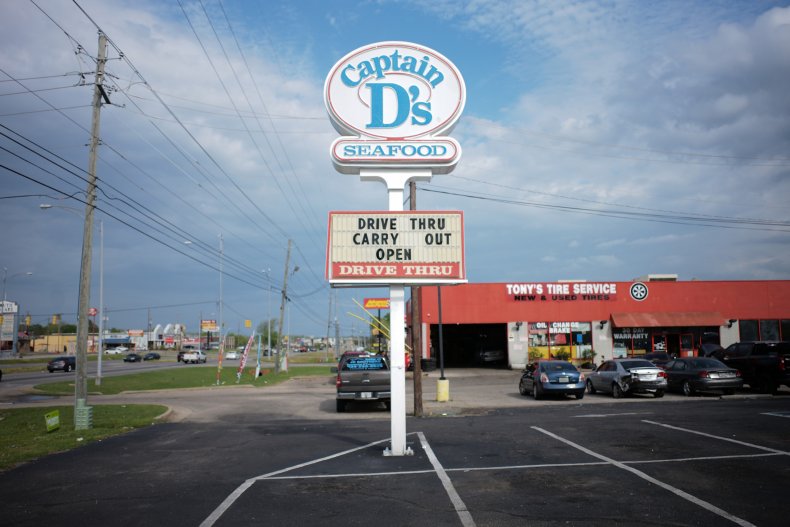 Governor Ron DeSantis has not specified an end date to Florida's lockdown order, though some beaches did start accepting visitors earlier in April, and several counties will reopen parks and waterways on Wednesday. In drafting a statewide reopening plan, DeSantis met with President Donald Trump on Tuesday to discuss ways the state can expand diagnostic testing and impose ongoing safeguards to protect demographics most vulnerable to health complications caused by the coronavirus. As of Tuesday afternoon, Florida had confirmed more than 32,800 coronavirus cases and nearly 1,200 resulting deaths.
According to the White House's national guidelines, states can only begin to reopen their economies after observing a decline in new coronavirus cases and subsequent deaths for 14 consecutive days. Alabama and Florida have yet to meet those criteria, and Georgia has seen a slight increase in daily case counts since Kemp released the state's reopening timeline last week.