Alabama Woman Hurls Pot of Hot Grease at Face of 'Ex-Boyfriend' Home Burglar Armed with Pistol: Police
An Alabama woman hurled a pot of hot grease over a man in self-defense after he allegedly entered her home while armed with a firearm, police say.
Larondrick Macklin, 31, was detained by officers from the Decatur Police Department on August 1 after they responded to a domestic dispute call at the 2800-block of Wimberly Drive, Decatur. He was discovered with burns on his face and taken to a local hospital for treatment.
According to local media outlet Al.com, Macklin is the ex-boyfriend of the female victim and had been armed with a pistol during the incident. Police said a preliminay investigation at the scene had deemed that Macklin had been the "primary aggressor" during the altercation.
The victim defended herself with a pot containing hot grease after he entered the home, police said. On August 2, he was charged with two felonies: burglary in the first degree and domestic violence in the first degree. After getting medical attention, the suspect was taken to Morgan County Jail, where he remains in custody in lieu of a judge-appointed $300,000 bond.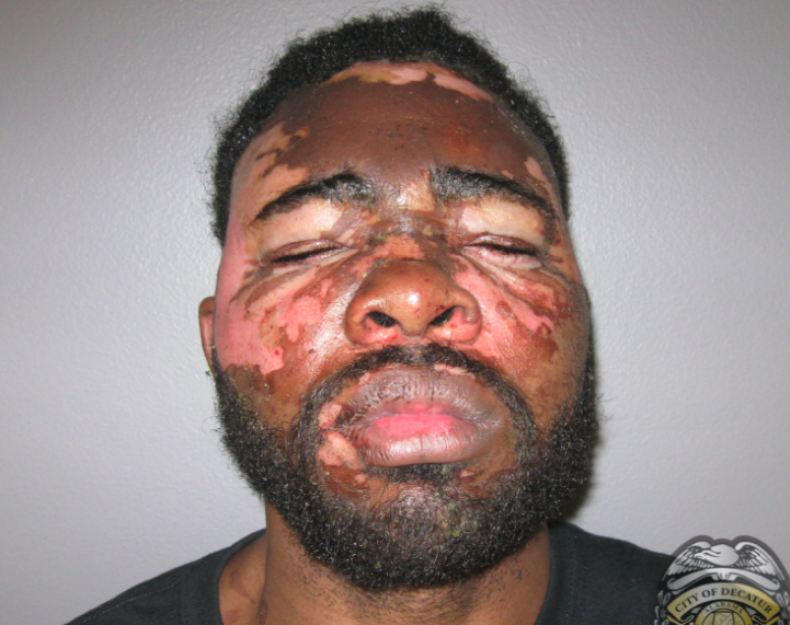 A media release stressed Macklin is "considered innocent until proven guilty in a court of law." A police spokesperson told USAToday this week: "Since the situation was of a domestic nature, we are not at liberty to discuss the relationship between the victim and the suspect at this time."
The suspect, whose mugshot was published online, is now facing up to life in prison if convicted. The victim had not been identified by local law enforcement.
Darley Law LLC, a criminal justice firm, explains on its website: "First-degree domestic violence is a Class A felony, which carries a sentence of life in prison. First-degree domestic violence occurs when the defendant commits either aggravated stalking or first-degree assault."
Bradford Ladner, LLP, a criminal justice attorney based in Birmingham, says online the burglary charge faced by Macklin is considered "the most serious Alabama burglary charge."
The firm's website elaborates: "A person commits burglary first-degree if they knowingly and unlawfully enter, or remains unlawfully in a building which is normally used for sleeping, living, our lodging. Burglary first degree... carries a potential sentence of 10 years to life in prison."
In November last year, a New York man, 41, was arrested after he allegedly poured hot oil on members of his own family and set their Bronx home on fire, WPIX reported. Victims included the suspect's 87-year-old grandmother, 18-year-old son and his 19-year-old daughter who was holding her 2-month-old son at the time.
As reported last month, a chef in Telangana, India, was detained by local police for allegedly hurling a boiling oil over a customer who had aggressively complained about waiting for his food order.