Alan Dershowitz Admits Trump's Actions Toward Ukraine Will Affect His Decision On Who to Vote For In 2020: 'I'm a Liberal Democrat'
Alan Dershowitz suggested on Sunday that Donald Trump's actions toward Ukraine would impact how he'll vote in the 2020 election, despite the constitutional scholar's defense of the president during his Senate impeachment trial.
Dershowitz, a retired Harvard law professor, made the remark during an interview with Fox News Sunday anchor Chris Wallace. The journalist pressed the lawyer over his controversial defense of the president, before asking him if he personally believed the president's actions were "problematic."
"Do you find it troubling, problematic that a president would link in any way, forget his motive, and I'm not saying it's criminal, his support for an ally and even military aid for an ally to investigating his political opponent?" Wallace asked.
"And on Election Day, as a citizen I will allow that to enter into my decision who to vote for," Dershowitz responded. "But it's not an impeachable offense and I was there to argue a constitutional issue, not to tell people who to vote for for president," he insisted.
"I'm a liberal Democrat," the legal expert noted.
Despite repeatedly defending Trump to the media and then in his impeachment trial, Dershowitz has maintained that he does not align with the president politically. He has also said publicly that he voted for former Democratic presidential candidate Hillary Clinton in 2016.
During the Senate trial, Dershowitz argued that he would have made the same argument if the president had been Clinton, and she were facing impeachment over similar charges.
"I would be making the very same constitutional argument had Hillary Clinton, for whom I voted, been elected and had a Republican House voted to impeach her on these unconstitutional grounds," Dershowitz told the Senate last Monday.
Dershowitz controversially argued that even if Trump did all the things that Democrats had alleged following their impeachment inquiry, it would not be impeachable because they did not accuse the president of committing a specific crime. Many legal scholars and analysts disagreed with the lawyer's assertion, and a clip of him making the opposite argument in an interview during President Bill Clinton's impeachment trial was widely circulated.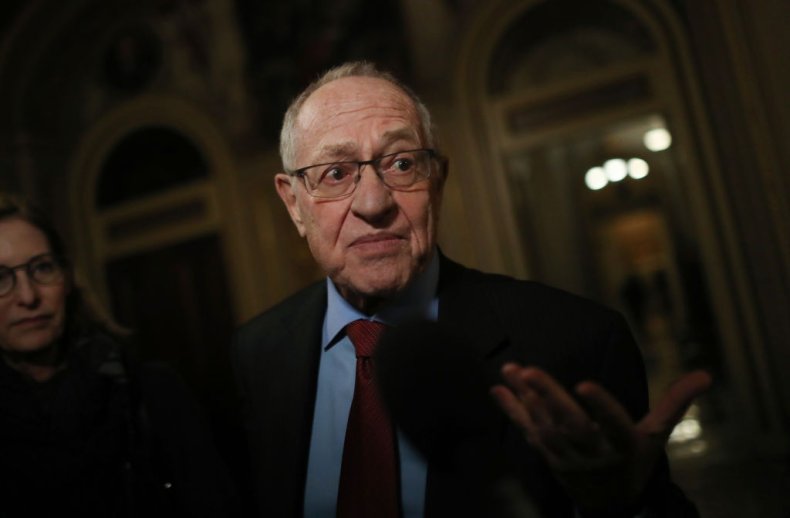 But Dershowitz later addressed the discrepancy on Twitter, saying that he had studied the issue further in the many years since the 1998 interview was recorded. The attorney disavowed his former remarks, saying his view today was in line with a proper understanding of the Constitution.
"So I have now thoroughly researched the issue and concluded that although a technical crime with all the elements may not be required, criminal like behavior akin to treason and bribery is required," he concluded in a series of tweets posted on January 21, ahead of his Senate testimony.