Fox News Host Confronts Dershowitz With Constitutional Framers' Own Words That Contradict His Impeachment Defense of Trump
Fox News anchor Chris Wallace confronted legal scholar Alan Dershowitz with the words of the Constitution's framers, that directly contradict the retired Harvard law professor's planned defense of President Donald Trump in the Senate impeachment trial.
During an interview on Wallace's weekly show, Fox News Sunday, Dershowitz repeated his argument that even if Trump did all of the things alleged by Democrats--which led to his impeachment by the House of Representatives in December--the president still should not be removed from office. He argued that the allegations of "abuse of power" and "obstruction of Congress" are not "high crimes or misdemeanors," and do not align with impeachable conduct as outlined by the constitutional framers.
"I want to talk about the framers because you keep bringing them up," Wallace interjected. He then quoted from The Federalist Papers, number 65, which was written by the the first secretary of the treasury, Alexander Hamilton. Wallace noted that the founding father, who was one of the Constitution's framers, argued specifically that "a criminal offense is not essential to impeachment."
The journalist then put a quote from The Federalist Papers on the screen, which said: "The subjects of its jurisdiction are those offenses which proceed from the misconduct of public men, or in other words, from the abuse or violation of some public trust."
He then put a second example on the screen from George Mason, another of the country's founding fathers. "George Mason brought up the case of a former British official in India who had been accused of mismanagement," Wallace said. "Again, in neither of these cases is there any mention of breaking a specific criminal statute."
"Well, let's start with mismanagement," Dershowitz responded. "Yes, that was a criteria in England, and that was rejected by the United States. That was one of the elements that was introduced by the framers and it was rejected by votes like nine to two, etc.," he argued.
Wallace then cut in, saying: "That's not true."
"George Mason was one of the people who came up with 'high crimes and misdemeanors,' which he meant to include things like misconduct and abuse of power. And then you have Alexander Hamilton who talks specifically about misconduct and abuse," Wallace noted.
Dershowitz disagreed: "Absolutely not." He said he'd address "the Hamilton matter" when he presents his defense of Trump during the ongoing Senate trial.
The retired Harvard scholar explained his controversial defense of Trump in interviews last Sunday, after it had been reported that Dershowitz would join the president's legal team for the Senate trial.
"I'm making what could be the most important argument on the floor of the Senate, namely that even if everything that is alleged by the House managers is proven, assuming it's true, they would not rise to the level of an impeachable offense," Dershowitz said during an interview with CNN's State of the Union a week ago.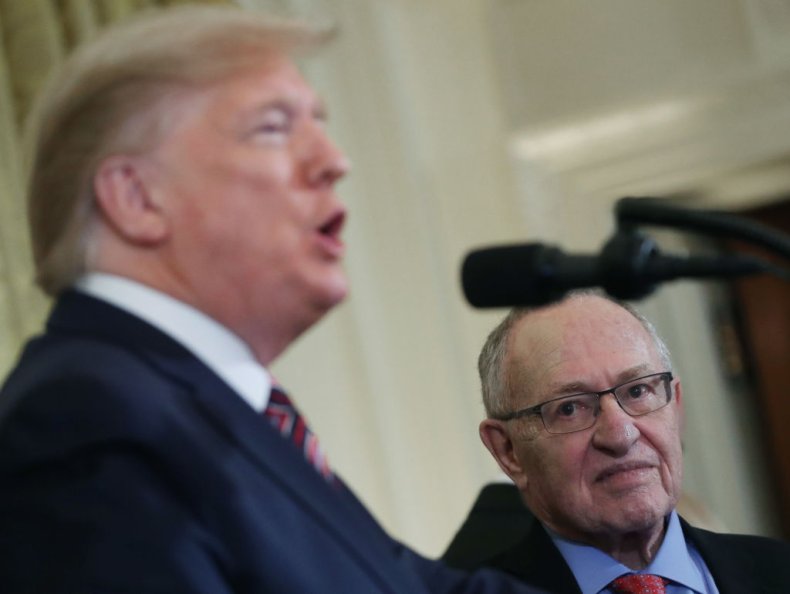 Old footage of Dershowitz making precisely the opposite argument back in 1998, ahead of President Bill Clinton's Senate trial quickly resurfaced online. However, the lawyer disavowed his previous comments, saying that he had since studied the issue further and that his current opinion is "correct."
The lawyer's argument has been criticized by constitutional scholars and legal experts. Most have made arguments similar to those presented by Wallace, noting that impeachment and removal does not require a specific violation of an criminal statue.
"For my testimony before Congress during the impeachment hearings of both President Clinton and Trump, I took the opposing view that a president can be impeached for a noncriminal act," Jonathan Turley, a constitutional law scholar at George Washington University, who served as the House Republicans expert witness in defense of Trump during the impeachment hearings, wrote in an editorial for The Hill.