Impeachment Expert Witness for GOP Says Alan Dershowitz Is 'Fundamentally Mistaken' in Key Component of Defense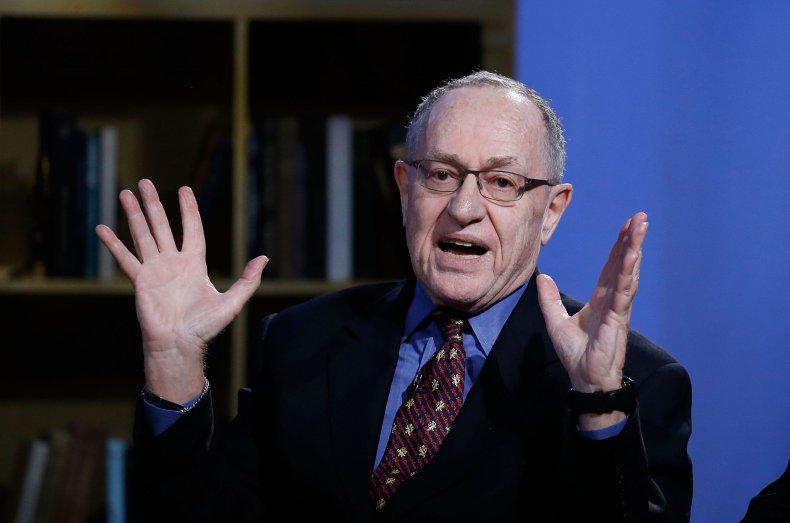 The sole expert witness for House Republicans during the Judiciary Committee's impeachment inquiry called Alan Dershowitz's belief that impeachment requires an underlying crime or criminal-like behavior "erroneous."
In an op-ed for The Hill, Jonathan Turley, a constitutional law scholar at George Washington University, wrote that advancing such an argument could have a "damaging impact" on the impeachment process.
"For my testimony before Congress during the impeachment hearings of both President Clinton and Trump, I took the opposing view that a president can be impeached for a noncriminal act," he said.
Dershowitz, who is part of the president's defense team in the Senate, has indicated multiple times that he believes impeachment requires the commission of a crime or an act analogous to a crime. He told Newsweek that he plans to respond to Turley's article on Monday.
President Donald Trump is not charged in either of the articles of impeachment with violating a criminal statute specifically, although he is accused of otherwise unlawful conduct.
As Turley noted, the standard of "high crimes and misdemeanors" is borrowed directly from the British Parliament, which developed a process of impeachment over centuries through which that phrase was born. In England, it was frequently used to remove officials for non-criminal conduct.
Furthermore, no federal bribery statute existed in the Founding era, so the invocation of a specific criminal law would not have been possible even by the people who drafted the impeachment clause.
Turley also sparred with Dershowitz over his reliance on President Andrew Johnson's 1868 impeachment to bolster his argument. While Turley derided the impeachers who sought to oust Johnson, contrary to the understanding of impeachment experts, he also disputed Dershowitz's assertion that the 1868 trial set a standard for purely criminal behavior.
Trump's impeachment is the first for a president to be based on a non-criminal statute, and Turley characterized the process as "the shortest period of investigation in history for a presidential impeachment." However, he argued that Dershowitz's referral to Benjamin Curtis, a Supreme Court justice in 1868, is misguided.
Curtis did argue that the Constitution "designated impeachable offenses as offenses." Turley wrote that this was not meant to exclude non-criminal conduct, but to urge the Senate to consider itself a judicial forum and not a political body during impeachment. Context supports this interpretation, as Curtis had reproached the House for turning "itself into a school of manners" after passing an article of impeachment based on Johnson making loud and uncouth statements.
"Not only do I believe the interpretation of the Johnson trial is fundamentally mistaken, but it is a mistake to ask senators to base their votes on such a widely rejected theory," Turley wrote. "Impeachments can be based on noncriminal acts, but that does not mean the noncriminal acts in this case are impeachable."