Alan Dershowitz Calls Bernie Sanders Anti-Semite For Comments on Israel
Controversial lawyer Alan Dershowitz called Senator Bernie Sanders an "anti-Semite" and a "self-hating Jew" while speaking on Newsmax TV on Friday.
Dershowitz made these comments while appearing on the Friday evening installment of The Chris Salcedo Show on Newsmax TV, during a segment labeled "The left attacking America's Judeo-Christian ethics."
In response to a question from Salcedo about the negative response Israeli actress Gal Gadot received on social media after calling for peace in the Israeli-Palestinian conflict, Dershowitz replied that it "reveals a great deal about the internet. You have President Trump who would like to get on Twitter now to defend Israel as he has so articulately over the years, but he's "bad" because what he says, "'isn't the truth.'"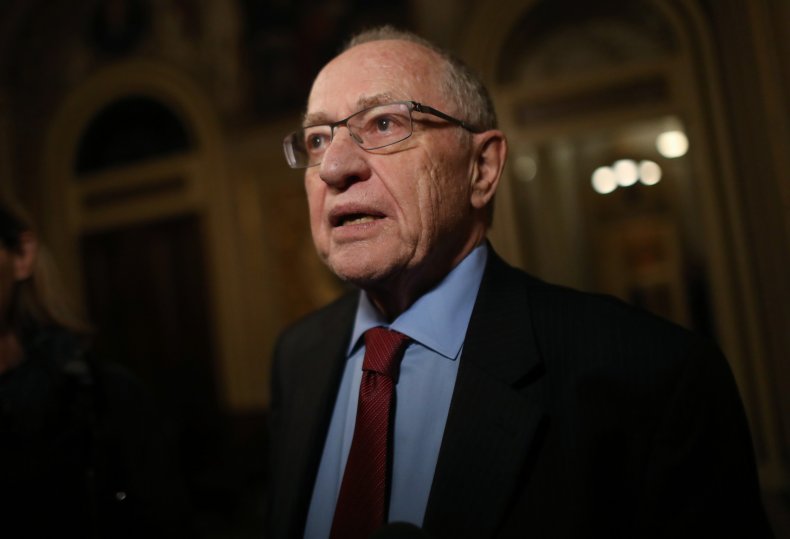 "But look what the internet allows us," Dershowitz continued. "...you get the social media, supporting Hamas, The New York Times supporting Hamas, and it sends a very powerful message: do it again, kill children...kill civilians...commit war crimes, you'll prevail on this because of the anti-Semitism...you can be a Jew and an anti-Semite. Biden has made some statements positively I commend them for that. But Bernie Sanders—who's Jewish—is a self-hating Jew, a self-hating Jew who is willing to see Israel be defeated militarily by a terrorist group because he's on the hard left."
"You have a situation of pure evil on one side—Hamas," Dershowitz said after Salcedo asked him his thoughts on what he called a "troubling development in the Democrat Party, saying that members of congress like Ilhan Omar, Rashida Tlaib and AOC are "cheering for Hamas" as rockets are "raining down on Israel."
"[They are] sending rockets aimed at Israeli civilians," Dershowitz said. Children from behind their own children. And I predicted this was going to keep happening. As long as the international community, as long as the media, encourages Hamas. The great villain of this piece is Bernie Sanders. Bernie Sanders is basically encouraging Hamas to continue what it's doing. And the squad, and the New York Times."
Although Dershowitz appeared to be speaking about Sen. Sanders' opinion piece printed in the New York Times on Friday, titled, "The U.S. Must Stop Being an Apologist for the Netanyahu Government."
In it, Sanders writes that "the United States should be urging an immediate cease-fire," and that our approach with a new administration "must recognize that Israel has the absolute right to live in peace and security, but so do the Palestinians."
"The New York Times, five op-eds, in a row, condemning Israel," Dershowitz continued. "And what this does is it sends a message to Hamas every few years, find an excuse, send rockets to Israel, kill Israeli children, Israel will respond, don't worry. Sanders, The New York Times, the left of the Democratic Party, the international community, the International Criminal Court, the UN, will condemn Israel, and you will win so do it again and again and again, that's what's going to keep happening."