Alan Dershowitz Files $300 Million Defamation Lawsuit Against CNN
On Tuesday, celebrity lawyer and media commentator Alan Dershowitz sued CNN for allegedly misrepresenting comments he made defending Republican President Donald Trump during Trump's 2020 impeachment hearing.
The comments in question occurred in late January 2020 when Dershowitz responded to a question from Republican Texas Senator Ted Cruz on whether Trump's dealings with Ukraine represented a quid pro quo arrangement. Trump had pressured Ukrainian officials to investigate Hunter Biden, the son of now-Democratic presidential candidate Joe Biden.
Dershowitz answered that Trump's actions didn't constitute an impeachable offense because Trump believed it would help him get elected "in the public interest." However, Dershowitz claimed, had Trump acted in his own financial or political interest, those two motives would've been illegal.
"The only thing that would make a quid pro quo unlawful is if the quo were in some way illegal," Dershowitz said at the time. "Every public official that I know believes that his election is in the public interest, and mostly you're right–your election is in the public interest. If a president does something which he believes will help him get elected in the public interest, that cannot be the kind of quid pro quo that results in impeachment."
Even though CNN hosts Wolf Blitzer and Jake Tapper played Dershowitz's full comment as reported above, Dershowitz's lawsuit against the network alleges that three other CNN commentators—Paul Begala, John Berman and Joe Lockhart—focused on the last sentence of Dershowitz's comments, making it seem like he was stating that the president could do anything to get re-elected with no legal consequences.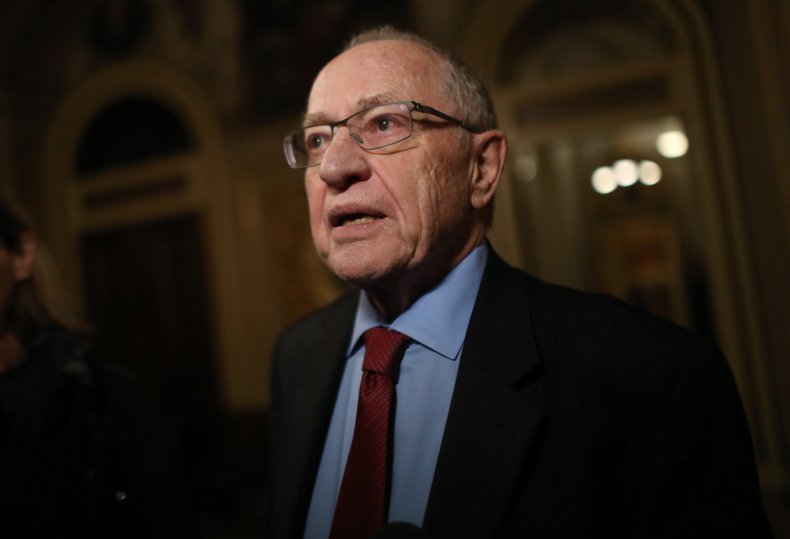 "Following the airing of that clip over and over again, the hosts, together with their panel guests, including CNN employees and paid commentators, exploded into a one-sided and false narrative," the lawsuit said.
The lawsuit continued to state that the very idea that the president can do anything he wants to get re-elected without legal consequences "was preposterous and foolish on its face, and that was the point:
Newsweek reached out to CNN for comment.
Soon after Dershowitz's impeachment comments, Senate Democrats criticized the lawyer, saying that his logic would establish a dangerous precedent for future presidents to act corruptly in trying to sway future elections for the "public interest."
"If you say you can't hold a president accountable in an election year where they're trying to cheat in that election, then you are giving them carte blanche," said Rep. Adam Schiff (D-Calif.), the lead impeachment manager. "All quid pro quos are not the same. Some are legitimate and some are corrupt."