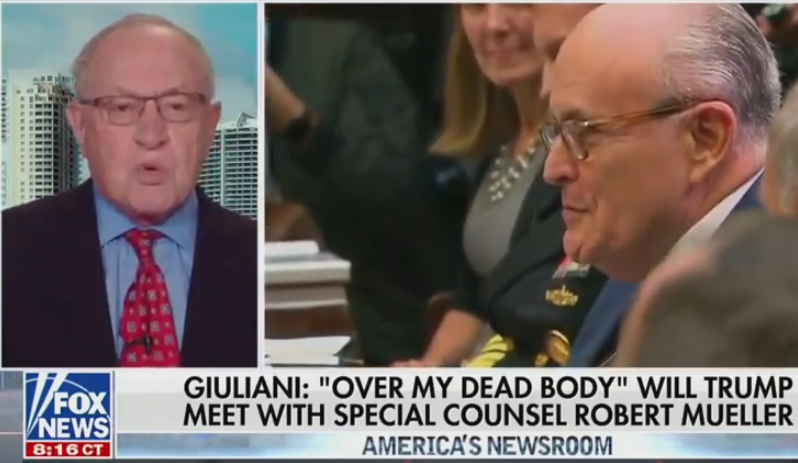 Alan Dershowitz, the longtime civil libertarian attorney and defender of President Donald Trump, said Michael Flynn should be given leniency during his Tuesday sentencing because "lying to the FBI is not a crime."
The 80-year-old Harvard Law School professor emeritus responded to Trump attorney Rudy Giuliani's latest interview, in which he told Fox News on Sunday the president would be interviewed by special counsel Robert Mueller "over my dead body." Flynn, Trump's former national security adviser, is set to be sentenced Tuesday after pleading guilty in December 2017 to a felony charge of lying to federal investigators about contacts with the Russian ambassador during Trump's presidential transition period.
Dershowitz, who was a defense attorney for O.J. Simpson when he was tried for murder in 1995, said "every reasonable defense attorney" would agree with Giuliani's argument and have Trump refuse to cooperate with the Mueller investigation. Dershowitz cited the cases of Flynn and Martha Stewart as evidence for why clients should never willingly choose to speak with the FBI or other federal investigators.
"Look, the Flynn case is fascinating," Dershowitz told Fox News anchor Bill Hemmer. "I hope the judge understands when he has the case tomorrow that Flynn did not commit a crime by lying, because the lie has to be material to the investigation.... Mueller will do anything to try to get people to sign or perhaps even to compose, and that cooperation is now off the table."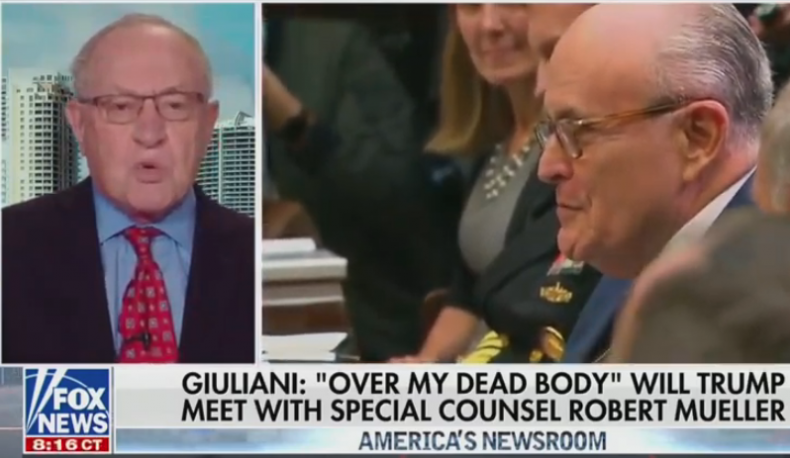 Dershowitz continued, "And if the FBI already knew the answer to the question and only asked him the question in order to give him an opportunity to lie, his answer, even if false, was not material to the investigation. Lying to the FBI is not a crime."
Dershowitz later clarified his position on Twitter Monday afternoon. "Lying to the FBI is only a crime if the lie was 'material.' If the FBI already knew the answer to the question—if they have tapes—and ask it only to elicit a lie, should that lie be deemed material?"
Flynn's attorneys recently filed a sentencing memo saying the FBI didn't give him appropriate "warning of the penalties" for lying to the bureau—a narrative even Trump has used to accuse federal investigators of entrapment.
Hemmer pushed back at Dershowitz's comments, asking why Flynn wouldn't "just tell the truth, especially if everybody knew what was going on," then abruptly moved on as the former Harvard professor shook his head.
Dershowitz's comments about Flynn came just hours before two of the latter's former business associates were accused of trying to influence American politicians in order to seek the extradition of a Turkish cleric. An indictment filed last Wednesday in the Eastern District of Virginia found Bijan Kian and Kamil Alptekin—who is also charged with making false statements to the FBI, in 2017—allegedly attempted to "delegitimize the Turkish citizen in the eyes of the American public and United States politicians."
Dershowitz is the author of The Case Against Impeaching Trump, although he has bristled when other pundits have dismissed him as just another staunch defender of the president. Trump has repeatedly cited Dershowitz, who he says is a Democrat, for defending him on Fox News programs.
Dershowitz has repeatedly said Trump and his associates have committed no crimes.