Russia Investigation: Potential Trump Collusion 'is not a Crime' Says Alan Dershowitz After Mueller Bombshells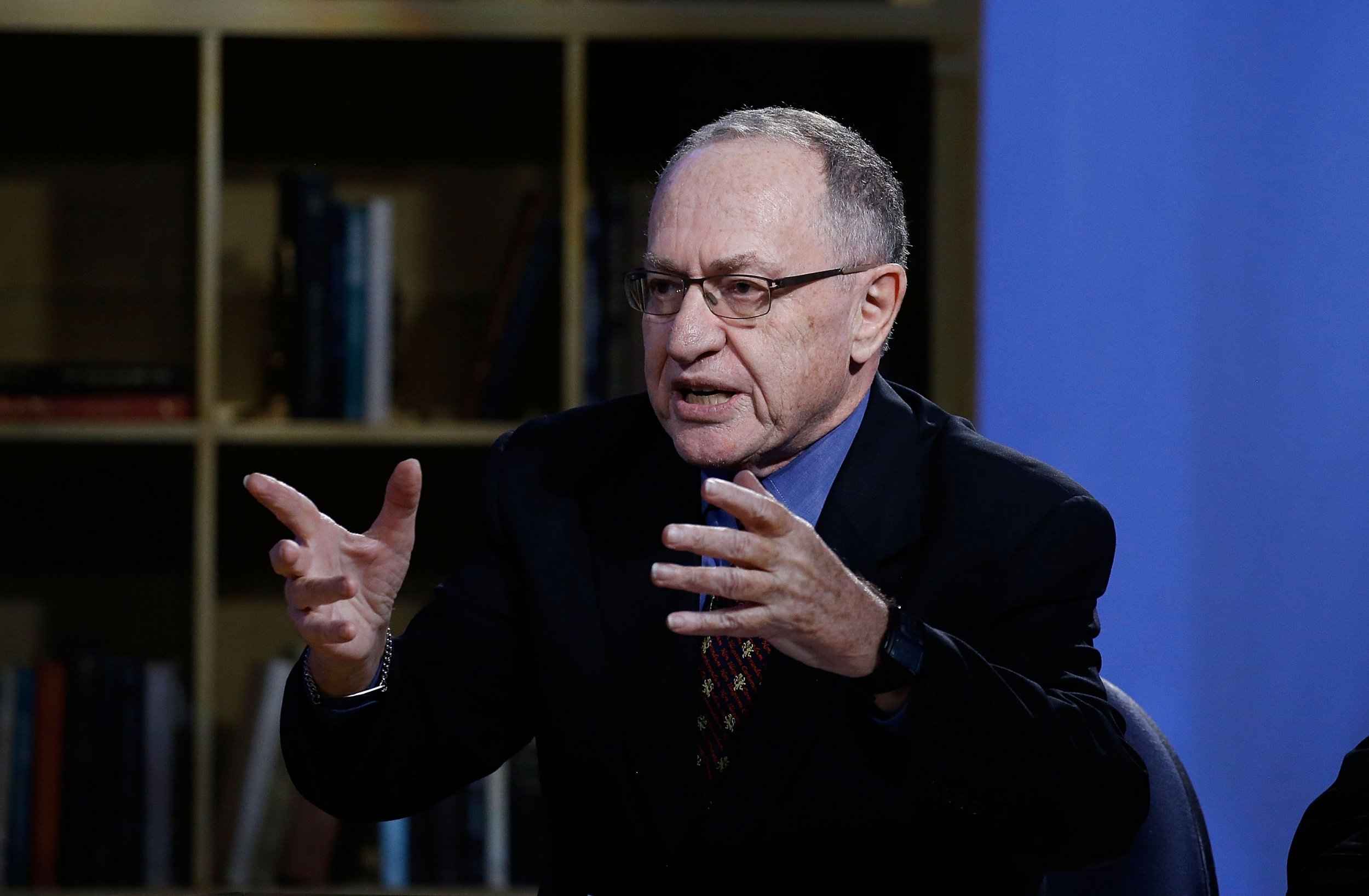 Multiple bombshell court filings emerged from special counsel Robert Mueller's investigation late Friday afternoon, accusing President Donald Trump of committing campaign finance violations with his former personal attorney Michael Cohen and alleging that a senior member of his administration continued to have contact with his former campaign chairman, Paul Manafort, as recently as this year, after Manafort was first charged in October 2017.
Despite the revelations, which raised more questions about the president's actions surrounding the special counsel's probe into Russian collusion and election interference, Harvard law professor and frequent Trump defender Alan Dershowitz said on Fox News Friday evening that federal prosecutors were intentionally trying to put the president "in a bad light."
He believed that Mueller's final report on the investigation, which will be delivered to Congress and will not involve any formal charges against the president, will "blur the line between crimes and sins."
"What I'm afraid is going to happen is this special counsel, whose job it is only to find crimes, not sins, only crimes, will blur the line between crimes and sins and write a report designed to put the president in a bad light," Dershowitz told Fox News Host Tucker Carlson. "But in the end, they won't be able to find any specific violations of federal criminal statutes unless they stretch these vague laws like obstruction of justice beyond any recognition."
The reasoning for Dershowitz's view on Mueller and federal prosecutors, the law professor said, was because he does not "see any crimes." Previously, Dershowitz has said Mueller's final report will be "politically very devastating."
"Collusion itself is not a crime," he said. "Using information given by Russia to Wikileaks would not be a crime unless the campaign participated with Wikileaks in the hacking itself. There's no evidence to support that."
Dershowitz is also an opinion contributor for numerous news outlets, including Newsweek.
While collusion is not a statutory crime, the court filings by the Southern District of New York (SDNY) on Friday concluded that Trump was part of a criminal conspiracy with Cohen to commit campaign finance violations when the president directed him to make hush money payments to Stormy Daniels and Karen McDougal for their silence about alleged extramarital affairs with Trump.
With then-candidate Trump dentified as "Individual 1," prosecutors said that "during the campaign, Cohen played a central role in two similar schemes to purchase the rights to stories - each from women who claimed to have had an affair with Individual 1 - so as to suppress the stories and thereby prevent them from influencing the election."
"In particular, and as Cohen himself has now admitted, with respect to both payments," prosecutors added, "he acted in coordination with and at the direction of Individual 1."
Trump falsely claimed that the filing "totally clears the President. Thank you!" he added.
Cohen had previously made a plea deal with prosecutors, in which he admitted guilt to eight counts involving campaign finance violations and tax and bank fraud. When he accepted the deal, the former Trump "fixer" admitted that "in coordination and at the direction of a candidate for federal office," he prevented the hush money payments from going public in order to protect then-candidate Trump. After that plea agreement, Cohen pleaded guilty for lying to Congress concerning a Trump Tower project in Moscow, Russia, "out of loyalty" to the president.
As a result of Cohen's two guilty pleas, prosecutors from the SDNY suggested Cohen be sentenced to "substantial" prison time of somewhere between 51 to 63 months, or roughly four to five years, for "repeatedly [declining] to provide full information about the scope of any additional criminal conduct in which he may have engaged or had knowledge."
Mueller, on the other hand, praised Cohen's cooperation with the investigation and would not "take a position with respect to a particular [prison] sentence."
Cohen is scheduled to be sentenced on Wednesday.
The revelations from Mueller's team Friday evening about Manafort showed that he told "multiple discernible lies" about his contacts with a senior Trump administration official and a Russian Ukrainian political operative, bank payments, and information about a separate, unknown criminal investigation.
The court filing was to provide evidence regarding prosecutors' claims that Manafort breached his prior plea agreement by repeatedly lying about, among other things, contact he had with members of the administration in February and May of this year.