Paul Manafort Had Contact With Senior Trump Administration Official This Year, Lied to Mueller Team, Filing Alleges
Former Trump Campaign Chairman Paul Manafort told "multiple discernible lies" about his contacts with a senior Trump administration official and a Russian Ukrainian political operative, bank payments, and information he gave regarding a separate, unknown criminal investigation, according to court documents filed by special counsel Robert Mueller's team Friday evening.
Some of the documents are heavily redacted, but the new filings show that Manafort allegedly breached his prior plea agreement by lying about contact he had with a senior member of the president's administration as recently as this year. Mueller's team said the multiple lies "were not instances of mere memory lapses."
Manafort was convicted in August on eight charges involving tax fraud, bank fraud and hiding foreign bank accounts. He then struck a plea deal with Mueller in September to forgo a second trial for foreign-lobbying and money-laundering charges. The cooperation deal also dismissed 10 charges from the first trial that caused a deadlocked jury.
The Friday filing came after Mueller's team accused Manafort on November 26 of repeatedly lying to the FBI and federal investigators, allegedly breaching the plea agreement that Mueller's team had struck with him.
In interviews with Mueller's team, Manafort said he had "no direct or indirect communications with anyone in the administration while they were in the administration." Mueller's team said that in a text exchange on May 26, "Manafort authorized a person to speak with an administration official on Manafort's behalf."
"Seperately," the filing said, "Manafort had been in communication with a senior administration official up through February 2018. A review of documents recovered from a search of Manafort's electronic documents demonstrates additional contacts with administration officials."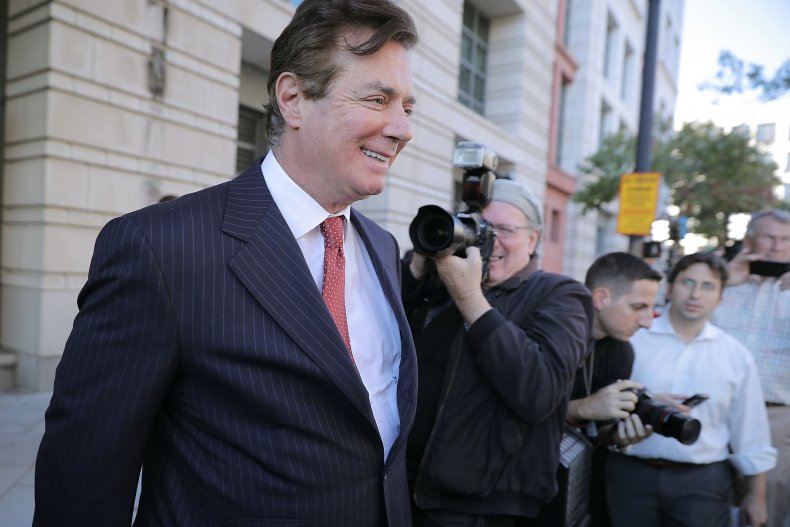 In addition, Mueller's filing accuses Manafort of lying about which unnamed firm that a $125,000 payment came from in 2017, and interactions with Russian Ukrainian political operative Konstantin Kilimnik that led to obstruction of justice.
The filing said that Manafort conspired with "Kilimnik to obstruct justice between February and April 2018 by trying to influence the testimony of the two witnesses," who are both not named.
Shortly after the court filing, White House press secretary Sarah Huckabee Sanders said in a statement that it said "absolutely nothing about the president" and indicated "even less about collusion and is devoted almost entirely to lobbying-related issues. Once again, the media is trying to create a story where there isn't one," she added.
As a result of breaching the plea deal, prosecutors for Mueller said in a federal courtroom in Washington, D.C., last week that there was a possibility they could file additional charges against Manafort. In addition, prosecutors warned there was a possibility they could still go forward with a second trial in D.C. for other charges Manafort already faced, which would have been dismissed in exchange for his cooperation in the plea agreement.
A tentative final sentencing date was set for March 5, 2019. However, it could be pushed back. A separate hearing, consisting of each side presenting their arguments to the judge, could take place for the judge to determine whether Manafort breached his plea deal, if Manafort disputes the allegations put forward by Mueller's team. That hearing would likely take place in mid- to late- January 2019.
"If the defendant contends the government has not acted in good faith, the government is available to prove the false statements at a hearing," Mueller prosecutors said in the filing.
Manafort's team has until December 12 to respond to Friday's filing from Mueller detailing the breach of his agreement.
After the news that Manafort allegedly lied, and a New York Times report revealing that a Manafort lawyer continued to inform the president's lawyers about Manafort's ongoing discussions with the special counsel, Trump said a potential pardon for his former campaign chief was not "off the table."
The suggestion by the president that he may pardon Manafort prompted House Democrats to tell Newsweek that, if the president did pardon Manafort, they would open a congressional investigation into possible obstruction of justice once they take control in January.
Another Democrat told Newsweek he will reintroduce a constitutional amendment aimed at curbing a president's pardon power, whether or not Trump pardons Manafort. Currently, the Constitution allows a sitting president to pardon anyone for any reason, so long as they were convicted of federal crimes. The amendment, which does not have a realistic chance of moving past the Republican-controlled Senate, will seek to exclude a president's constitutional authority to pardon himself, his direct family, his indirect family, any current or former member of the president's administration and any current or former member of the president's presidential campaign who was paid.