Paul Manafort News: Trump's Former Campaign Manager Could Face More Charges for Allegedly Lying to Mueller Team
Federal prosecutors for special counsel Robert Mueller said in a federal courtroom in Washington, D.C., Friday morning that they may bring additional charges against former Trump campaign chairman Paul Manafort for allegedly lying, repeatedly, after signing a plea deal.
"We will look at the facts and the law in regard to this case to determine what the consequences are of the breach," prosecutor Andrew Weissmann told U.S. District Court Judge Amy Berman Jackson.
The revelation that the government could file additional charges against Manafort came just days after Mueller accused the former campaign chairman of repeatedly lying to the FBI and federal investigators, violating the plea agreement that Manafort struck to provide full cooperation with Mueller in lieu of undergoing a second trial. Manafort's lawyers denied that their client knowingly lied.
Along with the possibility of filing additional charges for breaching the plea agreement, prosecutors said they did not yet know whether they would go forward with a second trial in D.C. that Mueller's team said they would dismiss in exchange for Manafort's cooperation.
A tentative final sentencing date was set for March 5, 2019. Prosecutors said they would submit their evidence of Manafort's breach of the plea agreement to the court by December 7. A separate hearing would then need to take place for the judge to determine whether Manafort did in fact breach the agreement. That hearing, which would consist of each side presenting their arguments to a judge and not a jury, would likely take place in mid- to late January 2019.
Manafort was not present in court on Friday, previously waiving his right to appear because of "the time involved in having U.S. Marshal Service transport me to and from the courthouse." Manafort has been in jail since Jackson revoked his bail in June, after prosecutors for Mueller said Manafort was witness-tampering.
Manafort was convicted in August on eight charges involving tax fraud, bank fraud and hiding foreign bank accounts. He then struck a plea deal with Mueller in September to forgo a second trial for foreign-lobbying and money-laundering charges. The cooperation deal also dismissed 10 charges from the first trial that caused a deadlocked jury.
After Mueller's new court filing on Monday that alleged Manafort repeatedly lied, a New York Times report on Tuesday revealed that a Manafort lawyer continued to inform the president's lawyers about Manafort's ongoing discussions with the special counsel.
On Wednesday, Trump said that a potential pardon for Manafort was not "off the table."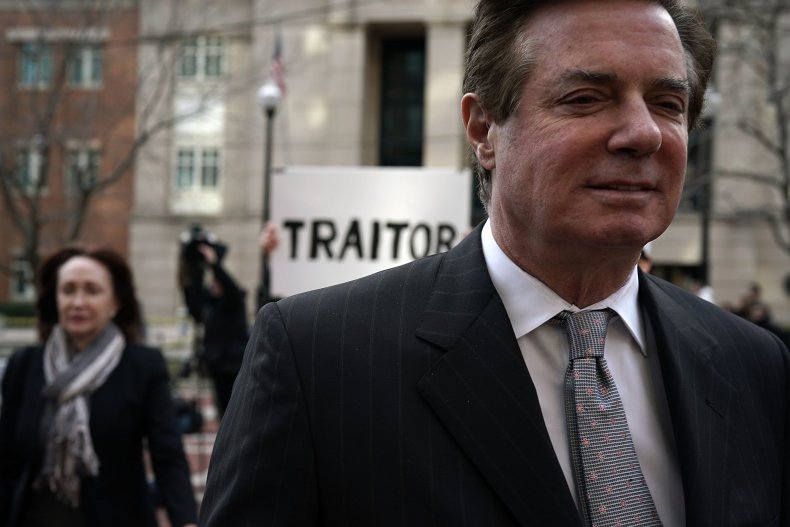 The move by Trump to publicly reveal the possibility of issuing a pardon for his former campaign chief caused Jerry Nadler and Sheila Jackson Lee, Democratic lawmakers on the House Judiciary Committee, to tell Newsweek they planned to open a congressional investigation into possible obstruction of justice with their newfound power in January 2019, should Trump issue the pardon.
Another Democrat on the committee, Steve Cohen, told Newsweek he would reintroduce a constitutional amendment aimed at curbing a president's pardon power to exclude himself, his direct family, his indirect family, any current or former member of the president's administration and any current or former member of the president's presidential campaign who was paid.
The president's former personal attorney, Michael Cohen, pleaded guilty to another charge in the Mueller probe Thursday morning for lying to Congress about Trump's ongoing business negotiations with the Russian government during the 2016 campaign and up until Trump clinched the Republican nomination.
In August, Cohen pleaded guilty to eight counts involving campaign finance violations, tax fraud and bank fraud.